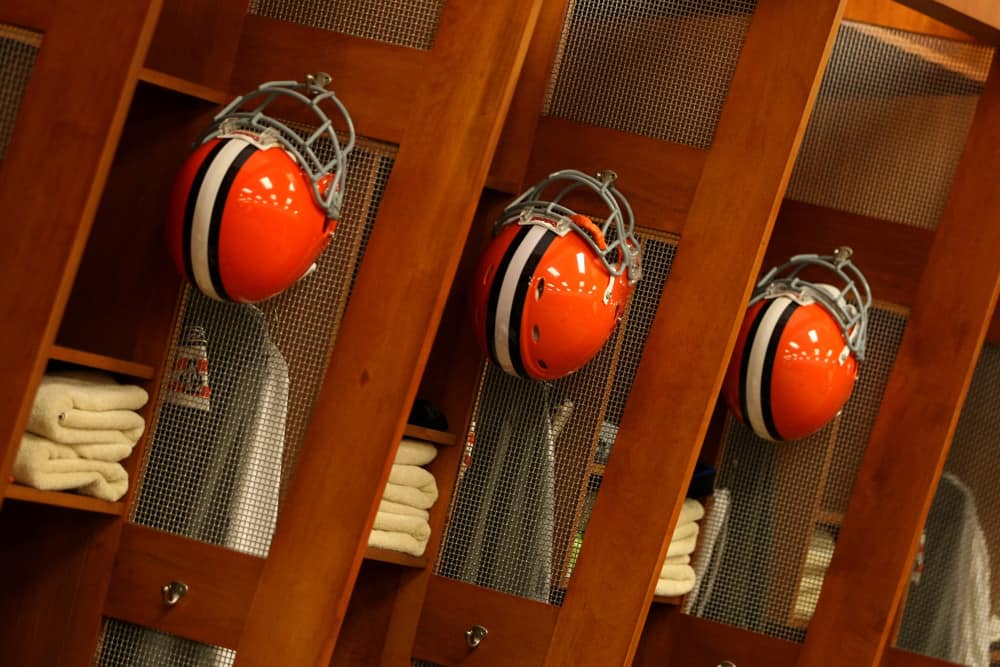 Sadly, the NFL is a business and sometimes players need to be cut in order to save cap space.
Often times, it's not even because poor production that a player ends up being a cap causality.
Most recently, the Browns decided to release veteran defensive tackle Sheldon Richardson.
Browns released DT Sheldon Richardson.

— Adam Schefter (@AdamSchefter) April 16, 2021
He was set to make $11 million in 2021, which explains why he was cut.
Over the last two seasons, Richardson has over 60 tackles in each of those campaigns.
The lack of production wasn't the problem, but the Browns believe they can fill the void with a cheaper option.
That being said, there are likely to be more cap causalities before the 2021 season kicks off.
OT Chris Hubbard
Usually, the offensive line is a frequent target when teams are looking to save cap space.
Organizations can often times save a few million by cutting a backup or two on the o-line.
That would be the case here with left tackle Chris Hubbard.
The 29-year-old is set to begin the fourth year of his five-year deal he signed with the Browns.
It has been a rocky few seasons for Hubbard in a Browns uniform.
John Dorsey gave Chris Hubbard a 5 year $36,500,000 contract. He's almost the worst-ranked RT in the NFL

— ChadP71 6elieve (@chadp71) December 29, 2019
The veteran tackle is set to have a cap hit of nearly $5 million for the 2021 campaign.
Cutting Hubbard would save Cleveland nearly $3 million in cap space.
At first glance, that doesn't seem like a ton of money, but Hubbard has been below average throughout his career in Cleveland.
The Browns could get better or similar production from a late-round draft selection or even a player on league minimum.
WR KhaDarel Hodge
It wouldn't be surprising to see the Browns end the KhaDarel Hodge experiment before the 2021 season begins.
The 26-year-old wide receiver has spent each of the last two seasons in Cleveland.
Over that time, Hodge has recorded 15 receptions, 256 yards, and has not scored a touchdown.
Despite lackluster offensive stats, Hodge has put together some nice moments on special teams.
Khadarel Hodge puts on tackling clinic vs. De'Anthony Thomas
#Ravens vs #Browns pic.twitter.com/ZGk6bm0mjB

— Browns Replay (@BrownsReplay) December 22, 2019
The Browns would save more money by cutting Jarvis Landry, but don't expect that to happen.
Instead, Hodge is a strong possibility as a cap causality since he has basically been lost in the shuffle.
Both Rashard Higgins and Donovan Peoples-Jones have shown much more potential over the last season or so.
Cleveland could save a little over $2 million by releasing Hodge, which doesn't sound like a ton of money.
However, Hodge is replaceable for much less than his current salary.
At best, Hodge is a fifth receiver and that is a reach since he hasn't shown much potential.
Neither of these cuts would be groundbreaking news, but would save Cleveland around $5 million in cap space.
Honestly, that is enough money to bring in a quality player who could make a significant impact on the roster.
It's important to have depth, but Hubbard and Hodge are replaceable players.
The money saved by cutting them could be better used elsewhere.