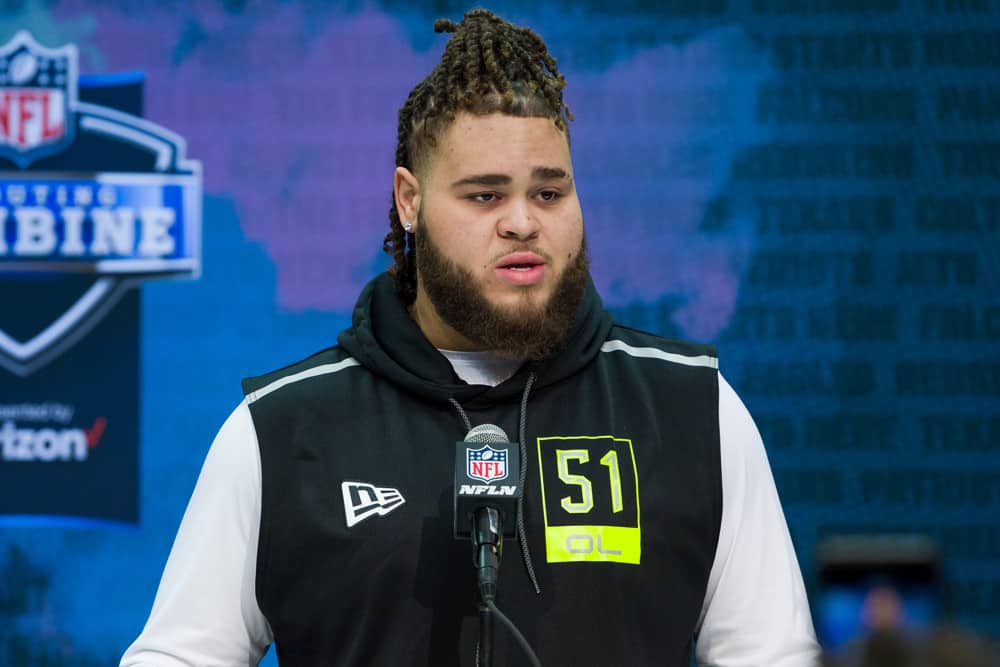 The Cleveland Browns selected offensive tackle Jedrick Wills Jr. with the No. 10 overall pick during the 2020 NFL Draft.
He is new to the league, but will quickly need to learn that what he does on social media is analyzed by everyone.
Wills unintentionally fueled the flames for trade rumors involving New York Jets safety Jamal Adams.
He liked a tweet about Adams being possibly traded, which was taken as Wills angling for the Browns to land the two-time Pro Bowl safety.
Wills attempted to put out the flames by tweeting "Just one of my idols," on Twitter after rumors starting flying around.
Just one of my Idols 🤷🏽‍♂️ @Prez https://t.co/1CXXPOAk4S

— Jedrick Wills Jr.® ➕🌎☄️💕 (@JWills73) June 23, 2020
It doesn't seem that Wills was purposely trying to start trade rumors, but social media has a way of taking things and twisting them to fit a narrative.
The rookie tackle would likely love to have Adams by his side in Cleveland, but who wouldn't want to play alongside one of their idols.
Browns Landing Adams?
The Browns are currently a longshot to land the 24-year-old safety at +1000 odds.
The Dallas Cowboys (+250) and Cleveland's division rival Baltimore Ravens (+350) are the favorites to acquire the superstar safety.
Adams asked for a trade from the Jets after the two sides couldn't come to an agreement on a contract extension.
The Jets have Adams locked up for the next two seasons on a team-friendly deal.
The organization is likely going to expect a big return in exchange for the superstar safety.
He'd be a great addition to any squad, but it will cost any team a significant amount to acquire him.
Adams has made back-to-back Pro Bowls and is one of the best young defenders in the league.
He is well-deserving of a contract extension, but the Browns might not be the ideal fit for Adams.
Browns Depth at Safety
The Browns organization revamped their offensive line this offseason, but made safety a top priority as well.
Cleveland landed safeties Karl Joseph and Andrew Sendejo on short-term deals in free agency.
They also selected LSU safety Grant Delpit during the second round of the 2020 NFL Draft.
"With the 44th pick in the 2020 NFL Draft the Cleveland Browns select … Grant Delpit, Safety, LSU."

📺: #NFLDraft on ABC, ESPN + NFLN pic.twitter.com/x7C6Dj9WYu

— Cleveland Browns (@Browns) April 25, 2020
He recorded 65 tackles, 4.5 tackles for loss, and two interceptions during his senior year.
Delpit is expected to battle Sendejo for the starting free safety job in training camp.
The Browns are hopeful that Delpit can be a full-time starter in the future.
Cleveland doesn't exactly need Adams this season, but that doesn't mean the organization wouldn't consider trading for him.
Should the Browns Acquire Adams?
[socialpoll id="2656397″]
It is going to take an enormous trade package to pull Adams away from the Jets right now.
The Jets have two years of control and Adams value is sky high at the moment.
While he'd be a great addition to the Browns roster, they should think about the big picture.
Adams wants a long-term extension and is reportedly asking for more than $20 million per season.
Jamal Adams' future contract demands loom large in trade talks. If he wants pay among top defensive players – which one source whose team has looked into Adams believes – that's well above $20M per year, while safety market is below $15M. Tough for a SS, no matter how good.

— Jeremy Fowler (@JFowlerESPN) June 19, 2020
Chicago Bears safety Eddie Jackson currently has the highest annual salary at that position with $14.6 million per year.
Adams is an incredible player, but it'd be tough for the Browns to give Adams $20 million or more per season.
Cleveland has superstar players like Nick Chubb, Myles Garrett, and Baker Mayfield who are all going to need long term deals soon.
It would be great for Wills and Adams to play together on the same team, but this deal doesn't seem to make a lot of sense for Cleveland right now.