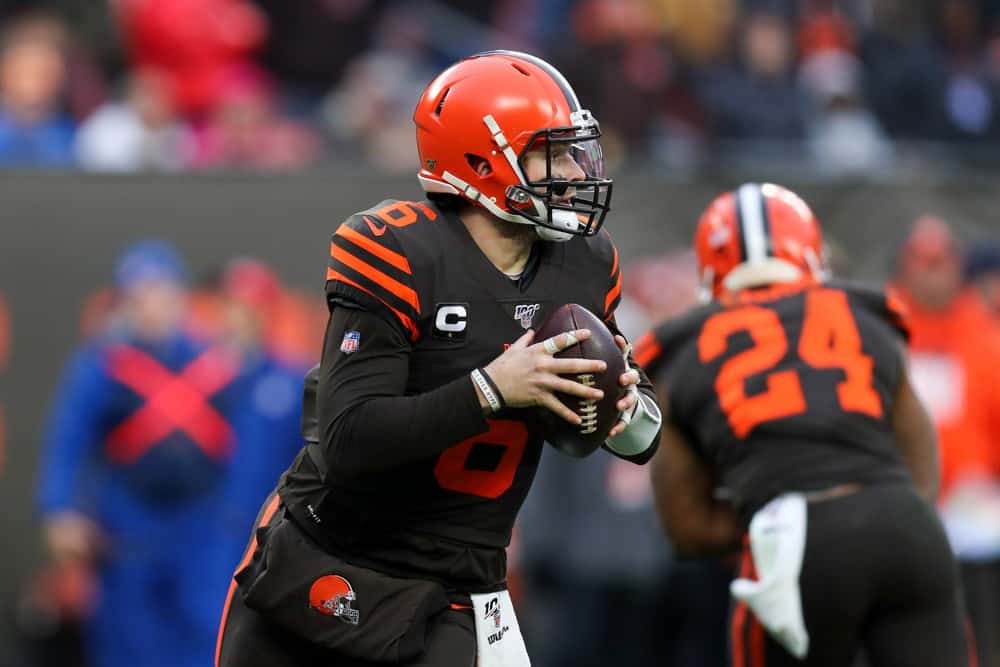 Cleveland Browns quarterback Baker Mayfield is arguably having the best season in his career.
Yet, some NFL executives believe his time in Cleveland could be up.
If Mayfield can rally this Cleveland team into the playoffs, he may secure his spot in for the future.
But, many are concerned as the Browns are dealing with injuries.
WR Odell Beckham Jr. is out for the season with a torn ACL.
HB Nick Chubb has missed multiple weeks with an MCL injury.
Although HB Kareem Hunt is a viable option, this team is relying on Baker to deliver.
After all, he was the first overall pick in 2018.
He has yet to prove to this franchise that he is that guy.
As a result, some may think he will be traded in the offseason as multiple teams will be looking for a new quarterback.
Would The Browns Trade Mayfield?
The Browns are currently sitting at 5-3 and have a solid shot at ending their near two decade playoff slouch.
With no Odell Beckham Jr., the way Mayfield finishes off this campaign can truly impact his future with this organization.
The Athletic's Dan Pompei, discusses the possibility of Baker being moved on from Cleveland in this offseason.
In the article, evaluating Mayfield through his first three seasons, Pompei states the following:
"When Baker Mayfield was taken by the Browns with the first overall pick of the 2018 draft, the hope was he could become a quarterback like Brett Favre. In that comparison, Mayfield has been erratic the first three years of his career and has been too careless with the ball. Like it did with Favre, it may take a new team for Mayfield to find consistency."
Mayfield does have a fifth-year option coming up.
What the Browns decide to do with that, could tell you all you need to know about his future.
We could very well see a similar situation like we did in Chicago with Mitch Trubisky.
If that were to be the case, it's very well possible teams come calling for Mayfield.
"There would be a market for him. But, you would have to decide if you want pay him" one high ranking NFL exec said about the third year QB.
Andrew Berry Is "Pleased" With Baker Mayfield
Recently, general manager Andrew Berry, discussed the Browns current situation with the media.
He touched upon the numerous different injures the Browns are dealing with, his expectations for the remainder of the season, and of course, Baker's future with the team.
#Browns GM Andrew Berry said he's not caught up in narrative about Baker Mayfield's future as the team's QB, he knows Baker has played well and done a good job

— Nate Ulrich (@ByNateUlrich) November 4, 2020
Although he failed to commit to Baker as the future QB of this franchise, he did have some nice things to say about him.
Zac Jackson of The Athletic, quotes the general manager stating the following:
"Baker has done a nice job of putting us in a position to win games in the first eight weeks of the season. I think we have all seen him progress on a week-to-week basis. He has done a nice job of learning the system and getting more comfortable in the system, and again, ultimately putting the team in a position. We are certainly pleased with him from that perspective."
The future is certainly up in the air for Baker.
How the remainder of this season plays out may very well spell his fate in the NFL.