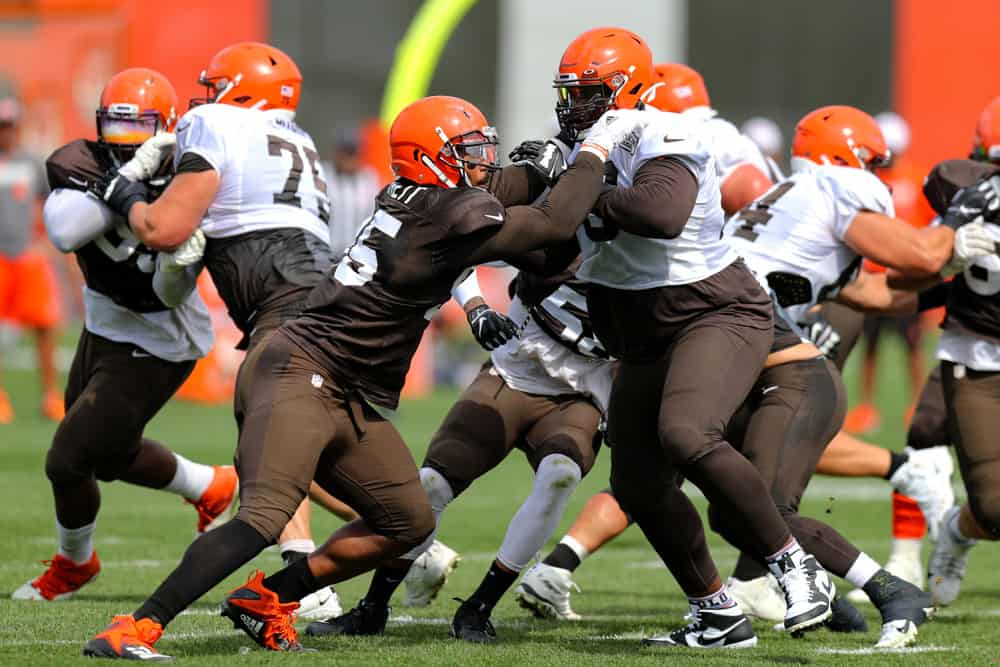 When we found out that Greg Robinson was arrested for possession of marijuana with intent to distribute, we were not expecting this much.
U.S Border Patrol arrested the former Cleveland Browns offensive lineman on Monday after officials told TMZ, he had "A LOT of marijuana."
We finally know how much was "a lot."
Browns offensive tackle Greg Robinson alleged to have 157 pounds of marijuana in his rental car. This is what 157 pounds of pot looks like. It has a street value of in between $300,000 and $750,000, depending on quality and location of sale. pic.twitter.com/1CZ4hZHEIr

— Darren Rovell (@darrenrovell) February 20, 2020
TMZ reported Border Patrol stopped Robinson at Sierra Blanca, Texas, border checkpoint near the U.S.-Mexico border.
According to ESPN's Adam Schefter, Robinson was hiding the marijuana in multiple duffle bags.
Browns' OT Greg Robinson was alleged to have 157 pounds – 157 pounds! – of marijuana in "several large duffle bags in the rear cargo area" in El Paso, Texas today. pic.twitter.com/O7UyfW7AqO

— Adam Schefter (@AdamSchefter) February 20, 2020
Robinson is still in jail and is facing a federal charge of possession with intent to distribute.
His NFL Future
Robinson's future with the Browns was already in jeopardy.
According to multiple sources, the Browns were ready to move on from Robinson.
Greg Robinson will be a free agent next month and the #Browns had no intention of re-signing him anyway, I'm told. One fewer headache in Cleveland. https://t.co/gU6ag4ipax

— Tom Pelissero (@TomPelissero) February 19, 2020
Since he was arrested for possession, that sealed the deal that he will not return.
Who knows what his overall future in the league looks like.
We have seen the likes of David Irving and Josh Gordon leave the league due to drug offenses.
Robinson could be the next person on the list.
Other NFL Marijuana Instances
For starters, this is not the first time we have seen this.
If Greg Robinson is guilty of transporting 157 pounds of marijuana, that would not be the record for marijuana transport by an NFL player. Nate Newton was twice caught in 2001 and 2002, transporting 213 pounds and transporting 175 pounds. He was sentenced to 30 months in jail. pic.twitter.com/OhcGw0FJ9Q

— Darren Rovell (@darrenrovell) February 20, 2020
Moving ahead to 2020, that time in jail could inflate.
We will not know until all of the details are revealed and Robinson goes to trial.
Not Alone
As the details continue to unfold, we found out that Robinson was not the only person to be arrested.
Former NFL WR Quan Bray was also arrested along with soon to be free agent tackle Greg Robinson. The pair had 157 pounds of marijuana, authorities say. If convicted of possession with intent to distribute, each faces up to 20 years in federal prison. pic.twitter.com/ZQXAWklFns

— Tom Pelissero (@TomPelissero) February 20, 2020
Bray joined the Indianapolis Colts in 2015 after going undrafted in the draft.
He spent three years as a kickoff return/punt return man with the Colts before being released in 2017 after an injury settlement.
In 2018, Bray joined the Bills as a reserve/future but was released before the season began.
He later joined the Houston Texans but was waived on September 1, 2018.
His NFL career came to a close and he spent 2019 as a member of the Birmingham Iron and the Montreal Alouettes.
His career totals included six receptions for 75 yards.