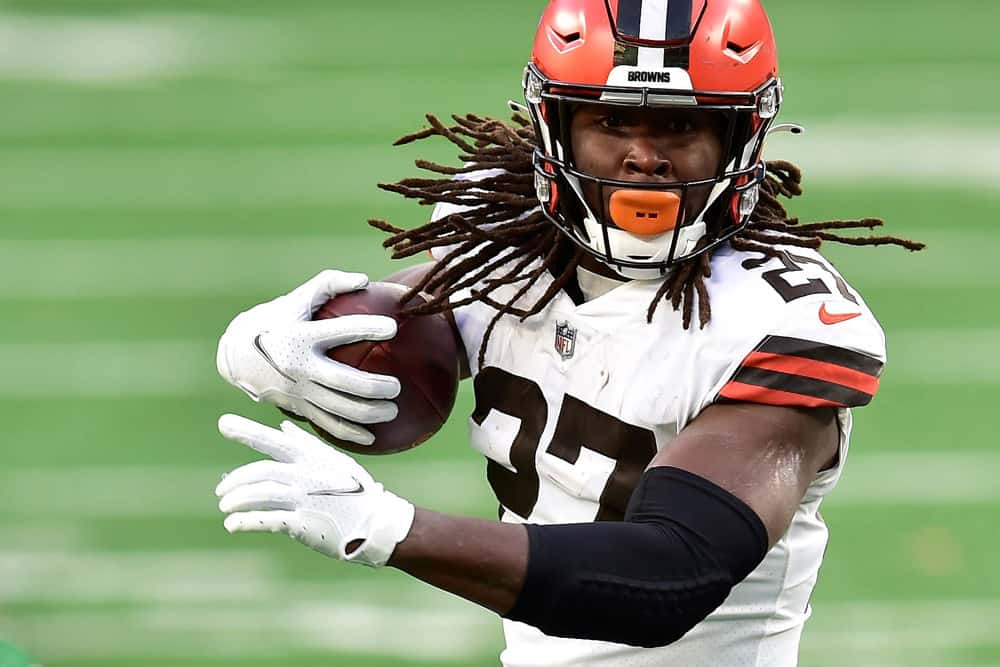 Cleveland Browns running back Kareem Hunt, took blame for the poor performance in the Week 15 defeat to the New York Jets.
Coming into the matchup, the Browns knew that a win would essentially clinch them a playoff spot as they hold the tiebreaker over the Titans and Colts.
You know what they say, the higher the climb, the harder the fall.
But, not all is falling in Cleveland as they still have a viable path to the playoffs.
Kareem Hunt defends Baker Mayfield
After the loss to the Jets, many felt that Baker let his team down with his poor performance.
Over the last month or so, Baker has steadily shown growth and improvement as he has showed up on the biggest of stages.
In the loss to the Jets, he fumbled a handful of times and gave the Jets good starting field position.
But, all the blame cannot be put on Baker as the Browns were missing a bunch of key players.
HB Kareem Hunt understands that and stood up for his QB after the game.
#Browns Kareem Hunt on Baker Mayfield saying "I failed this team" pic.twitter.com/6ixJP7B3HQ

— Mary Kay Cabot (@MaryKayCabot) December 28, 2020
In the video, one half of the best rushing duo in the league goes on to say:
"It's definitely not all on him. There's a lot of things a lot of people could've done better. It's some things that got us into that situation. So honestly, he'll have my back no matter what, so I'll have his too. I believe in him to bounce back and I believe we all will because that's not just on him, it's on the whole team. It's on everybody."
The Cleveland halfback sure isn't wrong.
This loss falls on everybody, particularly head coach, Kevin Stefanski.
Poor Play-calling by Kevin Stefanski
It was no secret this Cleveland offense was going to look different coming into this Week 16 matchup.
After essentially all the wide receivers were deemed high risk, Cleveland was heading into this game with Baker Mayfield, Nick Chubb and Kareem Hunt.
We've placed WR Rashard Higgins, WR KhaDarel Hodge, WR Jarvis Landry, WR Donovan Peoples-Jones & LB Jacob Phillips on the Reserve/COVID-19 list.

In addition, we've elevated (Contagious Disease Addendum) WR Ja'Marcus Bradley, LB Montrel Meander & WR Derrick Willies from the PS. pic.twitter.com/sCSte9PejF

— Cleveland Browns (@Browns) December 26, 2020
Knowing all of this information, it would have been safe to assume that the Jets were going to be stacking the box for majority of this game.
That is exactly what New York did and as a result, Cleveland tried attacking the secondary.
no wide receivers?

the Browns still passed the ball on…

SEVEN of their first EIGHT plays

knowing the Jets would stack the box to stop the run

now that's some great coaching

— Warren Sharp (@SharpFootball) December 27, 2020
There was nothing wrong with Stefanski trying to get the linebackers to be more honest and drop into coverage, but it seemed that for majority of this game, he strayed away from the rushing attack.
Kareem Hunt and Nick Chubb are arguably the best running back duo in the entire NFL.
Yet, in Sunday's defeat, they only ran the ball 15 times.
We know that Baker Mayfield isn't built to win games with his arm.
In fact, we have praised Stefanski for calling the right plays and allowing Baker to be more successful in his run first system.
With literally no starting wide receivers, Baker threw the ball 53 times.
He targeted TE Austin Hooper 15 times.
That is not the winning formula.
When your football team is dealing with COVID-19 related issues, you must stick to what has gotten you to 10-5.
If Cleveland lost this game by relentlessly running the football, fans wouldn't have been as mad.
The Browns are built to run the ball and then allow Baker to be successful in the play action game.
They certainly will need that this weekend against the Pittsburgh Steelers as they look to clinch a playoff birth.