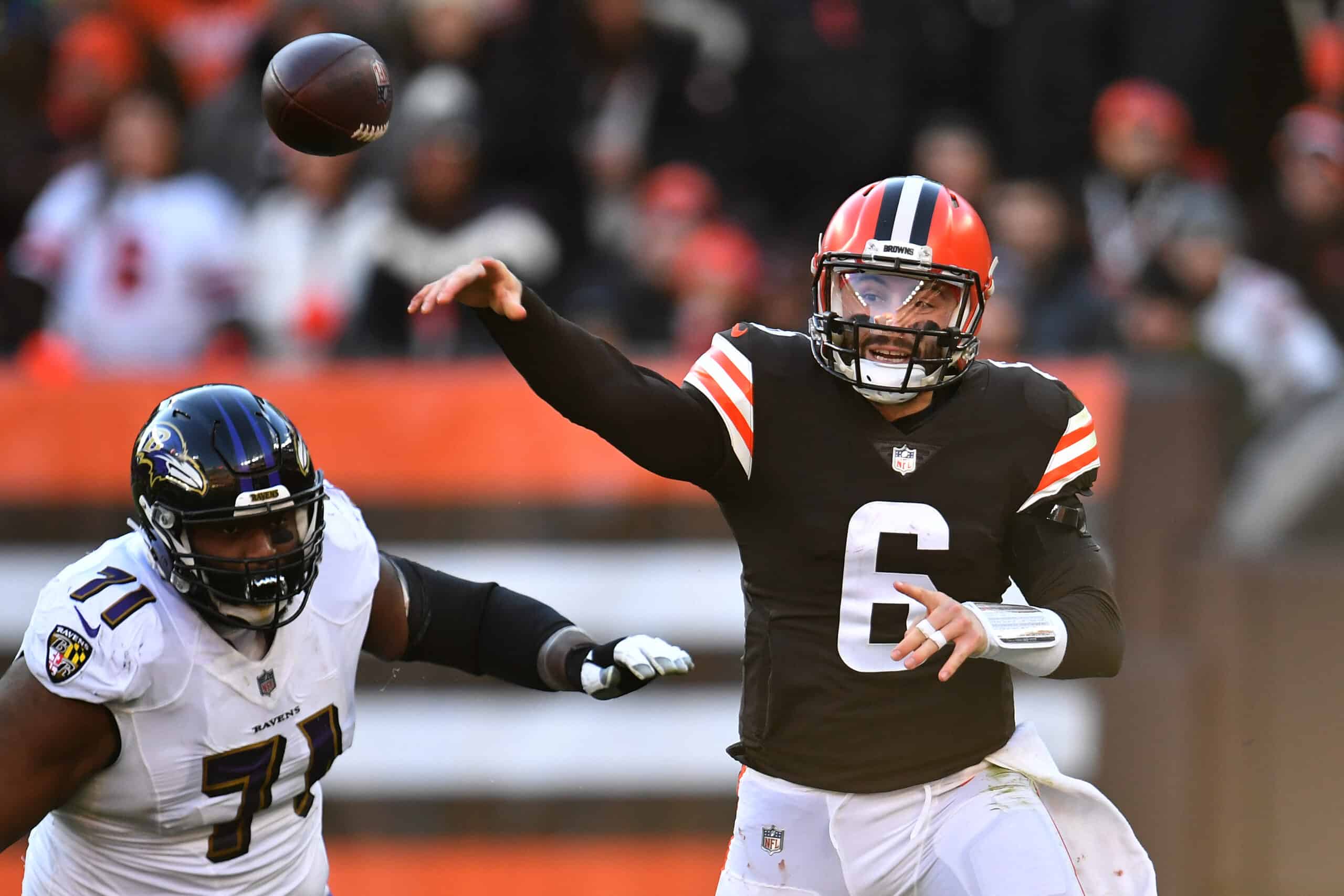 The Cleveland Browns won a hard fought Week 14 game over the Baltimore Ravens.
This was a huge win to build momentum and to rebound after not beating the Ravens in week 12.
Coach Kevin Stefanski finally earned his first win over Baltimore.
Social media is always interesting and especially in a close game with a division rival.
Here are some of the more noteworthy reactions.
1. Myles Garrett Is A Beast
This is hardly newsworthy to Browns fans, but the rest of the NFL world may not know what a treasure he is.
Garrett had a huge strip-sack that he ran in for a touchdown.
He also broke the Browns single-season sack record surpassing Reggie Camp who had 14 sacks in 1985.
Myles Garrett strips, scoops and scores! #Browns @Flash_Garrett

📺: #BALvsCLE on CBS
📱: NFL app pic.twitter.com/yR3s2NLwqu

— NFL (@NFL) December 12, 2021
The MVP of today's game. @Flash_Garrett ⚡️ #Browns #BALvsCLE #RavensFlock pic.twitter.com/KPhOIRiO7g

— Logan Baumgard (@DynamyteBeats) December 12, 2021
Wow Cleveland 👀👀👀 what a play by Myles Garrett 🔥🔥 #NFL #BALvsCLE

— Andrew Leason (@ANDREW0675) December 12, 2021
2. Baker Mayfield To Donovan Peoples-Jones
The Mayfield to DPJ connection resulted in 5 catches for 90 yards including this incredible sideline catch.
DONOVAN PEOPLES-JONES 🤯

— Action Network NFL (@ActionNetNFL) December 12, 2021
I am still not over the Donovan Peoples-Jones sideline catch. #Browns

— Nick Pedone (@NickPedone12) December 12, 2021
Can't believe that disgusting catch by Donovan Peoples-Jones isn't getting more attention

— TeH DruiD (@TeHDruiD) December 12, 2021
3. Jadeveon Clowney
Clowney had a great game; his game-saving sack is one to remember.
Sheesh Jadeveon Clowney 😤

What a sack!#Ravens #Browns pic.twitter.com/YGo4lvtLMW

— TimeoutSPORTS__ (@TimeoutSPORTS3) December 12, 2021
This is especially true since he was very frustrated in the last Ravens game.
Jadeveon Clowney was so visibility frustrated during the first matchup against the Ravens. The sack on that last drive was a game changer. I am so happy for that man.

— bri (@breezyCLE) December 12, 2021
I LOVE YOU SO MUCH JADEVEON CLOWNEY PLEASE BE A BROWN FOR LIFE

— J 🐳 (@RockTheBabyRuss) December 12, 2021
4. The Browns' Hands Team
Thankfully this game did not come down to special teams play that was subpar by the Browns' hands team fielding the onside kick.
Many people rightfully questioned why fullbacks and linebackers were on the hands team in the first place.
Andy Janovich and Takitaki are apparently on the Browns' hands team. This is an unreal meltdown.

— Zac Jackson (@AkronJackson) December 12, 2021
HOW IS THE BROWNS HANDS TEAM A BUNCH OF FULLBACKS AND LINEBACKERS??!?!?!?!

— DollarDog Nick (@DollarDogNick) December 12, 2021
So we don't have a hands team like every other team for an onside kick? Throw some blockers out there that don't even look at the ball.. How #Browns of the #Browns

— Andy Slaughter (@andyslaughter11) December 12, 2021
This was the best comment about the hands team which jokingly referred to the players on the field as the "shoulders team."
The Browns accidentally sent the Shoulders team out instead of the Hands team

— Jeremy White (@JeremyWGR) December 12, 2021
5. AFC North Is Up For Grabs
The Browns are the only team in the AFC North to score a victory in Week 14.
Sunday, with the exception of Kareem Hunt leaving the game with an injury, could not have gone better for the Browns.
At this point, they have as good of a chance as any of the inconsistent AFC North teams at winning the division.
If anyone watches these AFC North teams & try to tell me the #Browns  can't win it. It's completely false. There all struggling right now!! #AFC #North is wide open this December in the #NFL

— nick west (@nickwest14) December 12, 2021
Victory Monday will be sweet for the fans of the 7-6 Cleveland Browns!