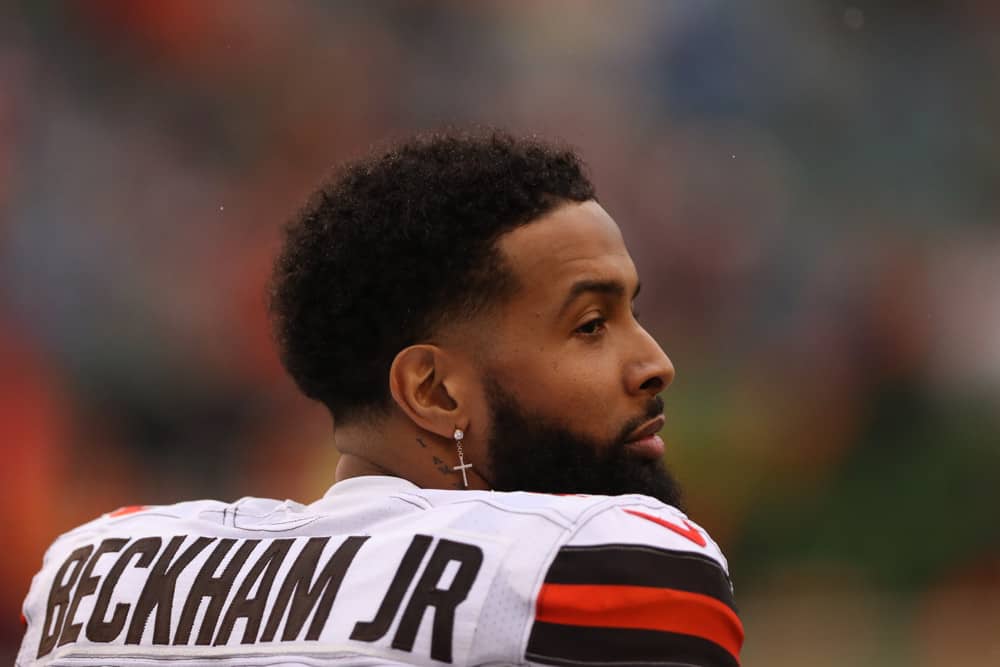 On Sunday, the Cleveland Browns will be heading to Arlington, Texas to take on the Dallas Cowboys.
This matchup will be a star-studded feature with plenty of good players on both sides of the ball.
One of them being Browns star wide receiver, Odell Beckham Jr., who is excited to be playing in the luxurious AT&T Stadium.
#Browns WR Odell Beckham Jr. on AT&T Stadium: It's amazing. It's an incredible environment, beautiful place. I'm always excited to play there.

— Scott Petrak ct (@ScottPetrak) October 1, 2020
Odell Beckham Jr. on playing in Dallas this weekend
Outside of being a fierce competitor, Odell Beckham Jr. is excited for his road trip to Dallas for another reason.
Odell Beckham Jr. on playing the Cowboys: "All of my family grew up in Texas so they are all huge Cowboy fans. It has always been kind of a funny story with them as far as being in New York and them being in Dallas. I do not have any animosity, hate or rivalry with them."

— Jon Machota (@jonmachota) October 1, 2020

With COVID-19 still going on, who knows if Odell will be able to give tickets to his family members even though the Cowboys had fans in their home opener in Week 2 against the Atlanta Falcons.
Odell touched upon the irony of him being drafted to the New York Giants in a family filled with Dallas Cowboys fans and many sources speculated last year that the Cowboys were interested in trading for the star wideout.
In his time in New York, Beckham had plenty of dominant games against then divisional rival, Dallas Cowboys.
Odell, of course, had his infamous catch against the Dallas Cowboys.
Jarvis Landry said fellow Browns WR Odell Beckham Jr. has told him about the Cowboys.

Landry: "Yeah, he has had a lot of success against those guys. So hopefully we can continue that." pic.twitter.com/nMo6btBwQS

— Jori Epstein (@JoriEpstein) October 1, 2020
Odell Beckham Jr is looking to snap a 13 game skid in which he has not received for over 100 yards.
Against a Dallas secondary that is considered the weakness of the team, he is expected to break that streak.
Odell Beckham Jr. has been added to the injury report
After not missing a snap in the first three games, Odell Beckham Jr. was added to the injury report today.
Injury report update:
— #Cowboys LT Tyron Smith (back) returned to practice today on a limited basis, his first in a few weeks.
— #Browns added WR Odell Beckham Jr to the injury report with a back injury he's working through.

— Ian Rapoport (@RapSheet) October 1, 2020
This comes as a surprise as nothing has been mentioned in relation to the Odell and his back.
Although he is listed as an injured player, Odell Beckham Jr. is expected to play this Sunday.
Odell Beckham Jr. is happy his team is winning and that his running back, Nick Chubb is finding much success in the ground game.
Hopefully, the offense can feed off the successful ground game and hit Odell downfield in the play action game.
In last week's game, the Seahawks were able to rush for over 100 yards while also having a big game in the air.
I expect the same from the Cleveland this weekend.
Regardless, fantasy owners are depending on Odell having a big game against this Dallas defense and I, for one, think he will deliver.