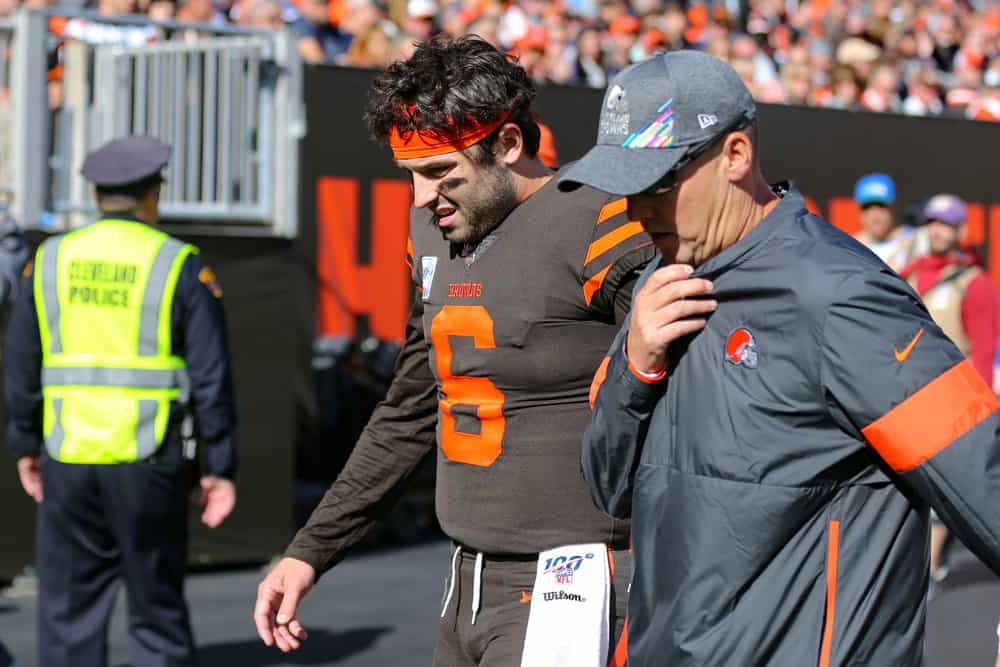 The Cleveland Browns got a scare right before halftime in the Browns 20-13 loss in Pittsburgh.
With 16 seconds remaining in the half, Baker Mayfield injured his hand when his thumb hit Steeler's linebacker Bud Dupree's facemask on his follow-through.
Baker Mayfield's right hand hit Bud Dupree's helmet/facemask. Looked similar to the Drew Brees
injury at first glance.pic.twitter.com/U2c3G45Drh

— NFL Update (@MySportsUpdate) December 1, 2019
Mayfield exited the field with 7 seconds left in the half while holding his right hand.
Browns backup quarterback Garrett Gilbert ran 2 plays on offense to finish out the half.
Mayfield returned in the second half and wore a glove on his right hand.
According to Mary Kay Cabot of Cleveland.com, Mayfield's X-rays were negative.
#Browns Baker Mayfield says he'll be ready to play next week against the #Bengals. Doesn't know if he'll need an MRI, but X-rays were negative

— Mary Kay Cabot (@MaryKayCabot) December 1, 2019
Here's #Browns Baker Mayfield's hand is wrapped in postgame presser pic.twitter.com/E52pHIITO2

— Mary Kay Cabot (@MaryKayCabot) December 1, 2019
Mayfield finished the game 18 for 32, 1 touchdown and 1 INT.  He was also sacked 5 times.
"I fully expect to be able to play," Mayfield said.
"It hit [Dupree's] facemask, obviously with a little bit of speed and force trying to throw the long ball," Mayfield said. "X-rays were negative, so that's good news. It got a little numb, took some medicine and went back out there, so we'll see."
Mayfield also denied that the hand injury hindered him in the second half on multiple occasions.
Whether Mayfield continues to wear a glove moving forward, remains to be seen.
However, most importantly it doesn't appear Mayfield's injury is as serious as some first thought.