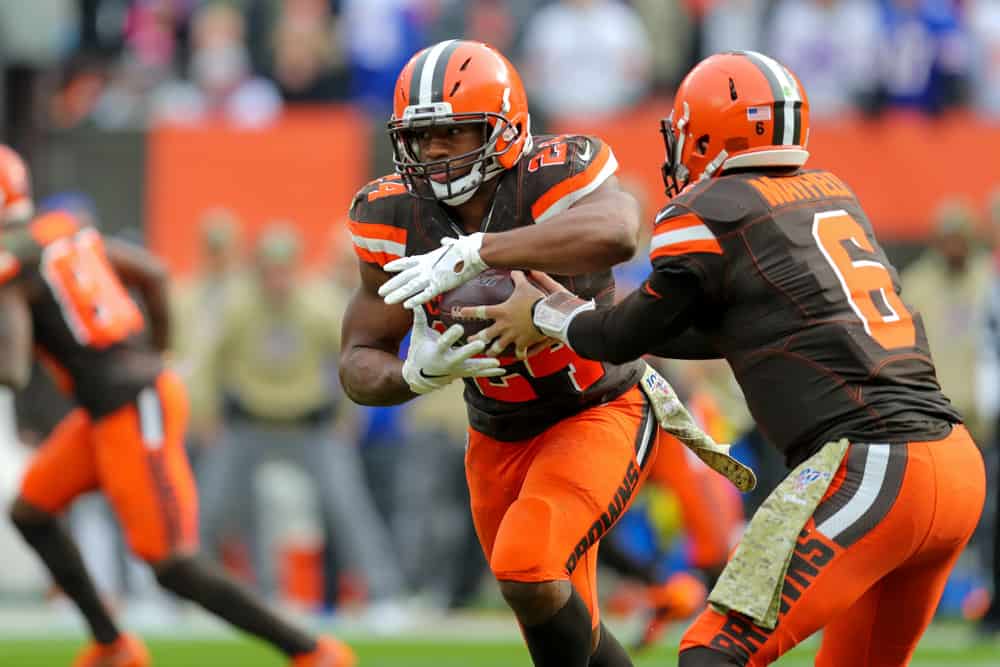 A season of dominance continues for Nick Chubb.
He continues to help carry the Cleveland Browns offense as they sit at 8-3 on the year following a win over the Jacksonville Jaguars.
In the win over the Jags, Chubb ran for 144 yards and a touchdown on 19 carries.
.@NickChubb21 is IN for SIX.

📺: @NFLonCBS pic.twitter.com/WHcF8Ek2Bj

— Cleveland Browns (@Browns) November 29, 2020
One play towards the end of the game showed a little of everything that Chubb brings to the table.
On a 3rd and 12, Chubb caught a screen pass from Baker Mayfield, let a block in front of him develop, then picked up the first down while falling in bounds to keep the clock moving.
#Browns manage to convert 3rd & 12 with a nice screen to Nick Chubb !! 1st Down Cleveland !! 1:25, remaining but Jacksonville has no timeouts #VictoryFormation

— Mike (@MIKE_BROWNS_UK) November 29, 2020
This put the game on ice and gave Cleveland their eighth win of the season.
Chubb showed the ability to catch the ball out of the backfield, read his blocks, and pickup a game-ending first down.
The high-IQ decision to keep himself in bounds is just gravy for coach Kevin Stefanski.
As Chubb continues to impress, his value continues to increase.
His rookie deal, which expires at the end of next season, means a big pay day for Nick is incoming.
The only question is, how much will it cost?
Comparing the Market
There's no debating that Chubb is a top back, if not the top back in the league right now.
He'll be paid accordingly.
Christian McCaffrey, who is just about everything to the Carolina Panthers, makes just a hair over $16 million per season and is the highest-paid running back.
The next two on that list, Alvin Kamara and Ezekiel Elliot, each make $15 million a year.
David Johnson is the fourth highest-paid running back at $13 million per season, but Chubb will certainly command a larger salary than that.
The comparisons between Chubb and Derrick Henry have often been made.
Henry's latest deal, a four-year, $50 million contract, is one most think Chubb is worthy of.
Nick Chubb vs Derrick Henry

Yards:
Chubb: 1494 rush 278 rec
Henry: 1540 rush 206 rec

OLine run blocking grade
Chubb: Bottom 10
Henry: Top 10

Henry signed a 4 year $50 million dollar deal.
Is Chubb worth that same contract? I say HELL YES. What say you Browns Twitter? pic.twitter.com/dLAOxbtIDE

— Nick Karns (@karnsies817) July 16, 2020
Provided Nick stays healthy until the end of his current deal, it's probable he'll get an even bigger haul than Henry.
He's two years younger than Henry, with Nick being 24 and Derrick being 26.
That doesn't seem like much, but for running backs, that can make a huge difference with how short their careers can be.
The age difference alone should drive the value of Chubb's next deal over Henry's.
A hypothetical deal for a Nick Chubb contract may look like a four-year $62 million contract, bringing the yearly salary to $15.5 million.
Will the Browns Pay Him?
The contract extension given to Kareem Hunt in September threw Browns fans for a spin.
The #Browns are giving RB Kareem Hunt a 2-year, $13.25M extension, source said. Cleveland keeps him for 3 years, Hunt gets paid.

— Ian Rapoport (@RapSheet) September 8, 2020
The extension overlaps with when Chubb will need paid.
That's a decent chunk of change tied up in someone who, for now, serves as a backup running back.
Mike Davis, McCaffrey's backup in Carolina, makes just $3 million per season.
Of course, Hunt is a mile and than some ahead of Davis in terms of talent.
Still, there are other guys on the roster who need paid too.
Olivier Vernon, Larry Ogunjobi, Sheldon Richardson, and Wyatt Teller all have deals that expire before Chubb's or at the same time.
There are others who need paid soon after, like Jarvis Landry, Denzel Ward, and Baker Mayfield.
Needless to say, I do not envy Andrew Berry when it comes to managing all these potential new deals.
Not everyone will stay, but Berry will need the funds to pay the right people.
To this point, Chubb has proven he is one of those people.
Berry should prioritize is top running back when deciding who he pays, and it should be north of $15 million a season.