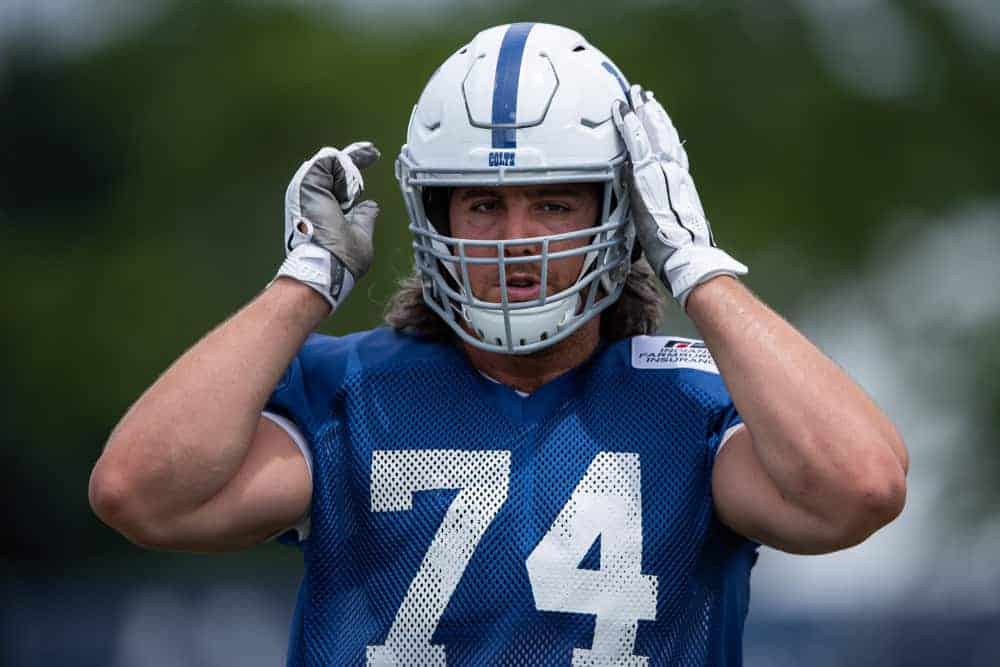 The Cleveland Browns host the Indianapolis Colts on Sunday at FirstEnergy Stadium.
Both teams come into Week 5 with 3-1 records.
And both teams are dealing with significant injury woes.
On Friday, the Colts announced that left tackle Anthony Castonzo and linebacker Darius Leonard will be out for the Browns game.
1. Anthony Castonzo – Left Tackle
Castonzo, the veteran left tackle, was the Colts' first round draft pick in the 2011 NFL Draft.
Since then, he has played in 136 out of a possible 148 games including last week's game against the Chicago Bears where he suffered a rib injury.
In the 12 games Castanzo did not play in, the Colts went 2-10.
Colts are 2-10 when playing without Anthony Castanzo. Oh boy. Shows you the importance of one or the most underrated players at his position.

— 𝐁𝐢𝐥𝐥 𝐂𝐨𝐬𝐥𝐨𝐬𝐤𝐲 (@LegendCoslosky) October 9, 2020
Anthony Castonzo is 32 years old and the only remaining player on the roster that played in the Peyton Manning era.
Since then, he has worked with potentially two more Hall of Famers:  Andrew Luck and now Philip Rivers.
Le'Raven Clark, the 2016 Colts draftee, will be the starting left tackle.
Of Clark, Head Coach Frank Reich said:
"Excited to see Le'Raven play. We think he's going to play well.''
Regarding Clark facing Myles Garrett, Reich said:
"With Myles Garrett and what they do defensively, they move him around. I'm sure he'll switch sides. That's nothing new for him. They'll want to test out Le'Raven. We have our plans on how we'll handle those things. We go into every week with a protection plan no matter who we're playing."
Le'Raven Clark takes center stage here in Castonzo's absence. Zaire Franklin likely does the same in Leonard's stead. Big tests for both, but also big *opportunities*. Both players had GREAT training camps and have impressed their coaches. Time to step up.

— Stephen Holder (@HolderStephen) October 9, 2020
2. Darius Leonard – Linebacker
Leonard, a 2018 Colts draftee, was the NFL Defensive Rookie of the Year in 2018 and voted All-Pro in both 2018 and 2019.
Last season, he had 71 solo tackles, 7 pass deflections, 5 interceptions, and 1 defensive TD.
He achieved those statistics despite missing 3 games in 2019 with injury.
According to NFL Research, Leonard, 25, is the first NFL player since 1982 to have 10+ sacks and 5+ interceptions in his first 25 games.
Leonard suffered a groin injury in last week's game against the Chicago Bears and did not practice Wednesday or Thursday.
Up until Friday, it was unclear whether or not he would be available to play against the Browns.
He told the Indianapolis Star:
"I can definitely go out there without practice. I think I've seen enough ball to do it."
Darius Leonard is going to do everything in his power just to get out on the field by Sunday 😤 pic.twitter.com/5nhsYzWbfK

— Colts Nation (@ColtsNationCP) October 9, 2020
Three players are likely to fill in for Leonard.
Zaire Franklin, Bobby Okereke, and Anthony Walker are expected to play.
Franklin is another 2018 Colts draftee (7th round, Pick 235) who is one of the five Colts team captains.
Okereke has been dealing with a thumb injury, and Walker has an ankle injury.
The absence of Castonzo and Leonard adds more uncertainty to what was already expected to be a close game between the Colts and Browns.