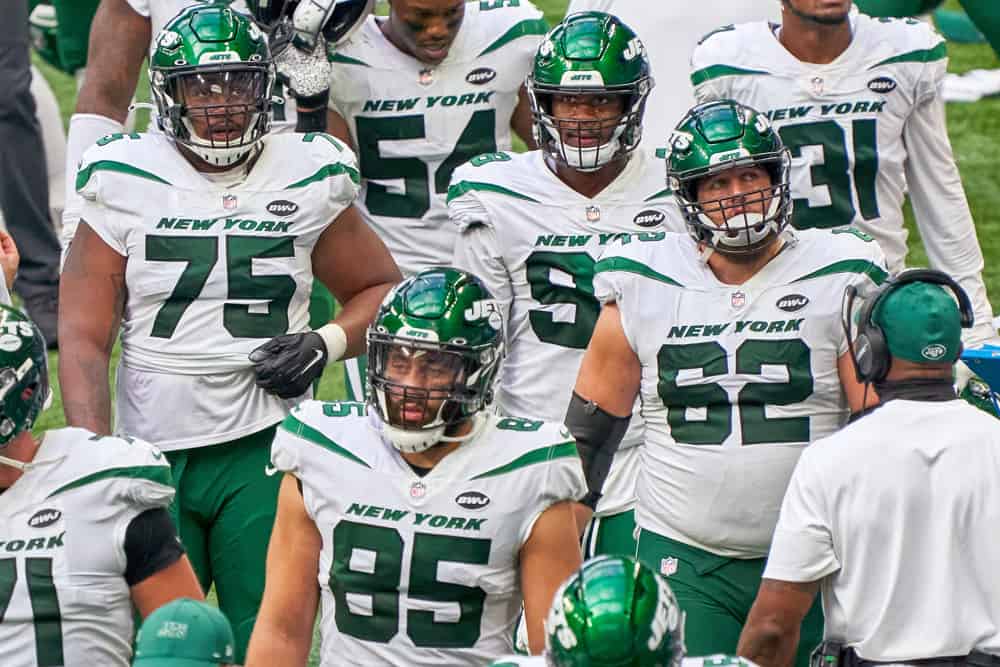 The New York Jets are BAD.
Ranking in the bottom of the league in almost every measurable statistic and sitting at 0-6, they are staring at being at one of the worst teams in the league for the foreseeable future.
Recent history has shown the quickest way to turn around a franchise is to conduct a complete tear down, stock draft capital, clear the books, and rebuild.
Common sense tells us that a fire sale is coming.
Should Andrew Berry make a call to his counterpart in New York?
Here are 2 players the Browns should look at.

1. Pierre Desir
This would be a reunion, as Pierre Desir played for the Browns in 2014-2015.
This move makes the most sense, as the Browns defensive backfield is struggling in their pass coverage duties and is riddled with injuries.
Desir has 34 tackles and 3 INTs on the season so far, including a multiple INT game against Denver earlier this month.
This is a good short term move for the Browns: it would cost them a low round pick, as well as providing a short-term starter and depth as Greedy Williams comes back from injury.
Financially, the cap hit would be minimal.
The #Jets are giving CB Pierre Desir a 1-year contract worth up to $5.5M max, source said. He lands quickly after the surprising release. https://t.co/2Fv9zUWTmg

— Ian Rapoport (@RapSheet) March 22, 2020
2. Bradley McDougald
I think we're noticing a trend: the Browns need some help in the defensive backfield, especially at safety.
Free safety, specifically.
Looking at you, Andrew Sendejo…I think all Browns fans can agree, Sendejo has to go.
The mental lapses and poor play has been the bane of the entire unit the whole season.
This is where Bradley McDougald comes in.
McDougald, an 8-year vet out of Kansas, really came into his own in his three-year stint with the Seattle Seahawks.
A ballhawk at free safety, McDougald over his career has forced 4 fumbles, recovered 2, and picked off 10 passes while defending 41 others.
The man can play.
Playmaker. BallHawk. However how you describe him, Bradley McDougald just gets the job done.@babylead | #DALvsSEA pic.twitter.com/lLlxodnTFY

— Seattle Seahawks (@Seahawks) September 24, 2018
This year with the Jets, he's racked up 34 tackles and a fumble recovery.
Not only would the Browns be getting an upgrade over Sendejo, but they would also be doing him a favor.
Look at the guy:
I genuinely feel bad for Bradley McDougald. Poor man got traded from the Seahawks to the Jets pic.twitter.com/iMwFkS8i6F

— Rice (@eatalltherice) October 20, 2020
He would also probably only cost a low-round pick, as McDougald is also on the last year of his deal, counting a little over $4 million, according to Spotrac.com.
Either Desir or McDougald would add some much needed experience to a very young defensive backfield.
At 4-2, the Browns are in a good position to get to the playoffs for the first time since 2002.
While these players aren't huge names, they could go a long way to improving the Browns chances going forward.