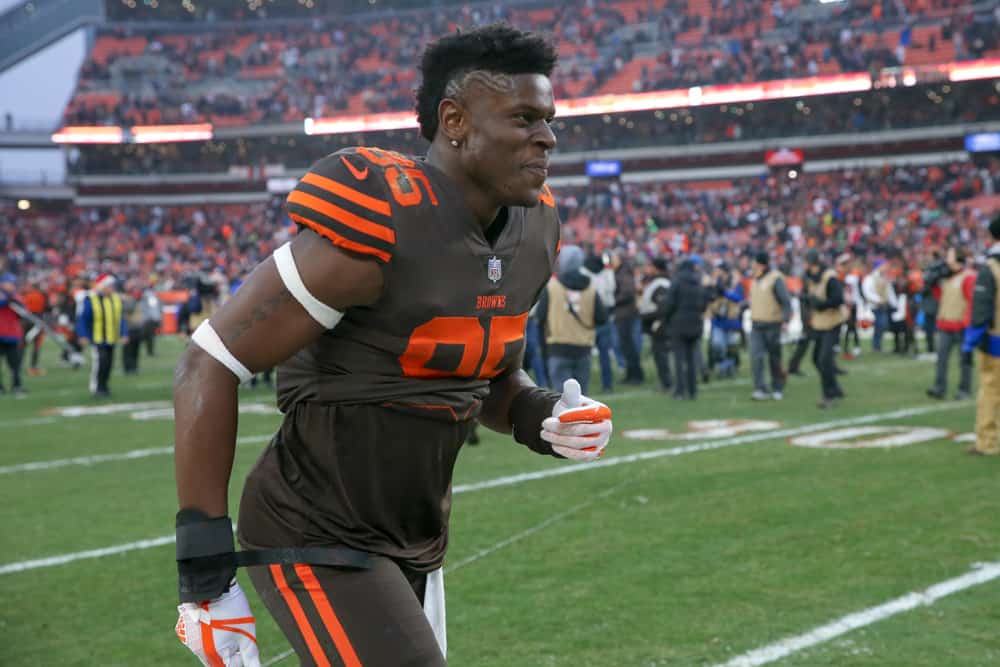 David Njoku may or may not want the Cleveland Browns to trade him.
But his agent, Drew Rosenhaus, certainly wants someone to give his client a bigger role in their offense.
Playing third fiddle on a run-dominated unit does not result in large paydays or lengthy second contracts.
Rosenhaus knows there are teams who offer the opportunity for Njoku to be a bigger offensive weapon.
This season, David Njoku has 5 catches and 2 trade demands

— Aaron Goldhammer (@HammerNation19) October 19, 2020
Andrew Berry is undoubtedly taking calls on Njoku, especially after it slipped his player still desires a move.
But Njoku's trade demand makes it more difficult to get fair market value.
Berry also has to contend with bigger named tight ends rumored to be available, like Zach Ertz and Evan Engram.
Njoku advertised himself well in the season opener with a touchdown and a contested catch for a long gain.
Berry has to hope one of these teams believes a change of scenery will propel Njoku into stardom.
1. Arizona Cardinals send LB, 6th round pick
Kliff Kingsbury's offense relies on speed and mobility from every player.
Arizona's tight ends are more likely to be in motion or line up outside than they are to stay in and block.
That plays right into David Njoku's skill set, or lack thereof when it comes to blocking.
The Cardinals invested a lot of money at wide receiver and have solid rushers.
But their tight ends are not contributing on a scale that would complete Kingsbury's attack.
Njoku provides a good end zone target, a screen option, and can find the open areas in the middle of a zone.
Wide. Open.@David_Njoku80 | #CLEvsBAL pic.twitter.com/kiaYzRHLo9

— Cleveland Browns (@Browns) September 13, 2020
Arizona reportedly considers linebacker Hasaan Reddick a tradeable commodity.
Reddick is a former first-round draft pick who slipped last season after a promising 2018.
Playing just half of the defensive snaps this year, Reddick has 2 sacks, 4 QB hits, 2 pass deflections, and 10 tackles.
His 2019 swoon and the partial role this season presents enough risk to make Arizona throw in a conditional 5th or 6th round draft pick.
But the deal might have to wait until the Cardinals replace injured outside linebacker Chandler Jones.
If Reddick is still on the team after the Cards deal for Ryan Kerrigan or Markus Golden, Berry can flip his unhappy tight end for some linebacker help.
2. Washington Football Team Sends Conditional 3rd or 4th Rounder
Washington does not want to give up much draft capital.
But they really need some pass-catching weapons.
And With tight ends notorious for taking several seasons to develop, it is worth paying for David Njoku.
Can't-Miss Play: Njoku beats Humphrey for EPIC 42-yard jump-ball catch#Browns vs #Ravens
Q3 02:53 pic.twitter.com/X4vjDX2g9Z

— Browns Replay (@BrownsReplay) July 21, 2019
Ron Rivera might prefer someone who blocks better than Njoku.
But he can hope his new tight end improves his skills while knowing Njoku can split out wide like a receiver if he doesn't.
Washington has an extra third-round pick in 2021.
Expect them to offer their fourth-round pick with Berry negotiating an upgrade conditional on a Pro Bowl or number of catches.
Washington could counter by sending a later round pick along with pending free-agent edge rusher Ryan Kerrigan.
3. Patriots Send Pair of 6th Round Picks 
Andrew Berry might hope to pry any of New England's defensive backfield players away from Bill Belichick.
But given the history of post-Belichick player performances, he might do better with the draft picks.
Belichick has three 6th-round picks in the 2021 NFL draft.
Njoku is our 3rd best TE… if that. Trade him and move on. Id rather Carlson be blocking than Njoku getting blown up

— Fresh Brownies (@Fresh_Brownies) October 19, 2020
One potential snafu is if Belichick uses those picks to land John Ross, Julio Jones, or another wide receiver.
New England has played fast and loose with their draft picks recently, preferring to build through free agency and trades.
If they don't start winning games soon, they might opt to rebuild the more traditional, and less expensive way.
But they are not likely to give up and tear things down this season, making draft picks the likely currency for a Njoku deal.
Other Potential Suitors 
If the Green Bay Packers can't land a premier wide receiver, they could settle for another pass-catching tight end opposite Robert Tonyan.
GM Chris Ballard loves his draft picks, but he might part with one for a chance to reproduce the Eric Ebron experience in Indianapolis.
Whether Andrew Berry pulls the trigger for anything less than his asking price will reflect more on the team's position of control than a real need for David Njoku.
It will also put his young tight end firmly in the offseason trade rumor mill.