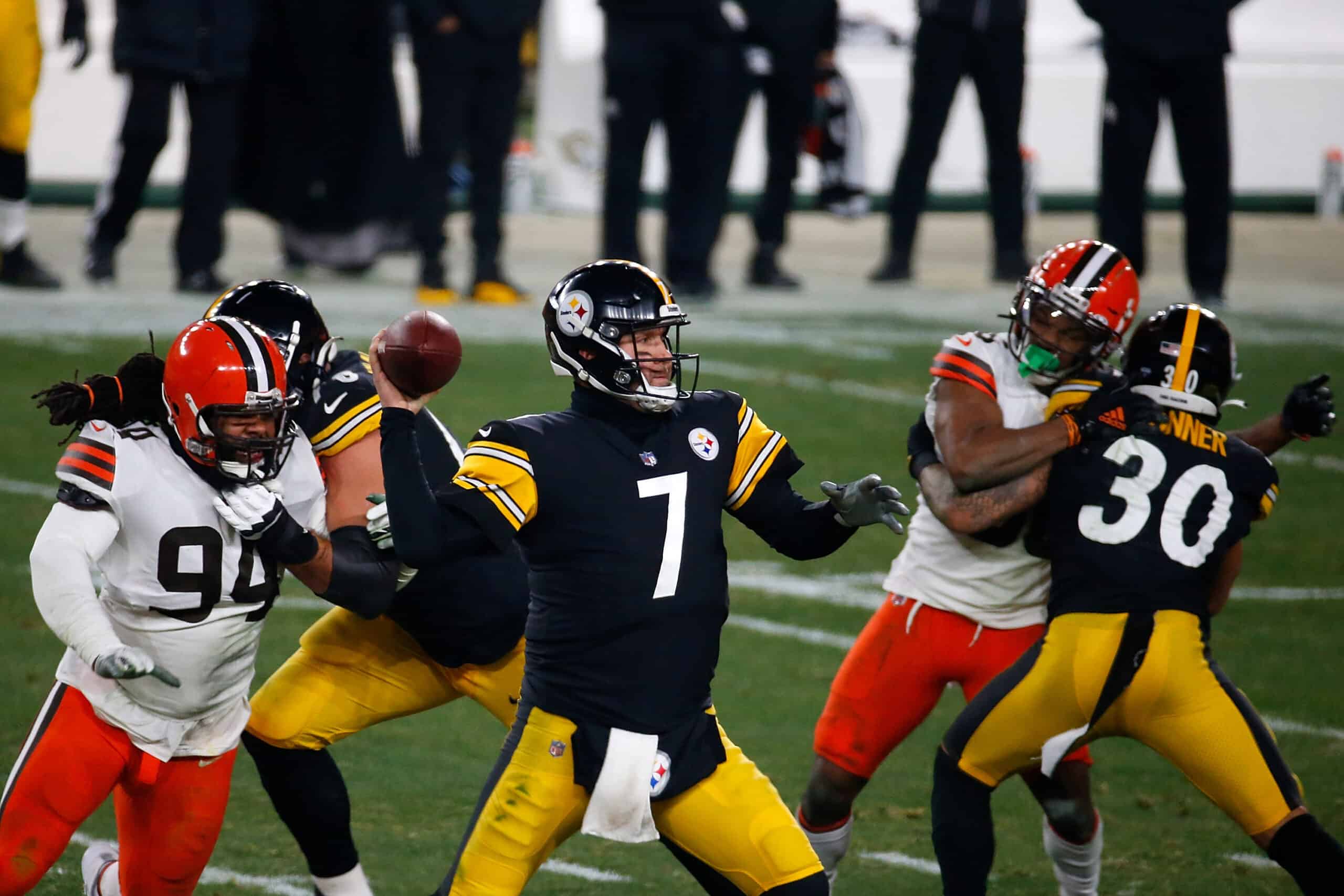 It's already that time of the year again where the Cleveland Browns and Pittsburgh Steelers do battle.
Neither team has put together that type of performance that they've wanted early in the season.
However, there is still plenty of time for both teams to turn around their record.
It's an important game for both teams as most divisional contests mean a little more than normal.
There will be a few matchups fans should be watching for during the Week 8 contest.
1. Big Ben vs Browns D-Line
Over the offseason, the Browns made it a focal point to improve their defensive line.
They added former No. 1 overall pick Jadeveon Clowney to their roster.
The pairing of Clowney and Myles Garrett was expected to be one of the better passing rushing duos in the league.
This Week 8 contest will be a prime matchup for the two Pro Bowl defenders to feast.
Opposing offensive lines have already been having issues trying to hold Garrett and Clowney in check.
Myles Garrett is a force of nature 🌪

Franchise record 4.5 sacks on the day

(via @NFL)
pic.twitter.com/VAhpoK7CH5

— Bleacher Report (@BleacherReport) September 26, 2021
Cleveland needs to make sure to get pressure on Ben Roethlisberger if they want to have a chance to win.
The 39-year-old is not mobile anymore and is basically forced to stand in the pocket.
That means, the Browns best way to have success is getting pressure on Big Ben.
They need to pressure him into making mistakes or sack him for a loss otherwise it could be a long game for Cleveland.
2. Mayfield vs Pittsburgh Defense
Last week, the Browns decided to start backup quarterback Case Keenum against the Denver Broncos.
The veteran backup received the start because Baker Mayfield was unable to suit up due to a shoulder injury.
Although, Mayfield desperately wanted to play, but the Browns decided to play it safe.
A week later, Mayfield will be suiting up against the Pittsburgh Steelers in Week 8.
QB Baker Mayfield WILL start Sunday against the Steelers, coach Kevin Stefanski just announced #Browns

— Jake Trotter (@Jake_Trotter) October 29, 2021
This is a bit of a risky move considering Mayfield isn't 100 percent healthy.
In fact, it sounds like Mayfield is going to need surgery in order to get back to where he was before.
That being said, it'll be interesting to see how Mayfield plays against this tough Steelers secondary.
He clearly isn't fully healthy, but the Browns have cleared him to suit up.
Fans shouldn't expect much from Mayfield in this one, but maybe he'll surprise some people.
3. Chubb vs Steelers D-Line
There is some good news involving injuries as Nick Chubb will return for the Week 8 matchup versus Pittsburgh.
The superstar running back has been out since Week 5, but will get back on the field for this one.
It'll be interesting to see what the Browns do with D'Ernest Johnson after his epic game against the Broncos.
D'Ernest Johnson had a career-high 146 rush yds in the Browns' 17-14 win over the Broncos Thursday.

Johnson had just 11 rush yds this season and 198 career rush yds overall prior to this game. pic.twitter.com/OjT3peCpru

— ESPN Stats & Info (@ESPNStatsInfo) October 22, 2021
However, fans should expect Chubb to get in his normal workload versus Pittsburgh.
Although, this isn't exactly an easy defensive line to run against nowadays.
The Browns might lean on the running game more with Mayfield not playing at 100 percent.
Possibly, the Browns try and pound the ball for Chubb to earn a win on Sunday.
It wouldn't be surprising to see Johnson mixed in as well, but the running game needs to get going if the Browns want to have a chance in this game.