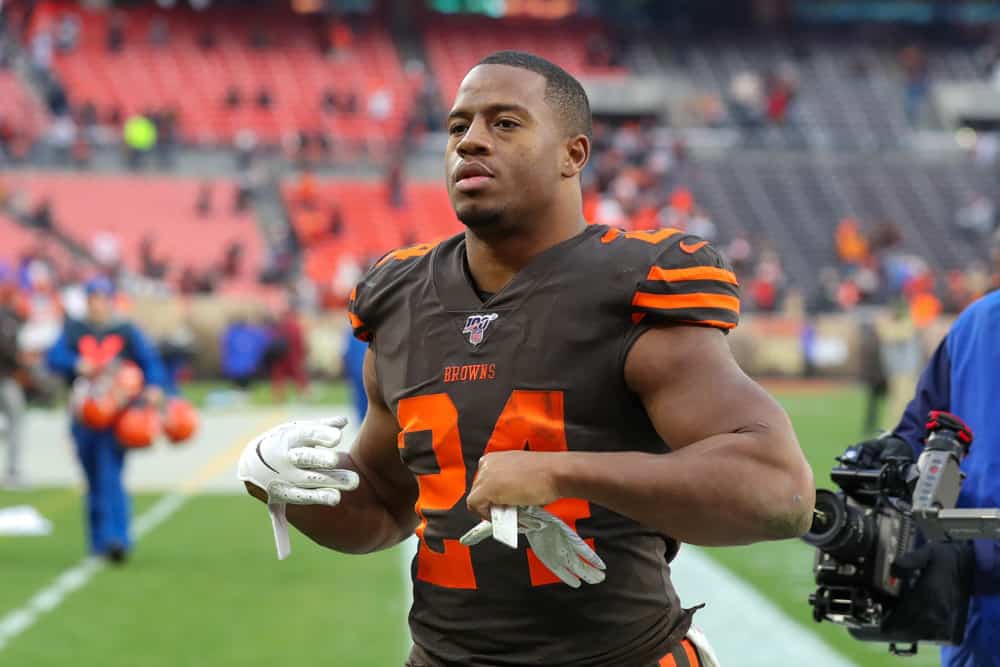 It is no secret that the Cleveland Browns have a lot of decisions to make for 2021 and beyond.
The team's financial situation is better than most in the NFL.
The Browns have $30 million in carryover cap money, but that money needs to be spent wisely.
One of the first priorities has to be negotiating Nick Chubb's extension for 2022.
NFL insider Adam Caplan recently joined The Bull & Fox show on 92.3 The Fan to talk about Nick Chubb and the other issues the Browns are confronted with behind the scenes.
Nick Chubb's Contract
Chubb's rookie contract is a four-year deal worth $7.38 million signed in 2018.
.@caplannfl on @BullandFox on what Nick Chubb's contract number would likely be for #Browns to extend: "Derrick Henry is making $12.5 million/year and that, to me, is the number. Right there, around $12-12.5 million would be worth it."

— Keith Britton (@KeithBritton86) March 11, 2021
Adam Caplan believes that Nick Chubb's contract should be in the ballpark of Derrick Henry's deal.
Most games w/ 100+ RUSH YDS since 2018:

🔸Derrick Henry – 18
🔸Nick Chubb – 17 pic.twitter.com/Ycp4OCsB51

— PFF (@PFF) March 8, 2021
Caplan talked about how teams rarely invest big money in two running backs, but the Browns are wise to do so.
Their offense is run-based, and for that reason, it is justified to spend $50 million on Chubb over 4 years plus the $12 million over 2 years on Kareem Hunt.
Other Browns News From Adam Caplan
Adam Caplan said that the Browns overachieved last season with the roster they had.
Caplan credits the coaching staff for the Browns doing as well as they did.
While he credited GM Andrew Berry for handling the draft and free agency well, Caplan firmly believes that the Browns lacked depth in a lot of key positions including defensive end, corner back, linebacker, and wide receiver in 2020.
Von Miller
Vonn Miller doesn't fit the Browns scheme. He's not a Defensive End, so he would only be able to come in on passing situations. His price tag most likely wouldn't fit the % of downs he would play for us.

— Robbie Antonille (@AntonillexRob) March 1, 2021
Though the whispers regarding Von Miller coming to the Browns have grown louder over the past few days, Caplan believes Miller in his 30s is not be the sole answer.
Snatching a free agent of Carl Lawson's caliber and age would be a big get for the Browns.
However, it would cost the Browns big bucks when they already have a lot of money tied up in Myles Garrett.
Baker Mayfield
UPDATE: Browns plan to pick up QB Baker Mayfield's fifth year option

(H/T: @MaryKayCabot) pic.twitter.com/rZUu8zHVNV

— JPA Football 🏈 (@jpafootball) February 20, 2021
Caplan says the obvious choice is to exercise Mayfield's fifth-year option.
He believes a comparable contract value for him is a challenge given how the Browns played in his first two seasons and how many coaching changes he had to deal with.
Rashard Higgins and the Wide Receivers
It's becoming pretty clear that Rashard Higgins wants to return to Cleveland but the #Browns either aren't offering him a contract, or are not willing to pay him anywhere near what he'll get in the open market.

— clebrownsnetwork (@clebrownsntwork) March 12, 2021
Caplan's discussion of Rashard Higgins is in context of the entire wide receiving group.
The money is tied up in Landry and OBJ.
Beyond that, the Browns are light in experience.
He talked about KhaDarel Hodge and Donovan Peoples-Jones, young players who had to step up in 2020 given the lack of depth.
Rashard Higgins, a fan-favorite in Cleveland, is in Caplan's mind a backup receiver.
He assesses him as 4th or 5th on the depth chart.
Higgins is a free agent, and Caplan believes his asking price in Cleveland would be between $1 and $2 million per year.
If Higgins goes elsewhere and is offered a starting position, the money would be different.
As long as Landry and OBJ are in Cleveland, Higgins' role will be as a backup, according to Caplan.
Adam Caplan stressed that the Browns need to handle the draft and free agency well to match their impressive 2020 record.