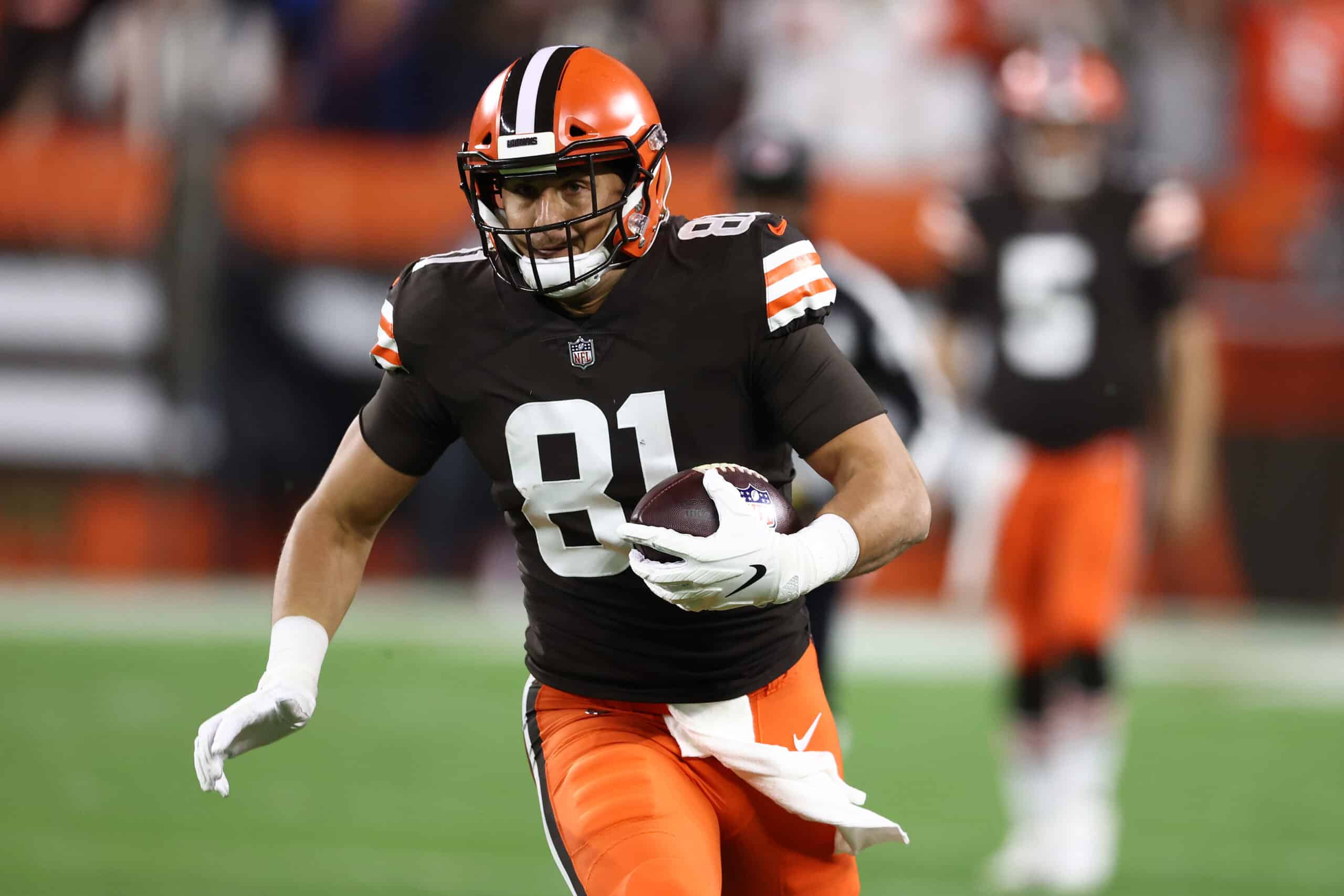 The Cleveland Browns are 7-6.
It has been a difficult road to get above .500 with the injuries and locker room issues that have permeated this season.
Ever since Odell Beckham Sr. publicized his 11-minute social media video talking about quarterback Baker Mayfield, there have been lingering questions about team unity and support of Mayfield.
Tight end Austin Hooper phoned into The Jim Rome Show on Monday to set the record straight from his perspective.
His comments were very supportive of his quarterback.
What Hooper Said
Rome asked Hooper how he feels about people being critical of Mayfield as he is fighting through injuries.
"One thing that is not up for debate is this man's level of toughness. Forget football, Jim, the stuff this guy is playing through…I couldn't be happier just based on his leadership or just who he is as a man, who he is as a quarterback, who he is in the locker room.  It is one of those intangible things in sports, but it does mean something, and it does resonate with the guys in the locker room. We do notice it, and we do appreciate it."
Is The Locker Room Divided?
The OBJ situation certainly had to cause ripples of dissension among the players.
Are there lingering hard feelings?
"It's night and day compared to where I was heading into last week" @bakermayfield sat down with @kurt13warner to talk about how he and the @Browns will finish up the season 👇 pic.twitter.com/YBPgVDjVPM

— NFL GameDay (@NFLGameDay) December 12, 2021
ICYMI: #Browns QB Baker Mayfield tells Kurt Warner in NFL Network interview "internal" criticism he's received has been "tricky part about this year" https://t.co/w1NEpzt55a

— Nate Ulrich (@ByNateUlrich) December 13, 2021
It seems possible as Mayfield himself told Kurt Warner in an interview that aired Sunday on NFL Network about the stress of the internal scrutiny.
He called handling it the "tricky thing about this year."
What Fixes It
First of all, if Mayfield is healthier, that helps everyone.
He has been impaired in various ways since Week 2 so it has been hard to assess whether his inconsistent play is injury-related or attributed to something else.
Finally, and most importantly, winning fixes this situation.
The Browns started on the right path Sunday with a win over the Ravens.
The team needs to continue to win on Saturday against the Raiders who handed the 2020 Browns one of their 5 regular-season losses.