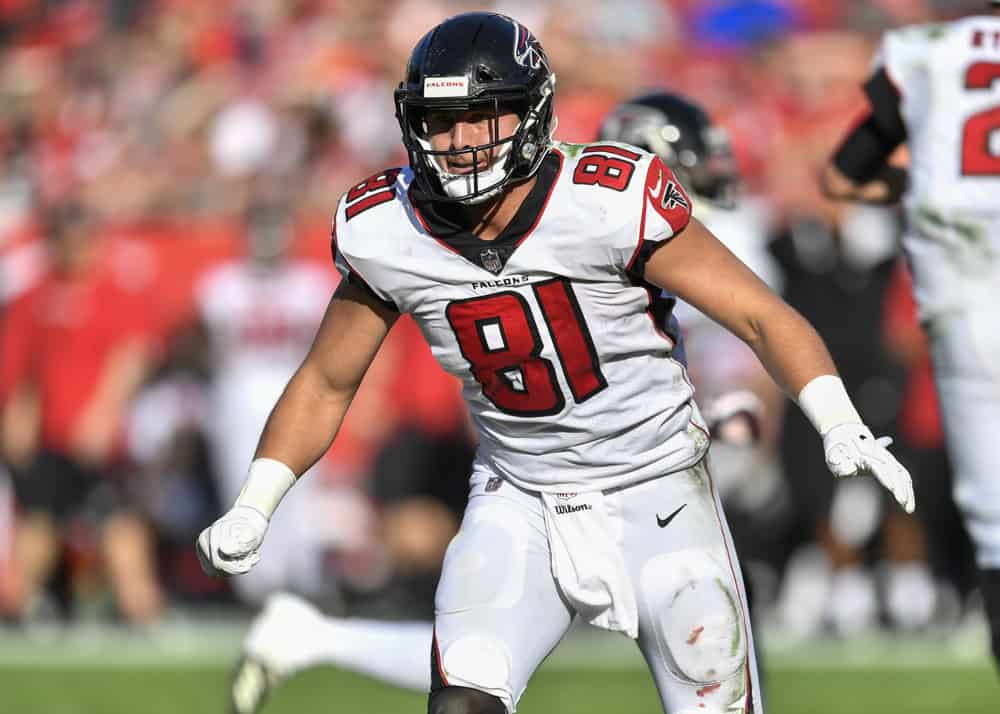 Surprisingly, the Cleveland Browns won the sweepstakes for two-time Pro Bowl tight end Austin Hooper this offseason.
The Browns aren't normally a hot spot for highly coveted free agents, but they were able to lure Hooper to the team.
Hooper recently appeared on the Jim Rome Show, and said that signing with the Browns was a 'no brainer' for him.
"I really liked Andrew Berry his vision, his approach, his style. I think I can really benefit from being under his leadership," says Hooper.
The 25-year-old tight end is quickly becoming one of the most reliable options at his position in the league.
Possibly more superstar-type players will be interested in coming to Cleveland after they won over Hooper this offseason.
How Did The Browns Land Hooper?
As mentioned, many big-time free agents often don't come to Cleveland because the Browns don't exactly have a winning culture.
They fell below expectations last season, but it wasn't due to a lack of talent on the roster.
Hooper mentioned in his interview that one of the biggest factors that attracted him to Cleveland was first-year head coach Kevin Stefanski.
According to Hooper, Stefanski's outside zone play-action scheme is similar to what Kyle Shanahan ran during his rookie season with the Falcons.
"Between the system, the coach, the GM, and to be real the offer. All four of those things were lined up so it was kind of a no brainer for me," says Hooper.
The Browns made Hooper the highest-paid tight end in the league.
The Browns have signed TE Austin Hooper to a 4 year $44 Million contract. pic.twitter.com/nJ3xVhPTxf

— Everything Cleveland (@EverythingCLE_) March 16, 2020
He'll be making an average of $10.5 million over the course of his deal, which is a bit of a steal considering Hooper's performance over the last two seasons.
He's hauled in 146 receptions, 1,447 receiving yards, and 10 touchdowns over his last 29 games.
The Browns were able to land one of the best up-and-coming tight ends in the league.
Baker Mayfield & Hooper
Before agreeing to come to Cleveland, Hooper wanted to chat with Mayfield and get a feel of possibly his new quarterback.
"I talked with him on the phone for 10 minutes before free agency," said Hooper.
Hooper heard all he needed to from Mayfield about his aspirations and what he wanted to accomplish after last season.
After agreeing to sign with the Browns, Hooper went to Austin, Texas to train with Mayfield.
"It was a great opportunity to run around with him for a couple of weeks," said Hooper.
It seems that the two of them are already developing a chemistry together before even training camp begins.
What Hooper Brings to Cleveland
Last season, Mayfield was forced to throw deep without a play-making tight end.
The Browns had David Njoku, but he spent most of the season on the sideline with injuries.
Another thing, former head coach Freddie Kitchens did not put together a reliable gameplan or system.
Stefanski's outside zone play-action scheme is something that has worked for countless other teams and quarterbacks such as Kirk Cousins and Matt Ryan.
An improved offensive line should help the running game and open up play-action as well.
At the end of the day, it's nice to see an underdog team like the Browns actually land a highly valued free agent like Hooper.
No one could have predicted that the Browns would land Hooper, but he'll hopefully be the difference-maker in this revamped offense.