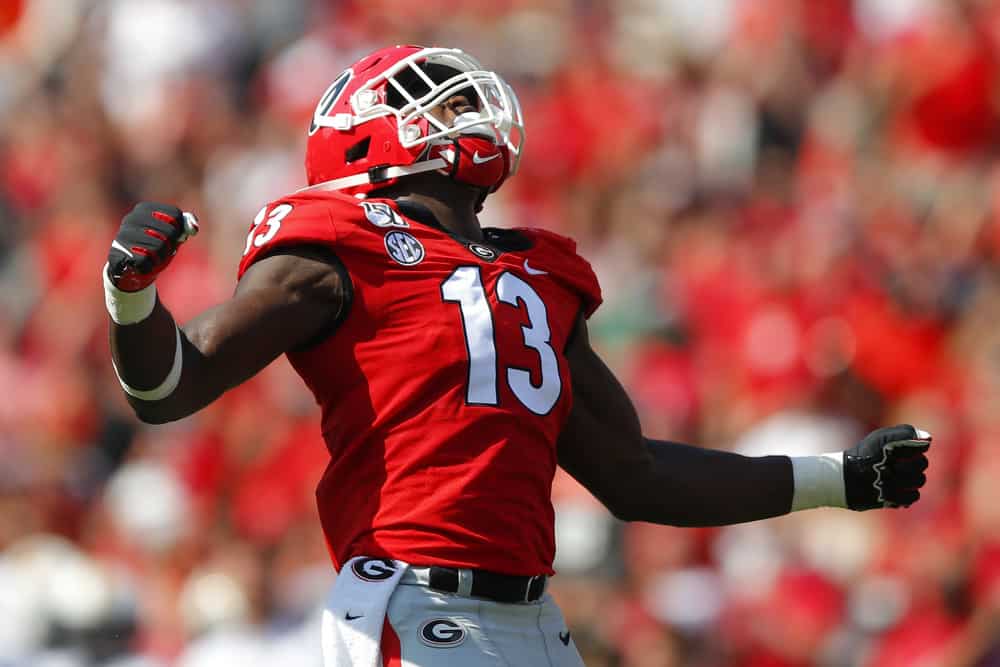 The 2021 NFL Draft is quickly approaching, which means it is time to talk about possible options for the Cleveland Browns.
Thus far during free agency, the Browns have not made any blockbuster signings or trades.
Possibly, the front office is waiting until draft day to add their impact players of the offseason.
There is certainly plenty of talent available on the defensive side in the 2021 draft class.
However, one player that isn't getting talked about enough is Georgia edge rusher Azeez Ojulari.
Who Is Ojulari?
Technically speaking, Ojulari is listed as a linebacker, but it wouldn't be shocking to see him being used as a defensive end in the NFL.
On paper, Ojulari's stats don't blow you away, but no one should be doubting his ability.
In the SEC, he was facing top tier offensive tackles and he was still able to make a significant impact.
Ojulari is drawing comparisons to Denver Broncos superstar Von Miller.
While comparing Ojulari to a future Hall of Famer like Miller is a stretch, organizations shouldn't be sleeping on Ojulari on draft day.
He is arguably the best edge rusher in his draft class, but will he be able to fall to the Browns?
✅ Sack
✅ Force Fumble
✅ Fumble Recovery

Azeez Ojulari: Highest-graded pass-rusher in the NFL Draftpic.twitter.com/9xWWO0selM

— PFF Draft (@PFF_College) March 17, 2021
There is so much untapped potential with Ojulari that it wouldn't be shocking to see him being taken in the top 15 on draft day.
In 2019, Ojulari recorded 33 tackles, five tackles for loss, and 5.5 sacks through 11 games.
He followed that up with 31 tackles, 12.5 tackles for loss, and 9.5 sacks during his 2020 campaign.
As mentioned before, Ojulari doesn't have mind-blowing stats, but the upside is there.
He has the strength, power, and burst to become an elite player at the professional level.
Ojulari just needs the right system and coaching around him to help him take his game to the next level.
Could Cleveland Land Ojulari?
It is basically impossible to predict how the draft is going to play out before it happens.
However, the Browns do have a need for a player like Ojulari.
This defense could certainly use this type of explosiveness alongside Myles Garrett.
The Browns defense needs a spark plug like Ojulari after losing multiple starters in free agency.
Cleveland reportedly attended Ojulari's pro day workout, so clearly the organization is showing interest in him.
Today is the Georgia Bulldogs pro day workout, and the Browns are confirmed to be represented at the event, which will be held in Athens. The headliner is pass rushing specialist Azeez Ojulari, who some analysts project could be the Browns first round pick at number 26 overall…

— BrownsFreak51 (@BrownsFreak51) March 17, 2021
Although, it's unknown if Ojulari will fall to the Browns at No. 26.
It seems unlikely that Ojulari lands in the top 10, but somewhere between 15-20 is believable.
The Browns could always trade up in the draft, assuming they believe Ojulari is their future.
The upside here is tremendous, but we'll see on draft day how much interest the Browns truly have in Ojulari.