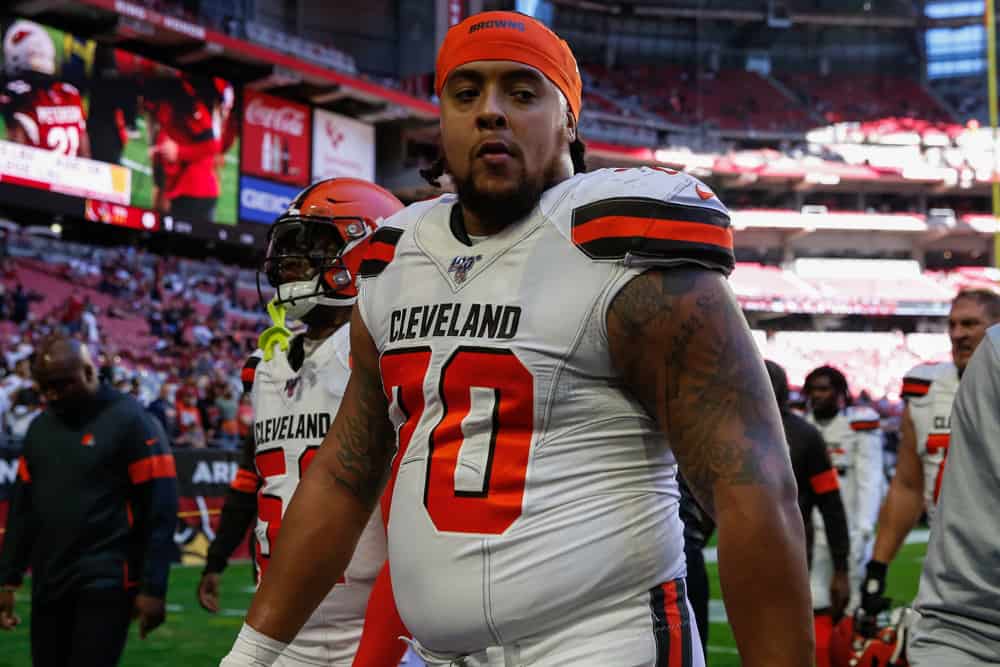 The Cleveland Browns lost offensive lineman Kendall Lamm to free agency.
This was not a surprise, but it is bittersweet.
The big man had become a sentimental favorite in Cleveland after logging a lot of playing time in 2020.
Lamm is signing a two year contract with the Tennessee Titans.
The #Titans are signing former #Browns OT Kendall Lamm to a 2-year deal up to $8.5M, source said.

— Ian Rapoport (@RapSheet) March 16, 2021
Kendall Lamm's Cleveland Memories
Lamm entered the NFL as an UDFA signed by the Houston Texans in 2015.
He joined the Browns in 2019 and had a much more active role in 2020 playing in 15 regular season games.
Given the Browns injury and COVID-19 issues, Lamm was one of the players who performed well as the "next man up".
Lamm shared his thoughts about his NFL home for the past two years.
On Instagram, he said:
"When I left Houston 2 years ago I had no idea what was in store for me as I traveled to Cleveland. Now two years later I can say it's a place that will be near and dear to me forever. From the people, to the culture, the ups and downs I'll always cherish because they've [helped] make me ME! …To all my teammates love you guys, to MY BROTHERS in that OL room love y'all boys and know I'm always one call away! To the Browns organization thank you for allowing me to continue the dream and I'LL FOREVER CHERISH BEATING PITTSBURGH in those playoffs."
Lamm is correct that beating the Steelers in the wildcard playoff game was a thrill.
He also added a special play to the 2020 Browns' highlight reel.
Ironically the play was against his new team, the Tennessee Titans.
In the wake of the Bud Dupree news the Titans signed OT Kendall Lamm.

This play from Week 13 might have had something to do with that… pic.twitter.com/oyInGjd6w6

— Jack Gentry (@jackagentry) March 16, 2021
In his 6 year career, that was only the second pass Lamm caught.
The first one in his rookie year with the Texans was a seven yard pass that was good for a first down.
Lamm, 28, is 6'5″ and 310 pounds.
He played college ball at Appalachian State.
Lamm is from North Carolina so playing in Tennessee brings him closer to home.