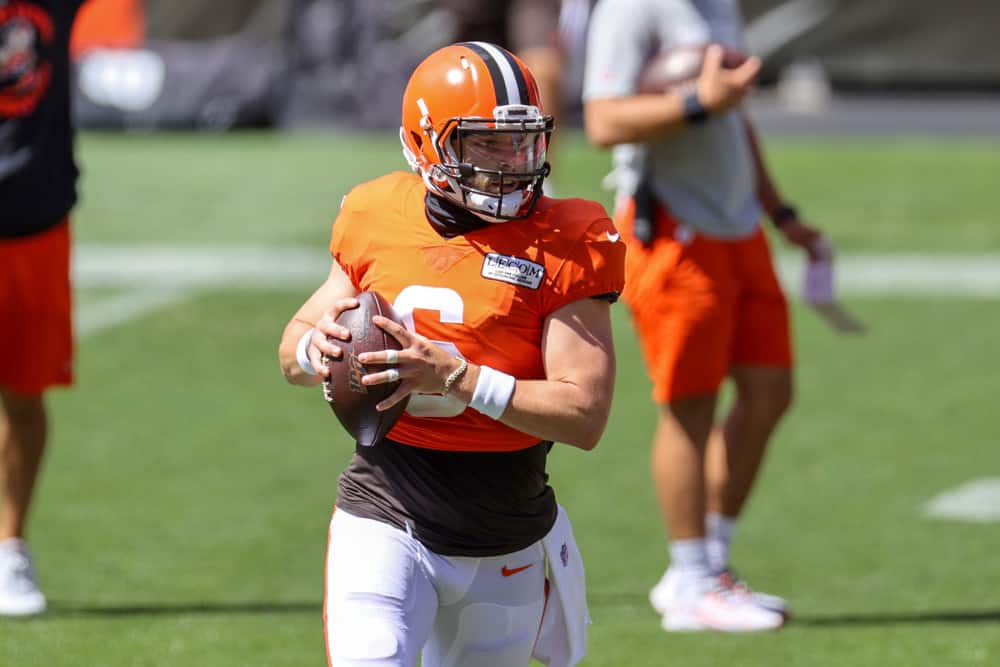 Prior to the start of the 2019 season, Baker Mayfield along with his wife Emily partnered with Progressive Insurance for an advertising campaign.
The campaign was called, "At Home with Baker Mayfield."
Based on a clever premise that FirstEnergy Stadium is the home of the Mayfields, the couple is shown making themselves at home by watching TV and having beverages.
And by picking a welcome mat to decorate the place.
Some may argue that the 2019 Progressive ad campaign was more successful than Baker's 2019 campaign with the Browns.
Recently, it was announced that Season 2 of "At Home with Baker Mayfield" is coming soon.
In fact, the first ad is scheduled to air on September 10, the day the NFL kicks off its 2020 season.
Been waiting for this since January #AtHomeWithBaker New season. New episodes. Let's get it @Progressive 💪 #sponsored pic.twitter.com/QnbpvYtaB3

— Baker Mayfield (@bakermayfield) September 2, 2020
Baker Mayfield 2020 Version
By now, everyone knows that Baker has transformed himself mentally and physically this offseason.
The guy that was in our face last summer chugging beers at the Indians game is noticeably quieter and more intentional in all that he does and says.
Ironically, during the COVID-19 pandemic, it probably was very easy to film the spots at FirstEnergy Stadium since everyone was quarantined.
The other irony is that Progressive Insurance is based in Mayfield Village, Ohio.
Ready for Football
Honestly, Browns fans probably care very little about Baker's partnership with Progressive.
They are more focused on his leadership of the Browns on the football field.
Baker Mayfield to Harrison Bryant (via #Browns) pic.twitter.com/9UW8frD9lG

— Brad Stainbrook (BrownsWave) (@BrownsByBrad) August 29, 2020
Baker enters his crucial third season in the NFL and with the Browns.
He is working with his third coaching staff in three years.
His rookie season was everything he could possibly hope for, but his second year fell short for many reasons.
In addition to the Browns 2019 leadership, Mayfield himself feels responsible and humbled by 2019.
Let's hope that Baker's season is more noteworthy than Season 2 of the Progressive campaign.