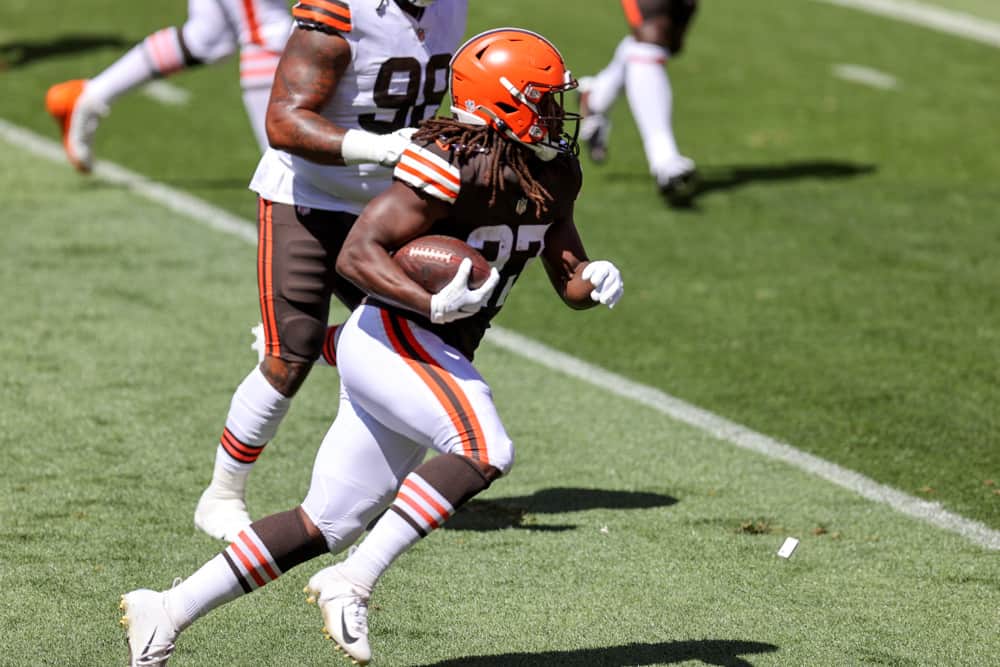 Kevin Stefanski must be overjoyed to have Kareem Hunt backing up Nick Chubb on the roster.
Chubb is a proven runner that can punish defenses over the course of a game.
Hunt provides a fast-paced dynamic when he's inserted into the lineup.
Since entering the league, he's had a knack for being a receiver out of the backfield.
That trend is expected to continue, at least according to The Huddle.
The fantasy football-based website predicts that Hunt will not only finish with more receiving yards than rushing yards, but fourth among all tailbacks in that department.

A Look at the Books
As mentioned, being both a runner and receiver is something Hunt has done since entering the league.
The Willoughby native led the league in rushing yards his rookie season (1,327) and finished eighth among running backs in receiving yards (455).
He also posted a catch percentage of 84.1%, the same mark he set last year in Cleveland.
Speaking of 2019, last season was a roller coaster for Hunt.
After missing the first half of the season, Kareem returned from his suspension in week nine.
While he would only run for 179 yards over the final 8 games, Hunt logged 285 receiving yards along with 1 receiving touchdown.
Baker to Kareem Hunt—-TOUCHDOWN pic.twitter.com/tKOLYDqEn9

— Overtime Heroics Football (@OTH_Football) December 1, 2019
Hunt saw more targets as a receiver than he did carries as a runner, so the numbers shouldn't come as much of a surprise.
Hunt's Role in 2020
Kareem will once again back up Chubb, only this time he'll be able to do so starting with the season opener.
As far as Chubb is concerned, that will only help him stay fresh throughout the course of the season.
Hunt, however, has a chance to remind fans around the league of how talented he really is.
Kareem Hunt showing the defense what social distancing looks like 💨💨 pic.twitter.com/1CXE1U44SZ

— Everything Cleveland (@EverythingCLE_) August 15, 2020
The new offense of Kevin Stefanski should help.
Dalvin Cook finished sixth in receiving yards out of all running backs last season, so Stefanski is no stranger to having his tailbacks catch a few passes.
With a bolstered offensive line, I would expect Hunt to be involved in some more screen plays as well.
This will allow him to use his speed in space and create some big plays for this Browns offense.
Additionally, teams will have a hard time committing to the pass even when Hunt is in the backfield.
He's a proven runner just as much as he is a receiver.
That dynamic will allow Stefanski to get creative with his offense and keep defenses on their toes.