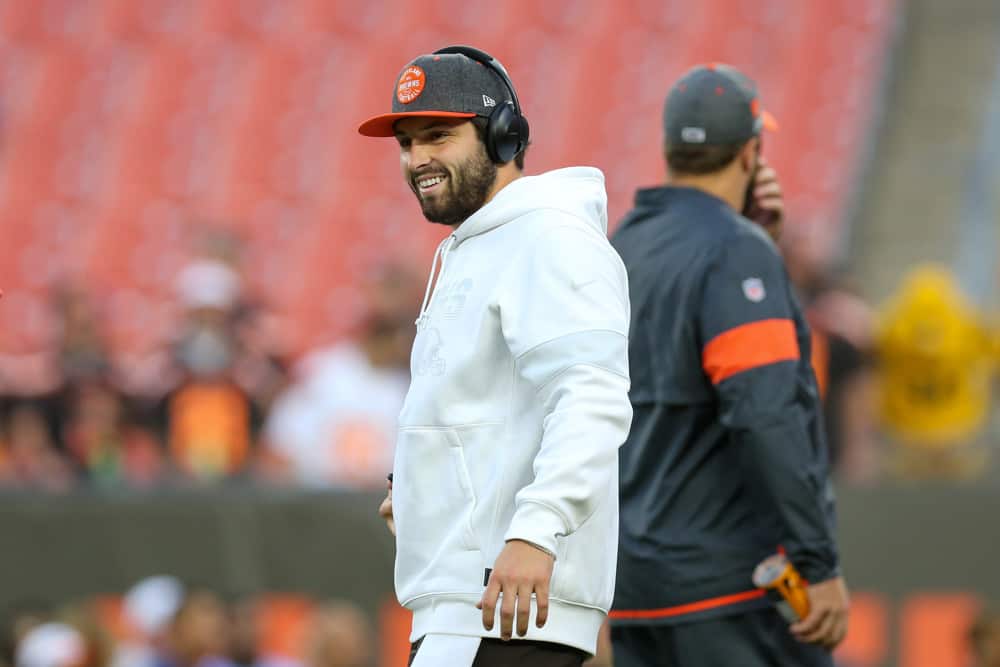 Yesterday was the first day of Cleveland Browns training camp.
Understandably in a pandemic, the training camp entrances are a lot more subdued than they used to be.
But Browns QB Baker Mayfield created a splash with his outfit, most notably his shorts.
QB1. 👋 pic.twitter.com/SIr7fdiPdS

— Cleveland Browns (@Browns) July 28, 2020
What are those shorts that Mayfield is wearing???? Is he going to Fight Island for the UFC?

— Kelly Labor (@MGKell1) July 29, 2020
"He actually went out one day, saw those shorts in a store, thought they actually looked good..and then actually proceeded to buy them," one commenter wrote.
They were colorful, to say the least, and someone wondered if he borrowed them from OBJ.
"Are those Odell's shorts?" another wrote.
Fun and games aside, Baker knows this year is a make-or-break for him with the Browns.
His offseason preparation has been documented and is impressive.
He is as fit as he's ever been and has been a lot quieter this offseason.
Until his shorts/swim trunks entered the building yesterday.
Seriously, this just underscores how much scrutiny these guys are under if his wardrobe is Twitter fodder on Day 1.
Or it could be that fans are just hungry and hopeful for NFL football.
In other notable entrances, Nick Chubb, the 2019 winner of the quietest person on the Browns roster, lived up to his name yesterday.
Our brand new team reporter @_23NeverLeft asking @NickChubb21 some hard-hitting questions 😂 pic.twitter.com/O0RAvSiChO

— Cleveland Browns (@Browns) July 28, 2020
And the rookie 1st round pick is here.
— Jedrick Wills Jr.® ➕🌎☄️💕 (@JWills73) July 28, 2020
All kidding aside, this is what makes NFL football so great.
The personalities really come out at training camp.
Masks are the most important wardrobe piece Baker Mayfield, Nick Chubb, and Jedrick Wills are wearing.
Players enter this camp under different circumstances where masks, temperature checks, and daily COVID tests are normal procedure.
Besides preparing themselves mentally and physically for the season ahead, they have to deal with the ramifications of playing in a pandemic.
All are paying attention to other professional sports with baseball's Miami Marlins already dealing with a COVID-19 outbreak.
And the NHL and NBA are set to resume their seasons later this week.
In the end, let's hope the NFL can avoid outbreaks, keep players safe, and enable a season to occur.