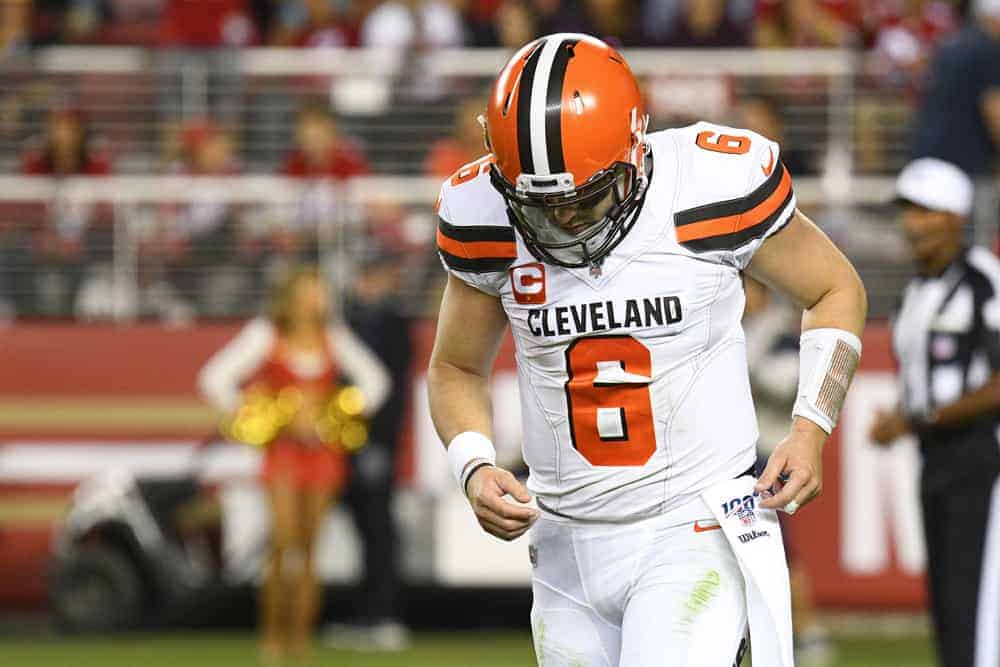 Cleveland Browns quarterback Baker Mayfield established his college career by proving everyone wrong when he won the Heisman Trophy after being a walk-on.
If the Browns are going to live up to the hype coming into this season, they will need more from Mayfield if they want to be a playoff contender.
The 49ers remained unbeaten after Monday night's win over the Browns 31-3.
Kyle Shanahan's offense dominated the Browns in the run game and dropped 14 points in the first quarter while Mayfield had only one completion.
Nick Bosa terrorized the Browns the entire night finishing with 2 sacks, 4 tackles, and 5 quarterback hits.
Bosa also pretended to plant a flag after forcing an intentional grounding penalty in the second quarter
Nick Bosa doesn't forget 😤

Revenge on Baker. pic.twitter.com/E4OdCb0Z0V

— Complex Sports (@ComplexSports) October 8, 2019
"I think everybody knows what that was for," Bosa told reporters after the game. "Just wanted to get payback. He had it coming."
Freddie Kitchens after the loss:
"You've got to give all the credit in the world to San Francisco. They beat us in every facet of the game," Browns coach Freddie Kitchens said after the loss. "You can't have mistakes. You can't have turnovers, you can't have drops, you can't have penalties. Offensively, that kind of summed us up. We just shot ourselves in the foot too many times. . . . It's very clear, we've got to do a better job mentally, do a better job coaching these guys, we've got to work every day like it's the first day."
After passing for 342 yards with a 102.4 quarterback rating in a win over Baltimore, Mayfield was just 8 of 22 for 100 yards and two interceptions.
The Browns struggled the entire night to find any consistency or rhythm offensively
In 3 prime-time games, Mayfield is only 45 of 93 (48.3 pct) with 620 yards and 2 touchdowns.  He also has 4 interceptions along with 10 sacks.   His next prime-time game will be against the Steelers on Nov.14.
The Brett Favre comparisons that Mayfield receives are valid.  In Favres' first season as the full-time starter with the Packers he passed for 3, 3033 yards, 19 TDs and 24 interceptions.
But Favre also won a wild card game against the Detroit Lions that completely changed the trajectory of the franchise moving forward.
The Browns still have enough talent to win the AFC North, but they will need Mayfield to be better moving forward.
He is only 2-7 against teams that have a winning record with both of those wins coming against the Ravens.
If Mayfield doesn't turn things around quickly, it will be another long season in Cleveland.  One that will be painful considering the promise the team had coming into it.
It's up to Mayfield to change this trajectory.   That's what franchise quarterbacks do.