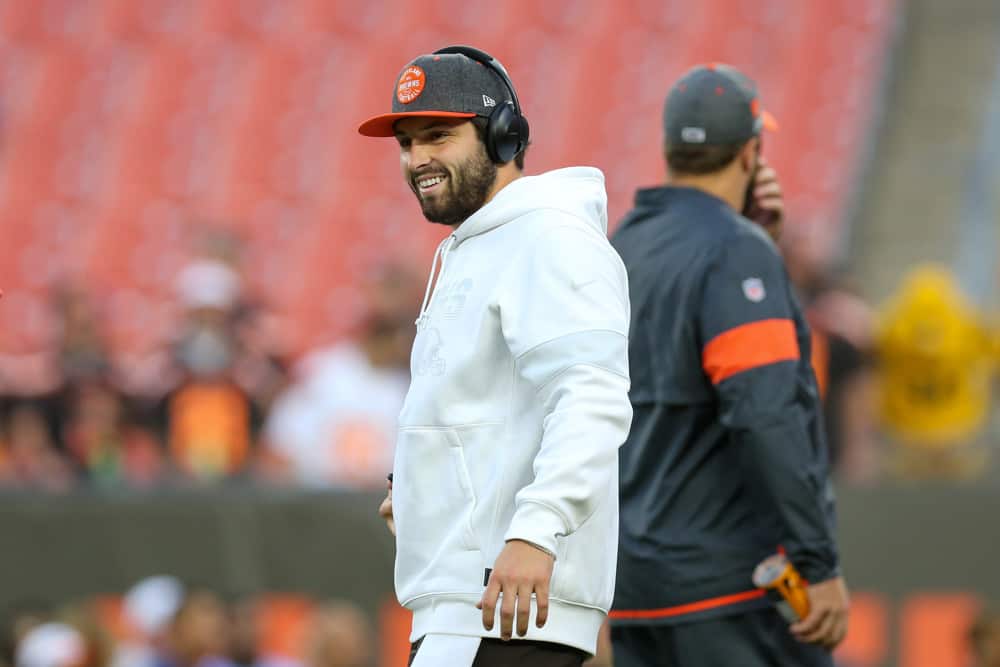 With the 10th overall pick in the first round of the 2020 NFL Draft, the Cleveland Browns selected Alabama offensive tackle Jedrick Wills Jr.
Twitter was buzzing with optimism after the selection, and one of the proudest Tweeters was none other than starting quarterback Baker Mayfield:
LETS GO!!!!!!

— Baker Mayfield (@bakermayfield) April 24, 2020

Mayfield, who is looking for some much-needed protection, will hope to improve in 2020.
The newest addition to Cleveland's roster reached out to Odell Beckham Jr., the 12th overall selection from LSU in 2014:
Just lemme know how much time you need to finish your route 13🤞🏽😤 https://t.co/LUOsKtbIgR

— Jedrick Wills Jr.® ➕🌎☄️💕 (@JWills73) April 24, 2020
Wills will hope to fill the void left by the 10 time Pro Bowler Joe Thomas.
Thomas was very excited as well about the selection:
@JWills73 @Browns 🍻🍻🍻🏆🏆🏆🏆 #NFLDraft2020 #NFLDraft #Super Bowl https://t.co/EOhgAkO4pJ pic.twitter.com/FbJe1HELRe

— Joe Thomas (@joethomas73) April 24, 2020

Thomas has complimented Wills in many ways, saying he's the "most NFL ready" in addition to having impressive power and versatility.
The Browns elected to draft Wills after the New York Giants selected the first offensive lineman of the 2020 draft: 2019 Consensus All-American Andrew Thomas of Georgia.
Wills, who recently changed Twitter profile picture to a Browns one, was enthused about seeing the Browns tweet a picture of his draft jersey:
⬇️⬇️⬇️⬇️ https://t.co/MmP75dQZdA

— Jedrick Wills Jr.® ➕🌎☄️💕 (@JWills73) April 24, 2020
What Makes Wills Such a Great Offensive Lineman?
Surrounded by his family on Thursday evening, the 312-lb, 6'4″ Alabama junior had a large smile on his face when the Browns selected him.
Wills grew up in Lexington, Kentucky, and he was the state's top college prospect.
The five-star offensive tackle then chose to play for the Alabama Crimson Tide.
In his first season with Alabama, the school won its 17th national title.
During Wills' college career, the Crimson Tide went 38-4 and had four postseason victories.
By his sophomore year, he was starting at right tackle.
During his final year at Alabama, the offense was as impressive as ever.
He was a large part of a Crimson Tide offense that was the most efficient in the country.
In the team's 13 games in 2019, quarterbacks Tua Tagovailoa and Mac Jones combined for an NCAA-best 10.96 yards per pass attempt.
The Miami Dolphins selected Tagovailoa with the fifth overall pick in the 2020 draft.
How Can Wills Help Mayfield Improve?
With Mayfield entering his third year under center for the Browns, there will be high expectations for the 25-year-old.
The Browns last achieved a top-10 offense in 2007, which coincidentally was Thomas' rookie season.
Lightning could strike twice with Wills entering the fray in 2020.
The Alabama product looks to help Mayfield bounce back from his sophomore slump in the NFL.
The first overall pick in the 2018 draft has the rookie touchdown record, but he has only won 12 games in his NFL career.
His completion percentage dipped below 60 percent in 2019 after he threw 27 touchdowns and just 14 interceptions the year before.
In his second NFL season, his touchdown-to-interception ratio was far from stellar: 22 passing touchdowns to 21 interceptions.
A bright spot was that Mayfield ran more efficiently in 2019 and scored three touchdowns on the ground.
He also had the sixth-best yards per completion last season.
However, he was also sixth in terms of most sacked yards lost with 285.
Wills will be a tremendous help by bringing strength and a strong blocking ability to Cleveland.
Mayfield, who was ranked No. 50 in the NFL Top 100, has the skills to bring the Browns to their first postseason since 2002.
With Wills protecting him, this Browns offense could rebound from its frustrating 2019.