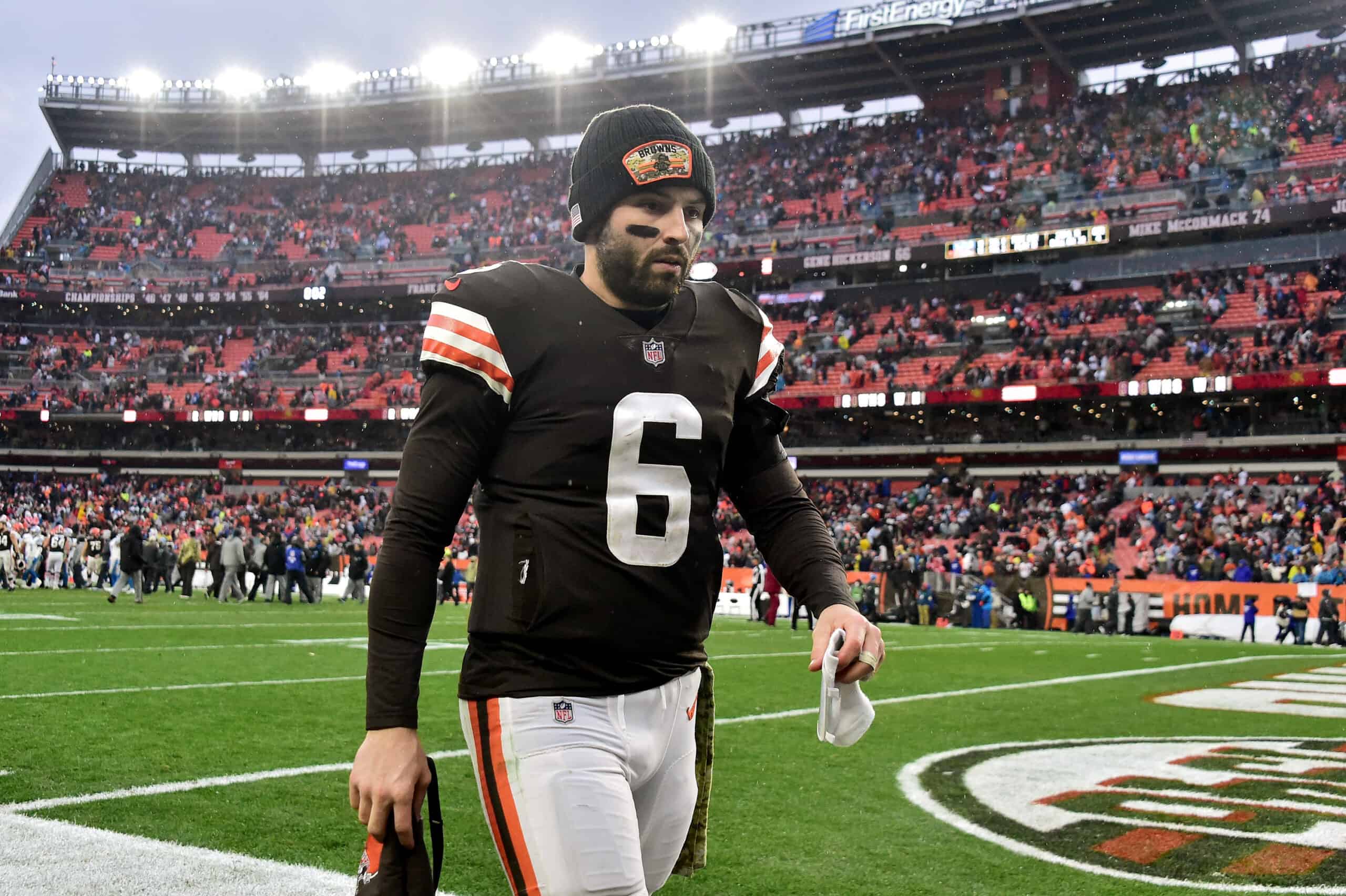 Hot in Cleveland was an American sitcom that aired from 2010 to 2015.
It's reviews tend to be respectable.
Perhaps even hotter and more entertaining now in Cleveland, however, is the drama between Baker Mayfield and Browns fans.
Drama may not be the perfect term, but there certainly seems to be tension between the two sides.
Those in attendance on Sunday, or anyone tuning into the television or radio broadcast could hear the "boo"'s come out after each Mayfield interception.
The 4th takeaway for @AmaniO this year!#DETvsCLE | 📺 FOX pic.twitter.com/fnRSQXkqfC

— Detroit Lions (@Lions) November 21, 2021
The first career interception for @parkersisland‼️#DETvsCLE | 📺 FOX pic.twitter.com/sQSFBTA9Pa

— Detroit Lions (@Lions) November 21, 2021
Mayfield did not speak with the media following Sunday's win.
On Monday, he conducted a press conference with the media via Zoom.
He fired off a stern response when asked about the home fans booing him.
Mayfield said he believes those are the same fans making noise when the Browns offense needs quiet from the crowd, so, he doesn't care about them booing now.
Baker, on the fans that booed him in the second half Sunday: "Those are probably the same fans that won't be quiet while we're on offense and trying to operate. So, don't really care." #Browns pic.twitter.com/muKyxFWdFM

— Jake Trotter (@Jake_Trotter) November 22, 2021
It's not an overly intense response.
Yet, it is one that has garnered attention from Browns fans everywhere.
Two Wrongs Don't Make a Right
There's varying opinions to how this situation is unfolding. Many think Emily Mayfield's Instagram story calling out the fans for booing Mayfield, the catalyst for much of Sunday/Monday's social media mayhem, was uncalled for. Others think she's perfectly justified in defending her husband.
This absurd idea family members shouldn't react to criticism of their loved ones is asinine

Emily Mayfield has every right to defend her husband on social media as any of you would do for your spouse in a similar spot

— Nicholas Wilson (@NickWilsonSays) November 22, 2021
Home fans booing their players is far from unheard of.
Fans in cities like Philadelphia practically boast how critical they are of their players when they don't perform well.
Some athletes like that, plenty probably don't.
It's safe to assume here that Baker isn't in love with being booed by the home faithful.
It's hard to blame a guy for that.
He also has some validity in saying the home crowd can be a bit overbearing when the Browns have the ball and would prefer a quieter crowd to better operate the offense.
Not complete silence, but that's literally what home field advantage is supposed to be. You ever notice QBs covering their ear holes in the helmets pre-snap? It's so they can hear their headset. The home QB should never have that issue. Case was doing it on TNF, not just Baker

— Matt (@Matt79213) November 22, 2021
So what you have is two sides to a messy equation.
Browns fans have the right to be upset when their number one overall pick quarterback is under-performing, even through injury.
It's also fair for Baker to be a little agitated with getting booed at home.
Remember Tim Couch calling out fans for booing him back in 2002?
I think a lot of fans have grown to sympathize with his frustrations a bit given the lack of help on those teams.
Mayfield has much more help than Couch ever did and, frankly, is not doing enough with it.
There's no way around it. Baker simply has not been good enough to take the Browns where they could be with this roster.
It's not solely his fault for the team's struggles, but some missed throws on Sunday highlighted his current poor play.
The worst thing for the team is an ongoing beef between the starting quarterback and the fans.
It doesn't matter who's "right" here, because no one is.
Getting Past It
This feels like two friends after a personal, emotional fight.
Egos need dropped and pride needs swallowed to move past the struggle.
If not, the relationship ultimately fails.
If Baker and Cleveland can't squash this, the writing could be on the wall for Mayfield's sooner-than-later exit.