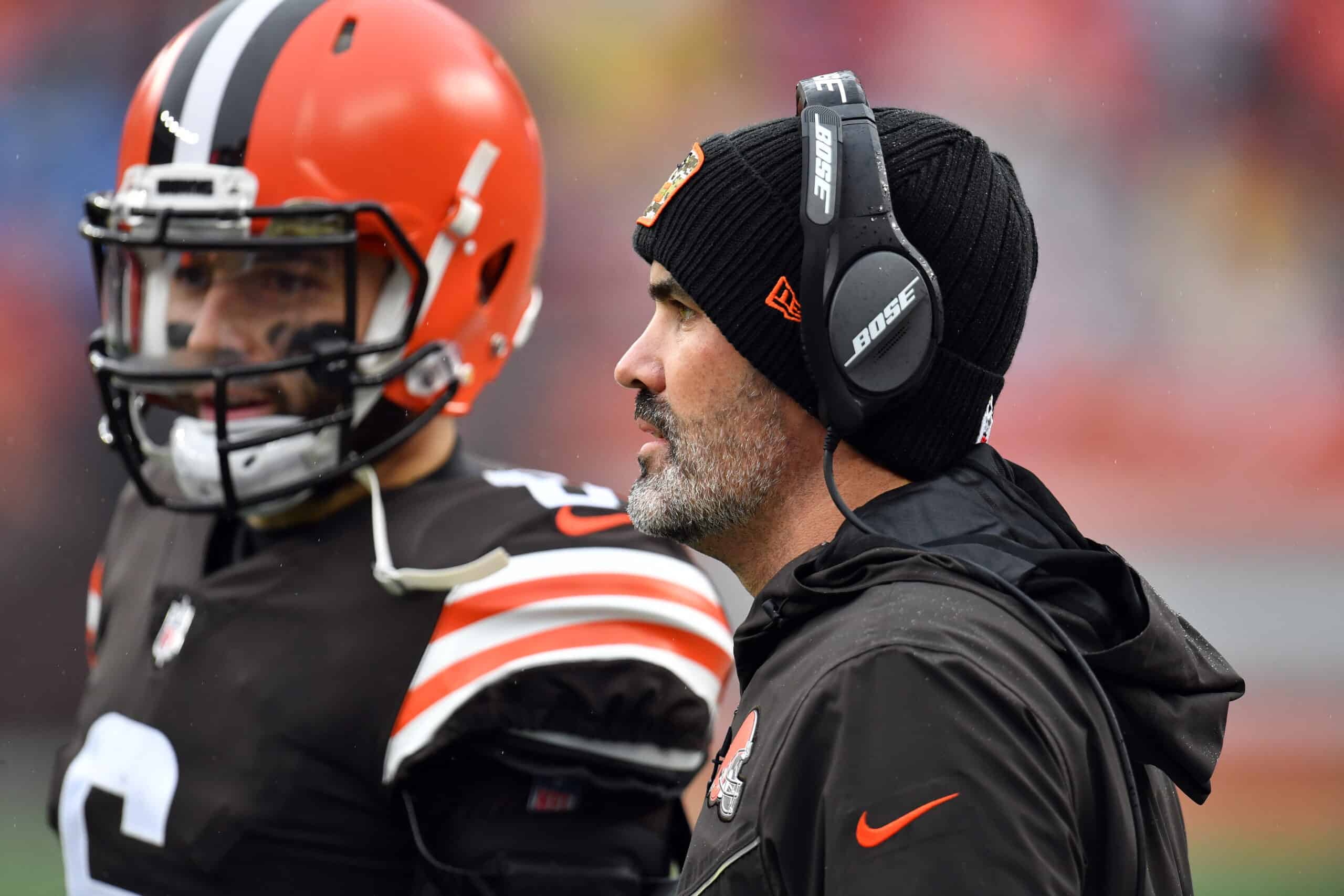 Social media and popular sports pundit shows make it confusing to be a Cleveland Browns fan.
The team owns a winning record and sits just a half-game out of the final wild-card playoff spot.
It wasn't long ago that would put a lighter step into most Browns fans.
But then there is this other, less optimistic take to consider.
In this together #Browns pic.twitter.com/IwojbXcxJY

— Cleveland Browns (@Browns) November 16, 2021
Cleveland is failing to meet expectations, on the wrong end of most tiebreakers, and likely to miss the postseason.
At this point, it is a coin-flip about the wild card spot, with a division title their clearer route to an 18th game.
Their upcoming schedule is brutal, but so are the schedules of each division rival.
Perhaps the answers to these 3 questions looming over the Browns will determine how the season plays out?
1. Is Baker Mayfield Helping or Hurting? 
Playing through a dislocated and fractured shoulder, a bad foot, and sprained knee makes Baker Mayfield a warrior.
But picking himself off the turf to keep playing only helps the Browns if he performs well.
Mayfield's game is flawed, and he relies on outside factors- the system- to play effectively.
But that system in turn requires Mayfield to perform to a certain level, a level expected to move higher this year.
#Browns head coach Kevin Stefanski maintains Baker Mayfield can play through the mountain of injuries "he's ready to play and help the team win."

— Daryl Ruiter (@RuiterWrongFAN) November 22, 2021
Mayfield still makes the same mistakes and displays many of the same on-field tendencies he did as a rookie.
And his reaction to adversity after the Detroit game indicates he hasn't matured much since his Freddie Kitchens season.
We can blame injuries (Mayfield's and other players'), playcalling, and other factors for Mayfield's subpar performance.
But one has to wonder if the team would be better off with Mayfield cheering from the sideline as he heals.
2. Can The Browns Defense Beat a Good Offense? 
Joe Woods' defense uses an awful lot of loose zones, and that can be okay in a bend-don't-break type of offense.
But that is not how things are working out for the Browns, as indicated by their 4th-best yards-per-game average.
And their mediocre 16th-best points-per-game average.
Cleveland held 6 opponents under 20 points and gave up an average of just 12.3 points in their 6 wins.
Let's check out the effort by John Johnson III on that 55-yard TD by the Lions. This man is just stealing money from the #Browns this season. pic.twitter.com/UQlG0HRxNo

— Roberto Shenanigans (@Rob_Shenanigans) November 21, 2021
But they yielded 35.4 points per game in losses to Kansas City, New England, Arizona, Pittsburgh, and the Chargers.
Their six wins came against teams with somewhat lesser reputations for offensive prowess.
The teams Cleveland beat average the 10th highest scoring rate, while those they beat come in at 23rd.
Can the Browns defense hold up against 6 remaining opponents who score at the 16th best rate in the NFL?
3. Will Any Wide Receiver Stand Out? 
There was a time when wide receiver was considered as strong a position group as any other.
But they became the forgotten unit on a painfully conservative offense.
Injuries slowed Jarvis Landry and Donovan Peoples-Jones recently.
But that doesn't explain why 2 tight ends and a running back had more targets in the season's first half.
Jarvis Landry isn't going to be happy after this game. Three wide open routes where Baker Mayfield missed him. Came up gimpy after latest misfire.

— Brent Sobleski (@brentsobleski) November 21, 2021
Rookies Demetric Felton impressed more than Anthony Schwartz, but neither plays a big role.
And Rashard Higgins has a couple of drops among a very small workload.
Debate rages on if the issue is game plans, bad QB reads/progressions, or the wideouts not getting open enough.
But one or more wide receivers has to be an offensive threat if the Browns hope to outscore many more opponents.