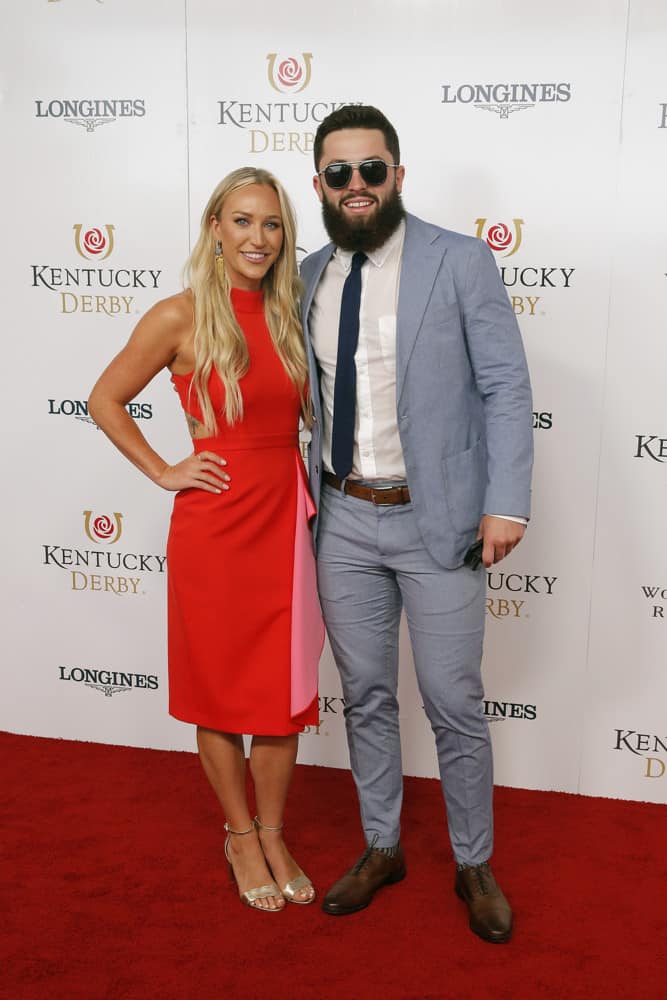 The talk of the town has been Cleveland Brown's QB Baker Mayfield, after a horrendous performance in Week 6 versus the Pittsburgh Steelers.
It was only just a little over a week ago in which it was Baker trolling the media.
Now, the national media has been criticizing him all week.
Throughout the season, the one constant question surrounding the Browns was, "is Baker Mayfield that guy?"
Well, thus far, the answer has been no and people are letting him know about it.
Emily Mayfield Stands Up For Her Husband
Ever since entering the league, Baker Mayfield has been in the headlines for the wrong reasons.
Once again, he is in the headlines as his wife attempted to stand up for him on social media.
Instagram user, codybaltzly, posted to his story an image of Baker walking with his head down, captioning the photo:
"4 head coaches in 3 years, took over a 1-31 football team, and has the most wins at First Energy Stadium of any QB since 1999 in only 3 years. That's my quarterback."
It was obvious the Cleveland QB was being trolled and his wife, Emily, thought so too, as she responded.
Emily quoted the story and added it to her story, saying the following:
"He's not in an easy position. And he's grinding for this city. It takes time. Don't send me some stupid s***."
— John Carter (@johncarter109) October 20, 2020

Regardless, it seems that Cleveland fans have seen enough of Baker to cast their judgements on him.
Poor Performance From Baker Mayfield In Week 6
The questions remains, are Cleveland fans right about their third year quarterback?
In a huge Week 6 divisional game, Baker Mayfield, "folded like a lawn chair", according to Fox Sports Radio analyst, Colin Cowherd.

Prior to getting benched, Mayfield
completed
10 of 18 passes, for 119 yards, threw for 1 touchdown and 2 interceptions.
His first interception was a pick 6, where he just made a poor read with the football.
🚨 Baker Mayfield PICK-SIX 🚨

(via @NFL) pic.twitter.com/Pf277WfRTt

— SportsCenter (@SportsCenter) October 18, 2020
That early in the game, Baker needs to avoid making those kinds of mistakes.
He just looked off all game long, and after making another poor throw that resulted in an interception, he was benched.
But, the Browns had a valid "excuse" as Baker was dealing with a rib injury.
Coach Stefanski commented on Baker's starting position after the game.
Kevin Stefanski: Baker Mayfield will be the starter next week as long as he's healthy #WEWS

— Derek Forrest (@DerekFSpx) October 18, 2020
Baker has received a lot of criticism of his inability to carry his team with is arm.
Many around the league feel he is not that "guy".
I was a fan of his coming out. I fully supported the pick. But at this point there's more evidence that Baker Mayfield *isn't* the guy for #Browns than evidence that he is the guy.

— Chris Fedor (@ChrisFedor) October 18, 2020
All thing said, Baker should be good to go this Sunday as the Browns take on divisional rival, Cincinnati Bengals.
In their first meeting, many thought Joe Burrow outplayed Baker Mayfield.
In the second meeting, if the Browns lose, things can get start getting ugly in Cleveland.
More importantly, Baker Mayfield's starting position might be in serious jeopardy.