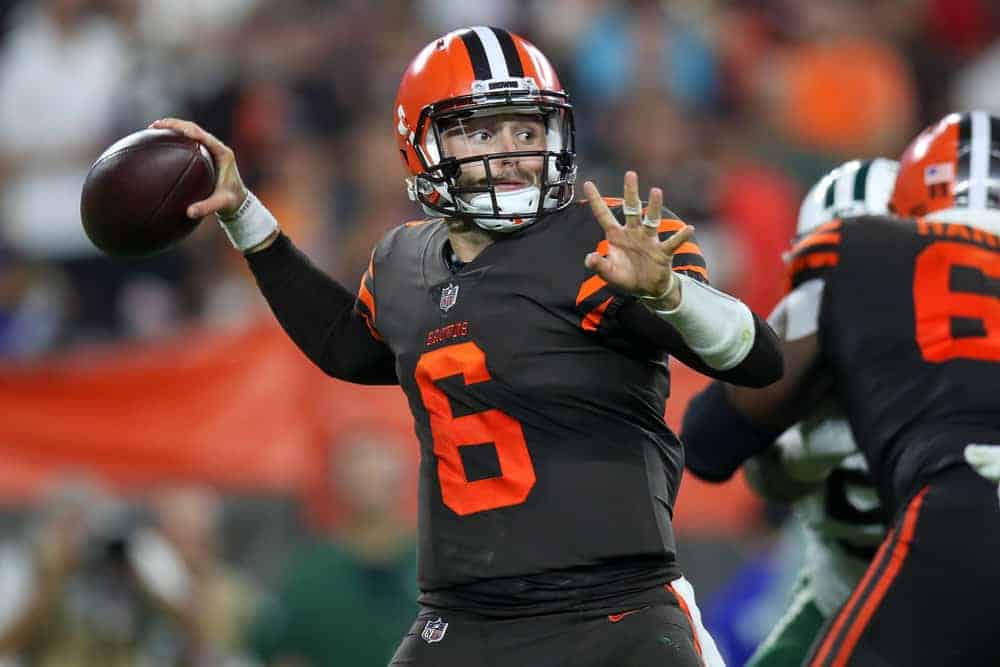 In 2018, the Cleveland Browns selected quarterback Baker Mayfield with the first overall selection of the draft.
Finally, Browns fans had some hope that they could actually have a franchise quarterback.
Mayfield posted huge numbers at Oklahoma and was well deserving of being the first overall pick.
Baker Mayfield was slingin' it!

24/36
598 yards (Oklahoma single-game record)
5 TD pic.twitter.com/P1AcF2uVh4

— Bleacher Report (@BleacherReport) November 5, 2017
No one should blame the Browns for taking Mayfield, but they should be blamed for failing to develop him.
It's not too often that a quarterback peaks after his first year in the league.
The next best example would likely be Robert Griffin III, but injuries derailed his career.
Mayfield on the other hand has been healthy and continues to regress.
What's Wrong With Mayfield?
Head coach Kevin Stefanski insisted that Mayfield was benched during Sunday's loss to the Pittsburgh Steelers due to health reasons.
Mayfield looked awful in that game, but his offensive line didn't give him any help at all.
Last 4 quarters for Mayfield, 11 of 26, 145y, 1 TD, 4 INT, 10 points.

— Tony Grossi (@TonyGrossi) October 18, 2020

The lack of protection has changed the way Mayfield plays quarterback.
"The confident quarterback we saw in 2018 no longer exists," says Seth Galina of PFF.
Minkah Fitzpatrick picks off Baker Mayfield and takes it back the other way for a #Steelers TD. pic.twitter.com/6btyZNWm3g

— NFL Update (@MySportsUpdate) October 18, 2020
There are plenty of reasons as to why Mayfield has regressed rapidly.
#Browns Baker Mayfield was pressured on 47% of his dropbacks today vs #HereWeGo, and the results were significant:

3/7, 45 yds, 1 INT, 4 sackshttps://t.co/HO25SbsIvV pic.twitter.com/1sSPowANxH

— PFF CLE Browns (@PFF_Browns) October 18, 2020

He appears scared to throw the ball down the field, which is something he obviously needs to improve on if he wants to stay in the league.
"His 144 10-plus-yard pass attempts as a rookie were the fifth-most in the NFL — and he didn't even start the whole season. That number was the same as Patrick Mahomes, and the quarterbacks ahead of him were Ben Roethlisberger, Andrew Luck and Philip Rivers," says Michael Renner of PFF.
It's difficult to get back into games with RPO and screen passes for an entire drive.
Sadly, this isn't the only reason Mayfield is having issues this season.
He continues to hold onto the ball too long, which is going to be a significant issue when your offensive line continues to collapse.
"It's in his shaky pocket presence where he went from being charged only 15 pressures as a rookie to 32 last season and is now on pace for even more than that this year. You can also see it in him holding the ball more, with his average time to throw climbing from 2.66 seconds as a rookie to 2.74 in 2019 to 3.08 in 2020," says Michael Renner of PFF.
Yes, the Browns are winning football games, but it's not because of the play of Mayfield.
Honestly, if this team wants to be serious contenders then it might be time to move on from Mayfield.
Time To Give Up On Mayfield?
Possibly the chest injury is part of the reason Mayfield struggled against the Steelers.
Through six games, Mayfield has yet to finish with 250 passing yards in a game.
The Browns are winning games because of the rushing attack.
To be honest, veteran quarterback Case Keenum might not be a much better option.
Although, it's time to give him a chance to see what he can do with this offense.
Keenum has put together successful seasons in the league and this offense is stacked.
Fixing Mayfield might not be something that is possible for the Browns.
His play continues to get worse and the Browns cannot afford to wait around and hope he figures it out.
It's time to move on before Mayfield knocks Cleveland out of contention.