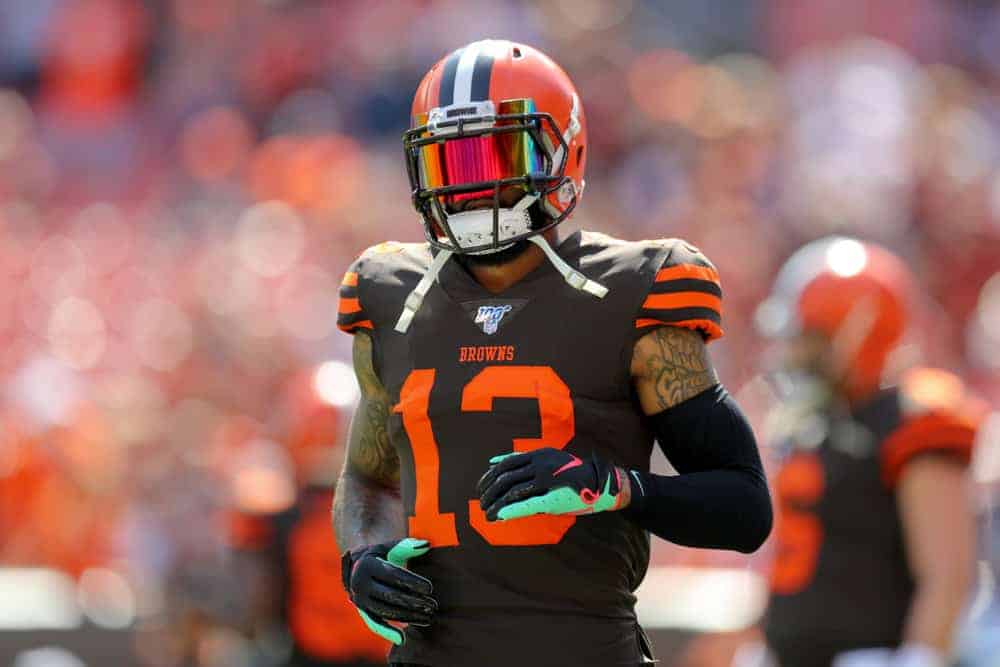 Bill Belichick is noted for his short and to the point answers in press conferences.
Despite the Patriots' numerous controversies, and attempts to bait him and his team by players and coaches during his reign, Belichick remains focused on the task at hand.
So much so that when a reporter asks him a question not about the upcoming game, he is known to answer something to the effect of "We're focused on _______" or, "We're on to _______."
Apparently, on game day, Bill Belichick has a lighter side.
While speaking to reporters this week, Odell Beckham Jr. commented on the great Patriots coach and gave us a little peek at what Belichick is like on the field pre-game.
"Going against Bill Belichick, it's somebody I have a lot of much respect for. Probably talk to him before and after the game. He tells me the same thing every time: "I hope you enjoy today because there's not going to be much for you." That's what he does every single time. He's going to coach them up and they're going to be ready and prepared."
Obj says Bill Belichick tells him the same thing in pregame each time they play: "I hope you enjoy today, because there's not going to be much for you." pic.twitter.com/opnaNFmak9

— Jake Trotter (@Jake_Trotter) October 23, 2019
At first glance Browns fans may be worried about this. The greatest coach in modern NFL history singles out OBJ, likely the Browns' most dangerous offensive weapon, ahead of games and tells him he's going to shut him down.
With all the offensive woes the Browns have faced this season that could spell disaster for a team trying to right itself and compete for a division title.
However Browns' fans shouldn't be all doom and gloom ahead of the meeting, and here's why.
First of all, OBJ has only played one regular-season game against the Patriots. In that game in 2015, Odell caught 4 passes for 104 yards and a touchdown. So, all those promises about shutting Beckham down didn't work?
In that game Beckham was targeted 12 times, only catching the four passes. Also, New England won the game on a last-second field goal.
So, a mixed bag of results on that occasion.
Secondly, the Browns have many offensive weapons for Belichick to worry about. If the Browns can get things going on offense then New England will have some issues.
Don't forget that catching passes from Baker Mayfield are two one thousand yard receivers in OBJ and Jarvis Landry. Sure, key on OBJ the whole game. Jarvis can pad his stats.
Also, the Browns will need to rely heavily on stud running back Nick Chubb. This has flown somewhat under the radar due to the sluggish offensive production in the passing game, but Nick Chubb is running wild over defenses right now.
Coming out of the bye week, Chubb is still 4th in the league in total rushing yards and rushing yards per game.
NFL rushing yards leaders, through seven weeks:

1. Dalvin Cook, 725
2. Leonard Fournette, 715
3. Christian McCaffrey, 618
4. Nick Chubb, 607
5. Lamar Jackson, 576

— Ryan McDowell (@RyanMc23) October 21, 2019
If the Browns are going to have any success against New England they are going to have to feed Chubb. From there they can mix in the play-action passing game, and take shots downfield to their game-changers.
The final hope for the Browns comes from the extra time they have had to prepare for this game. Coming out of the bye week to face the Patriots is the best way to face the Patriots, especially for a rookie head coach like Freddie Kitchens.
No one is denying that Kitchens has a great offensive mind, but it seems as though nearly halfway through the season, there may be too much on his plate a the head man in charge.
The extra week to prepare will give Kitchens enough time to focus on an offensive game plan that will be creative and dynamic, like the offenses he put out last year that earned him the head job.
Maybe a pregame brush with Belichick will lead to another prolific output from Beckham. 104 yards and a touchdown would go a long way to the Browns challenging the undefeated Patriots on Sunday.