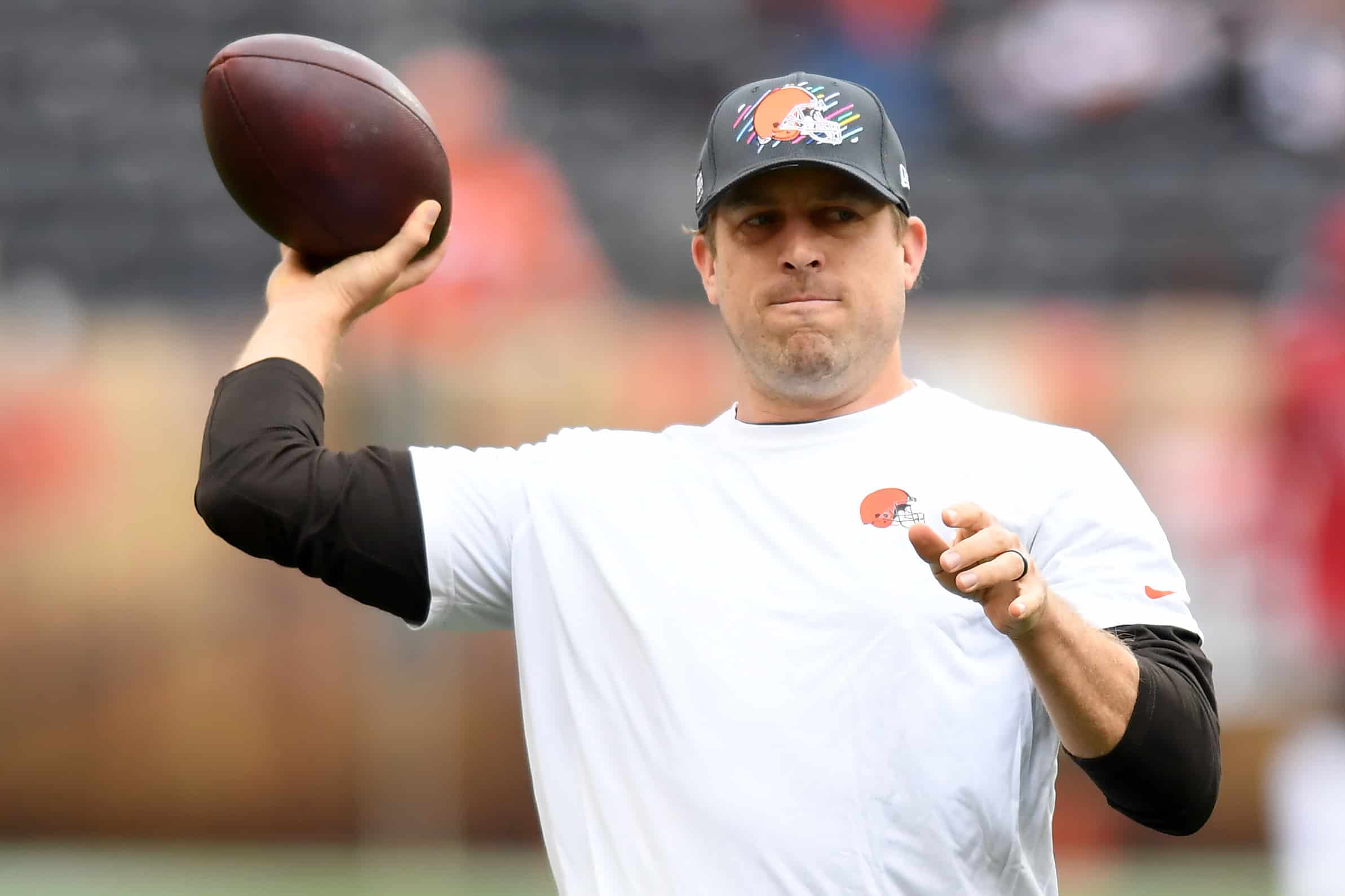 It has been a frustrating two weeks for the Cleveland Browns organization.
They've lost two straight games and have piled up a bunch of injuries along the way.
One of the bigger problems is that quarterback Baker Mayfield could potentially miss time.
He injured his shoulder during the Week 6 loss to the Arizona Cardinals.
The fourth-year quarterback plans to suit up for their next game despite suffering a left shoulder injury.
From @GMFB: #Browns QB Baker Mayfield is planning to play through his still-ailing left shoulder (labral tear), while Cleveland may be without its two top RBs — Nick Chubb and Kareem Hunt — for Thursday night. pic.twitter.com/fQivshFSqo

— Ian Rapoport (@RapSheet) October 18, 2021
It seems unlikely that Mayfield is going to be ready to play in time for Thursday's matchup with the Denver Broncos.
Instead, the Browns might have to lean on the arm of veteran quarterback Case Keenum.
In Keenum We Trust?
There is a real possibility that Keenum is asked to make the start in Week 7.
The 33-year-old hasn't made a start since the 2019 season with Washington.
Although, he has made over 60 starts during his NFL career.
Keenum is a capable quarterback and has playoff experience as well.
In fact, he helped lead the Minnesota Vikings to a playoff victory with an epic performance.
Stefon Diggs and Case Keenum made a miracle last time the Vikings saw the Saints in the playoffs.

Rematch today 🍿 (@turbotax) pic.twitter.com/qzI856B9G5

— Bleacher Report (@BleacherReport) January 5, 2020
Since then, Keenum hasn't done too much and has looked below average as a starter.
The Browns might not have a choice though with their next game only a few days away.
At this point, the Browns' best option might be to start Keenum against the Broncos in Week 7.
He has been a quality backup throughout his career, but his best days are behind him.
Holding Out Hope
It hasn't been the prettiest season for Mayfield, but he is a warrior on the field.
He goes out there and leaves it all on the field every week.
Mayfield deserves the benefit of the doubt, but he needs to sit out in Week 7.
The Browns aren't going to benefit from Mayfield playing at less than 100 percent healthy.
At this point, it's better to have a healthy quarterback in Keenum over a banged up Mayfield.
The hope is that Mayfield won't be out long-term, so the team should be cautious with him.
It's a short week and the Browns already have a boatload of injured players coming into this game.
Estimated injury report for #Browns and #Broncos. Cleveland has Baker Mayfield projected as DNP today. The teams didn't actually practice, so these are projections pic.twitter.com/fz4SQwTliQ

— Nate Ulrich (@ByNateUlrich) October 18, 2021
As already mentioned, Keenum isn't a starter caliber player, but he's a better option than Mayfield right now.
Keenum has nearly the same completion percentage as Mayfield during his career.
In fact, the two players have fairly similar stats in quite a few categories.
The Browns should have faith that Keenum can keep this offense afloat for a few weeks.
There is no upside to playing Mayfield at less than 100 percent, especially with him playing at his current level.
Cleveland should give Keenum the start in Week 7 and let Mayfield rest.
The organization can re-evaluate the situation afterward, but playing Mayfield banged up is a benefit to no one.
Keenum is a quality veteran quarterback who is capable of helping this team for a few weeks, while Mayfield recovers.
The Browns should play this smart and realize that it's a long season and they will need their franchise quarterback healthy.
To be honest, Keenum could surprise people because he has done it before and possibly he'll do it in Week 7.