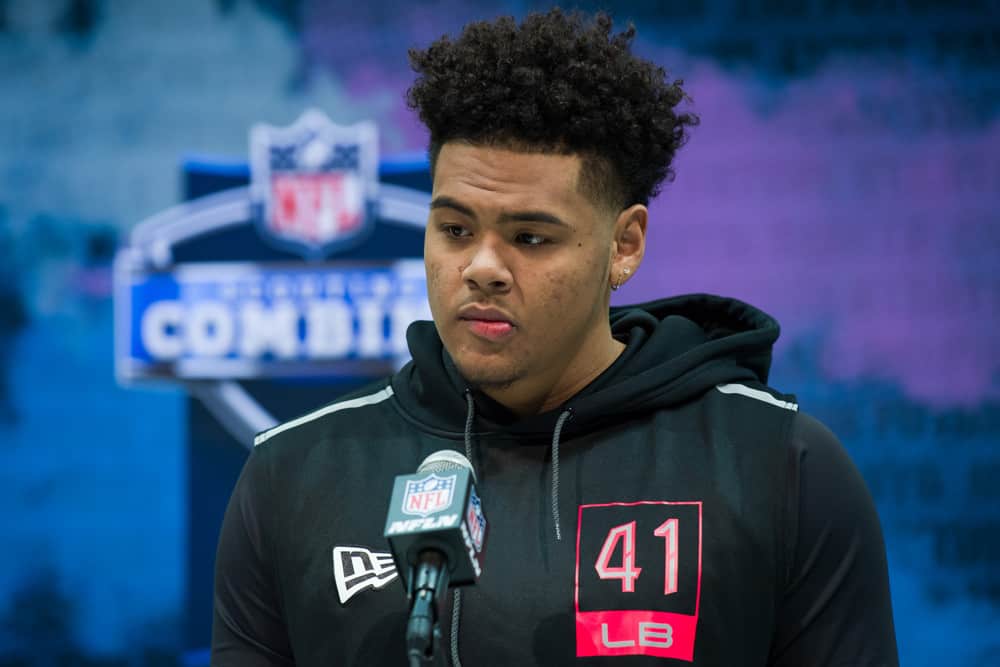 Andrew Berry is already working on the Cleveland Browns 2021 roster.
He claimed former Boise State edge rusher, Curtis Weaver, today after the rookie was waived by Miami.
Weaver, the Mountain View Conference's all-time leader in sacks, suffered a foot injury earlier this week.
Miami waived him with an injury designation, indicating they planned to retain Weaver by placing him on injured reserve.
Boise State EDGE Curtis Weaver:

– Heavy hands
– Good hand usage
– High IQ player
– Great gap penetrator
– Nice pass rush plan
– Hot Motor
– Plays with good pad level

— Nick Farabaugh (@FarabaughFB) February 8, 2020
As a non-tenured rookie, Weaver had to be exposed to the waiver process.
The Dolphins could have kept the rookie active through their preseason cuts and placed him directly on the IR.
But with 11 new draft picks, including several defensive linemen, the team opted to clear the roster space.
Weaver was considered a value selection in the fifth round.
He slid all the way to 164 overall, despite a pre-draft ranking in the top 100.
Miami did not specify what type of foot injury Weaver incurred, but they obviously expect him to miss the season.
But if the foot heals well, Weaver could compete for Olivier Vernon's spot if the veteran enters free agency.
Who is Curtis Weaver
Weaver made his presence felt at Boise State as soon as he stepped onto the field.
In a reserve role as a freshman, he logged 11 sacks and picked off a pass.
Boise State DE Curtis Weaver (@curtisweaver99) 2019 Highlights

Weaver has the most sacks in the history of the Mountain West Conference with 33 sacks in just 35 games. The stats speak for themselves, but so does his tape #BleedBlue

Full Video 🎥: https://t.co/F5QaQruDHO pic.twitter.com/Neu1D3HWtE

— JustBombsProductions (@JBP_Official) November 15, 2019
He added 23 more sacks in his two seasons as a starter.
Weaver racked up 128 tackles (72 solo), including 47.5 tackles for a loss in his three seasons in Idaho.
For good measure, he added 6 passes defended, 2 interceptions, 3 forced fumbles, and a fumble recovery.
Pro Football Focus graded Weaver with identical 92.0 scores in each of his starting seasons.
Weaver stands at 6'2″ and 265 pounds, although Miami was working to bulk him up.
He went to high school in Long Beach, California, where he played both ways, catching 24 passes on his championship team.
What it Means to the Browns
Joe Woods already has two new players to work with in 2021.
Grant Delpit cleared his way to the injured reserve today, creating room for Weaver.
That is quite a start for a defense potentially losing several free agents after this season.
The #Browns essentially already made two 2021 draft picks in Grant Delpit and now Curtis Weaver.

Let's hope both fully recover before then

— MoreForYouCleveland (@MoreForYou_CLE) August 25, 2020
This assumes both players recover fully from serious injuries.
Miami knew the risk of putting Weaver through waivers.
And Berry was alert enough to grab someone he thinks can help the team down the road.
Weaver gives the Browns another fast and versatile defender to grow into Woods system.
Most impressively, it costs the Browns nothing to take a flier on their new addition.
Fans will have to wait at least another season to see if it pans out.