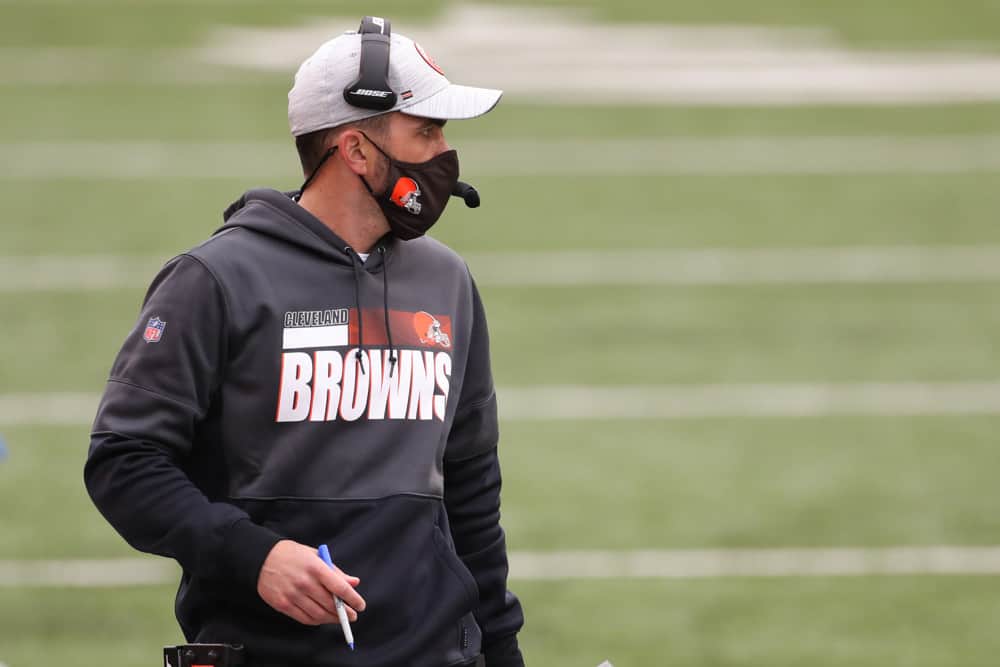 2020 may be in the past, but COVID-19 certainly is not.
That became painfully clear on Tuesday as Cleveland Browns head coach Kevin Stefanski tested positive for COVID-19.
Browns COVID outbreak continues: HC Kevin Stefanski, two other coaches and two players have COVID issues, sources tell ESPN. Browns are closing their facility.

— Adam Schefter (@AdamSchefter) January 5, 2021
Stefanski was not the only one to test positive on Tuesday.
Additionally, two other coaches and two players received positive tests. Per Mary Kay Cabot of Cleveland.com, the two coaches are tight ends coach Drew Petzig and defensive backs coach Jeff Howard.
In addition to HC Kevin Stefanski testing positive, here are the Browns other COVID issues:

A DB coach (Mesa test today) and TE coach (Mesa test today). A WR and OL (Mesa tests today). https://t.co/i7USJ6PCtW

— Adam Schefter (@AdamSchefter) January 5, 2021
Good Grief…
The timing, of course, could not be worse for the Browns.
Literally. Ahead of their first playoff game in over a decade against a divisional foe, the brown and orange are without Stefanski.
After securing a playoff spot last week, Kevin has been talked about as a favorite for NFL Coach of the Year.
Now, Cleveland has to go into Heinz Field and knock off the Steelers with special teams coordinator Mike Priefer.
That's no slight to Priefer, a Cleveland native and Naval Academy alum.
It's just difficult to see an NFL team switching head coaches for a week in their biggest game since January of 2003 and things transitioning smoothly.
Cleveland should still feel confident heading into Sunday night. Heading into Pittsburgh with a defeated attitude is just asking for a butt-kicking.
It will be a tough week, but Baker Mayfield and friends must find a way to rally the troops in Stefanski's absence.
Who's to Blame?
Pointing fingers after a positive COVID test is a touchy thing to do.
That hasn't stopped many from taking to social media and taking frustrations out on the NFL.
Quite frankly, some of those points are justifiable.
It was clear as day the Browns have had an outbreak for the last 10 days but the NFL just had to get all 256 in on time. What did they think was going to happen

— TA (@ClevTA) January 5, 2021
The feeling, especially from Browns fans, is that Cleveland does not receive equal treatment in terms of how the NFL views their COVID-19 situation.
Earlier this year, we saw the Baltimore Ravens have a game delayed for multiple days because the NFL wanted to ensure any "outbreak" was under control.
This was different from the Browns circumstances heading into the Jets game since there was no fear of an outbreak once contact tracing was done on those who were exposed.
Here, it appears there is an outbreak happening within the Browns.
However, the NFL does not appear willing to budge when it comes to Sunday.
Steelers fans are all for it, but it's defeating from a Browns perspective.
#NFL spokesman on Sunday night's #Browns–#Steelers wild-card game, given today's COVID-19 news out of Cleveland: "No change to the game's status."

— Nate Ulrich (@ByNateUlrich) January 5, 2021
Changes could happen throughout the rest of the week.
That's the COVID-infused world we live in.
For now, the Browns have no choice but to again brace that "next man up" mentality.
Update:
Can confirm #Browns LG Joel Bitonio, WR KhaDarel Hodge tested positive.

— Scott Petrak ct (@ScottPetrak) January 5, 2021