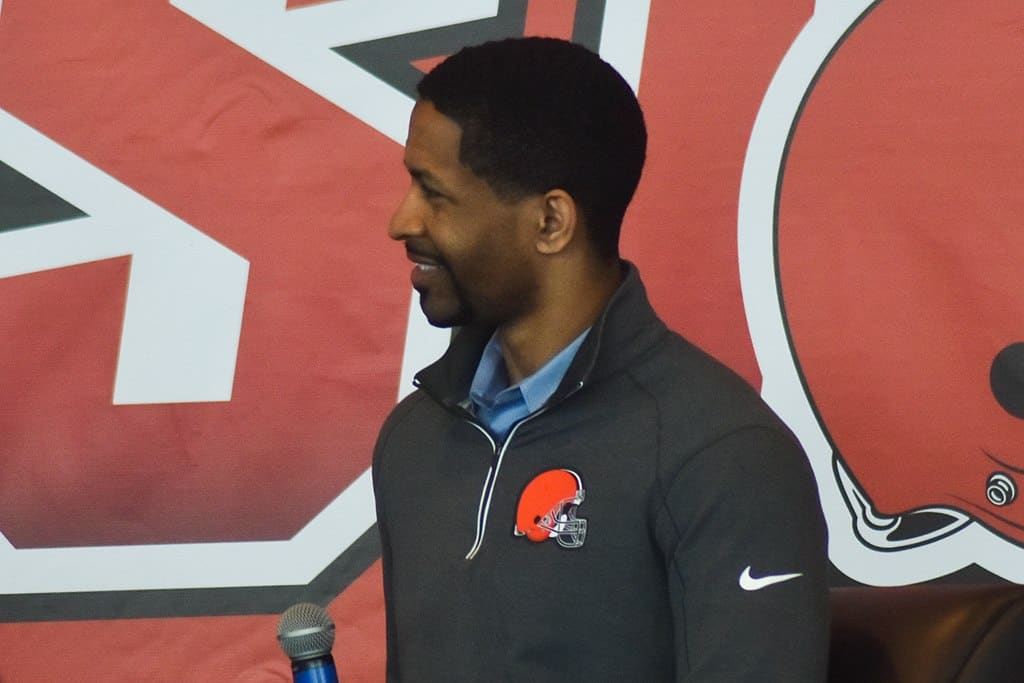 "Andrew and Brittan Berry's 1st round pick of the 2021 draft came a little early" read the Cleveland Browns tweet on Thursday morning.
No, Andrew Berry did not finesse the NFL Draft system and make an early player selection.
Instead, he experienced something greater, the birth of his child Eden Ruth Berry!
Andrew and Brittan Berry's 1st round pick of the 2021 draft came a little early.

Meet Eden Ruth Berry. 🧡 pic.twitter.com/LLmP6NcLMk

— Cleveland Browns (@Browns) April 29, 2021
Eden is the third child to join the Berry bunch, joining her older brothers Zion and Kairo.
Quite the Time
If anyone is envious of the schedule of Andrew Berry right now, it'd be nice to meet them.
Perhaps not, because Berry possesses what has to be one of the busiest calendars in the world right now.
The last few months, of course, have been spent juggling NFL Draft evaluations and his wife's pregnancy.
Balancing hours upon hours of looking at collegiate film, conducting interviews, and making phone calls all while caring for a pregnant wife is far from a stress-free day.
Not that any general managers are stress-free right now, but Berry's plate is certainly full.
Perhaps his third child coming along has been a nice getaway from the NFL life as well.
Athletes, coaches, and front office members are human too and deserve some sense of a "normal life".
For Berry, being there for his family and welcoming in another miracle could be exactly what he needs in his life right now.
Only Andrew can speak on all this, of course, but it's amazing to see all he has going on right now.
Andrew Berry and his wife welcomed a baby girl to the world this morning.

He will then be manning the ship for the #Browns in the draft that same night.

Andrew Berry is different. 🙌🏼 pic.twitter.com/OkcAO5v0kX

— MoreForYouCleveland (@MoreForYou_CLE) April 29, 2021
Still Involved Tonight?
One question some might have after the news is whether Andrew Berry will even be available for the draft tonight or not.
Good news, Browns fans. Berry is still the pilot of the ship.
Congratulations to #Browns EVP/GM Andrew Berry. He and his wife welcomed their third child, Eden Ruth, this morning. Everyone is healthy and doing well. Berry will run the #NFLDraft tonight.

— Daryl Ruiter (@RuiterWrongFAN) April 29, 2021
It will be an exciting weekend for northeast Ohio, as Browns fans proudly represent their city.
As Andrew Berry moves his family into a new direction with his third child, he'll look to keep the Browns moving in the right direction as well.