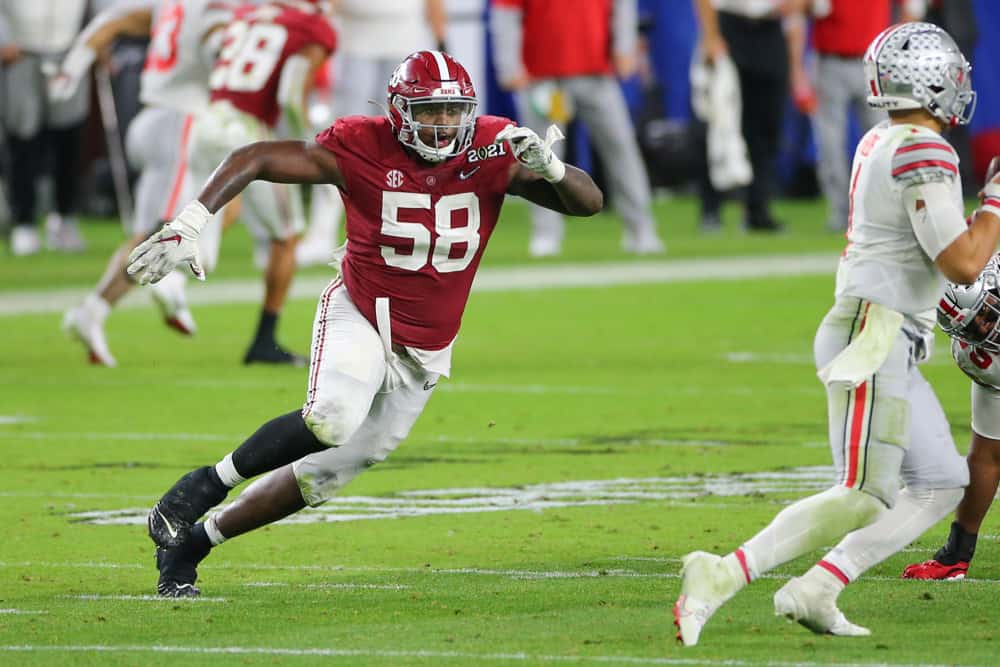 The good news is, Cleveland Browns fans don't need to worry about drafting a quarterback in the first round.
Instead, the organization is likely leaning towards drafting a defensive player with the No. 26 selection.
The biggest hole left on the team is at defensive tackle, but that position is extremely weak in this draft class.
In a fairly light class, Alabama DT Christian Barmore appears to be the best of the bunch.
On paper, the Browns and Barmore are a fit, but who knows if he'll be available when it comes time for Cleveland to pick.
Barmore To The Rescue
In 2020, the Browns desperately needed help at linebacker, but they added minimal talent at the position.
This time around, Cleveland lost multiple players at defensive tackle, but haven't made any moves to replace them.
Four-year tackle Larry Ogunjobi signed a deal with the division rival Cincinnati Bengals.
Afterwards, the Browns decided to cut veteran tackle Sheldon Richardson, which seems odd given their lack of depth at the position.
That being said, Cleveland is likely going to use the draft in order to find help at defensive tackle.
It seems that many believe Barmore could be a potential target of Cleveland on draft day.
Christian Barmore splitting a double team for a sack. No big deal. pic.twitter.com/sxNkl1wcHT

— Sans (@bengals_sans) April 22, 2021
He spent two seasons at Alabama, but that was enough to show he is worth the gamble early in the draft.
NFL Network's Daniel Jeremiah ranked Barmore as the 42nd overall prospect in his top 50 prospects list.
Jeremiah is a firm believer that the Browns could be interested in Barmore on draft day.
"I think he could sneak into the back end of Round 1," Jeremiah said. "I think more likely he goes to Round 2. He fits the profile of what traditionally are the second-round guys in that he's a little bit of a boom-bust player where you have high highs, and then you've got some inconsistent lower lows."
Christian Barmore is widely projected as the top defensive tackle in the draft class — could he make sense for us?

— Cleveland Browns (@Browns) April 22, 2021
The Browns aren't going to show their hand and say what they plan to do during the draft, but Barmore seems like a strong possibility.
Cleveland needs help at defensive tackle and Barmore is expected to be taken in the late first round.
Is Barmore The Right Choice?
Barmore is an explosive tackle who keeps his feet moving plays with proper pad level.
He is fluid moving laterally, quickly changes direction, and displays excellent speed.
In 2019, Barmore recorded 26 tackles, six tackles for loss, and two sacks in 11 games.
He followed that up with 37 tackles, 9.5 tackles for loss, and eight sacks in 2020.
Barmore certainly stepped it up at the right time and put himself in good position heading into the draft.
Highest pass-rush win rates from defensive tackle alignments (and ranks) since 2018, per @PFF:

1. Christian Barmore (21%)

2. Marvin Wilson (20%)

3. Javon Kinlaw (19%)
4. Derrick Brown (19%)

5 Justin Madubuike (18%)

— Austin Gayle (@PFF_AustinGayle) April 23, 2021
There is a ton of upside here, which is why Barmore is likely going to be the first tackle off the board.
However, he still has some growing to do before he is ready to be a full-time starter in the NFL.
The Browns don't exactly need Barmore to start Day 1, but he'll likely be asked to contribute early in his career.
Cleveland doesn't have a lot of major holes left to fill heading into draft day.
That being said, they should likely take care of the issue at defensive tackle and select Barmore with their first selection.