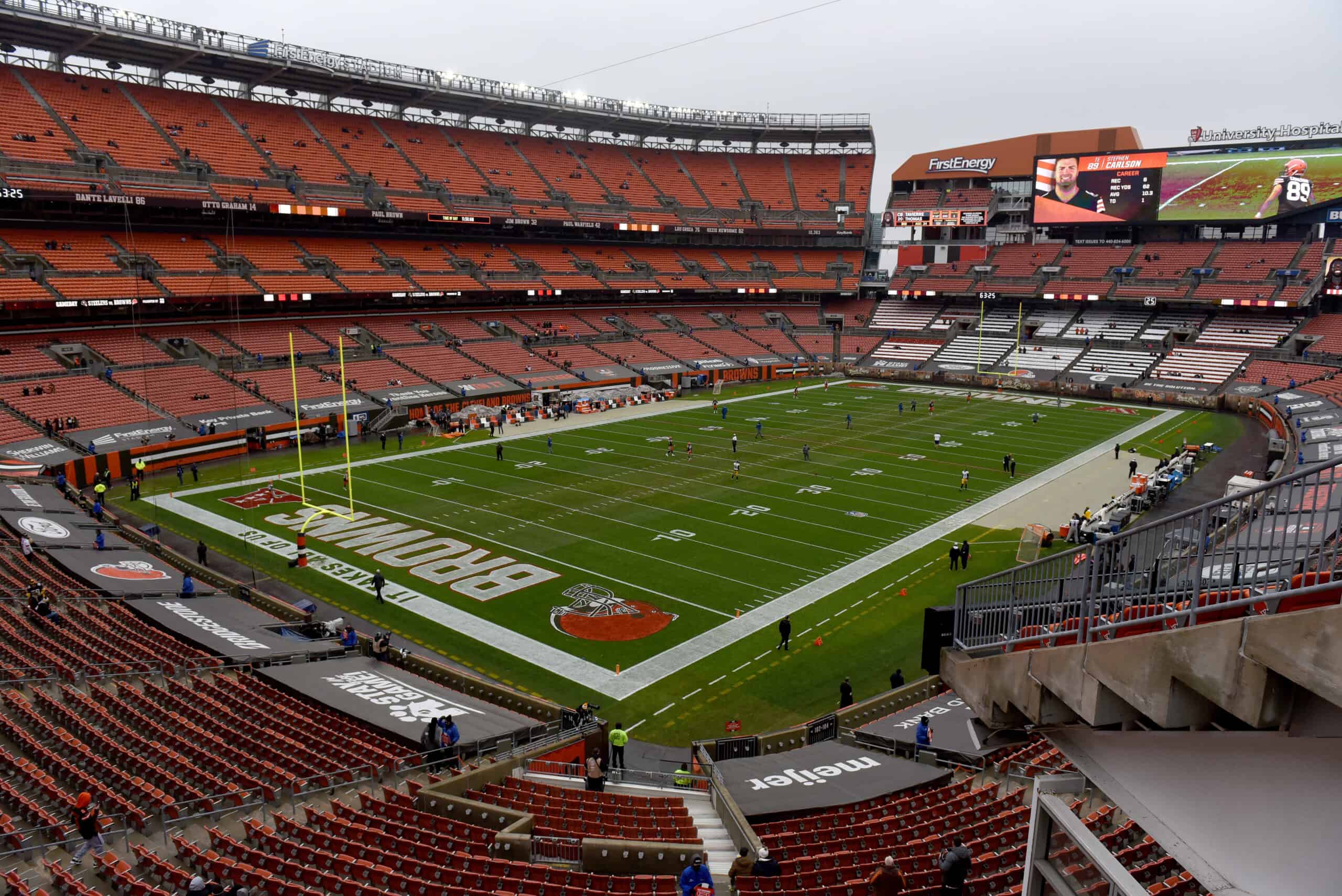 Few fan bases have suffered quite as much as the Cleveland Browns' Dawg Pound.
Week after week, season after season, they sat through lakeside weather desperately hoping for a win.
And more often than not, they left cold and disappointed.
Baker Mayfield believes our offense is "hitting the ground running"

📰 » https://t.co/vF5foJpDpg pic.twitter.com/P7w95h9ief

— Cleveland Browns (@Browns) June 16, 2021
But 2020 ushered in a new era of hope for every fan in the FirstEnergy Stadium stands.
Cleveland won 6 games at home last year, and one loss was arguably the most exciting game of the NFL season.
Back in 1967, Cleveland went 6-1, in the middle of a 36-11-3 home stretch over the 1963-1969 seasons.
Jadeveon Clowney says our defense is 'having a good time' as group continues to jell

📰 » https://t.co/km2WpbtL1a pic.twitter.com/ZwgfCOSWuo

— Cleveland Browns (@Browns) June 17, 2021
But you have to go all the way back to Jim Brown's rookie year to find the team's last undefeated home season.
Cleveland went 6-0 at home that year, before losing the 1957 NFL Championship in Detroit.
With another era of winning football on tap, would you buy or sell the Browns going undefeated at home in 2021?
Sell: Too Hard To Win on Every Given Sunday 
There is no such thing as a sure thing, especially when your own division offers the toughest challenges.
Baltimore and a fading Pittsburgh have been thorns in the Browns' sides for a long time.
And even Cincinnati is a better team in 2021.
The NFL did their part to make an undefeated home slate more difficult for AFC teams.
The NFL has expanded to 17 regular season games! The Arizona Cardinals are now on our 2021 home schedule. pic.twitter.com/4dxhbXRVqN

— Cleveland Browns (@Browns) March 31, 2021
Cleveland will play a 9th regular-season game in front of the home crowd this year.
And the extra opponent, Arizona, presents their toughest non-divisional challenge.
The other non-divisional games offer few perennial favorites and are likely to be underdogs.
But there are enough questions and variables to make buying a perfect home record unrealistic.
Buy: Browns Are Better Than Every Visiting Team 
If you believe in preseason power rankings, the Browns are better than every team on their home schedule.
The only one who comes close is the Baltimore Ravens, although they are very close.
But Cleveland and Baltimore play each other twice in 3 weeks, with the second game on the lake.
And the Browns have a bye in between the contests, while Baltimore travels to Pittsburgh.
Stefanski: "We're really excited to have nine home games in front of our fans in front of what I hope is a packed building."

📰 » Full 2021 schedule: https://t.co/fteVDuxoEM
📺 » Tune in NOW to Browns Live » https://t.co/xVfhP5WSJl
📺 » Tune in to NFL Network at 8 p.m. pic.twitter.com/IeZ4E4GIN9

— Cleveland Browns (@Browns) May 12, 2021
Not only does Stefanski have time, but he also has the players and skillsets to alter his offense between games.
Pittsburgh comes off their bye week to visit Cleveland on Halloween.
But the Browns come off their Thursday Night appearance, so Ben's extra rest is offset.
Arizona presents the biggest non-divisional opponent, but Cleveland will be the favorite in that game, too.
We're Buying: Cleveland is Undefeated at Home in 2021 
If the AFC North offers the most difficult opponents, the Browns are set up for 9-0 at home.
They play with extra rest against Pittsburgh (off a Thursday night game) and Baltimore (off their bye week).
And the biggest risk of losing to Cincinnati is if Stefanski rests all his starters in the season finale.
Winning the non-divisional games is more a question of "by how much" than "if".
The #Browns have a favorable overall schedule in 2021, but a tough home vs. away split. Using Vegas projected win totals:

Projected record and win % of home opponents: 67.5-85.5 (44.12%)

Projected record and win % of away opponents: 76-60 (55.88%)

— Cody Suek (@CodySuek) May 13, 2021
Houston, Chicago, Detroit, and an Aaron Rodgers-less Denver could be routed.
Baker Mayfield will punish the Raiders for their wind-aided win in Cleveland last year, too.
And if Cleveland is built to beat the Ravens, they'll make short work of a traveling Cardinals team.
There is an excellent chance Cleveland will be home favorites in all 9 contests.
That's enough for us to buy the Browns going undefeated in Cleveland in 2021.