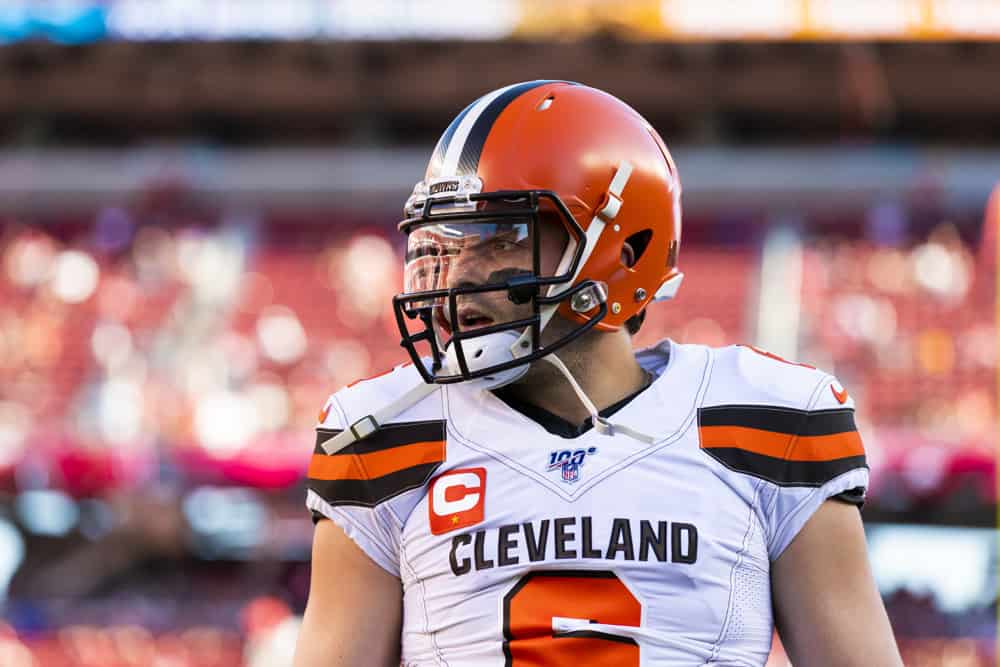 Oh, how quickly things can change for Baker Mayfield.
Before the win over Tennessee, doubt over his future in Cleveland was a talking point for many.
ICYMI: It's Time to Bench Baker Mayfield via @ThisIsBLVLND @FP_Coverage https://t.co/KSQghxp1pr

— Full Press NFL (@FullPressNFL) October 25, 2020
His performance against the Titans has swung the narrative back in his favor, in a hurry.
Baker Mayfield….
17/21 | 252 yards | 4 TDs
All in the 1st half

HE'S ON FIRE!🔥 🔥🔥🔥
pic.twitter.com/rtEi5MOiNU

— Bench Bros Sports (@benchbrossports) December 6, 2020
This week provides another test for the third-year quarterback as he'll face a divisional foe in the Baltimore Ravens.
The passing game was running smoothly and efficiently against the Titans.
Do you "buy" or "sell" a 300-yard performance for Mayfield against the Ravens on Monday night?

Buy
Mayfield was arguably the best quarterback across the NFL in week 13.
#Browns QB Baker Mayfield has been awarded the FedEx Air NFL Player of the Week.

— Nate Ulrich (@ByNateUlrich) December 9, 2020
His accuracy, under heavy scrutiny following the win over Jacksonville, also took a giant leap forward.
Highest single-game accuracy %:
🔸 Baker Mayfield vs. Titans – 89.7% pic.twitter.com/VXAdfMCbAB

— PFF (@PFF) December 9, 2020
He's the only active quarterback who has not thrown an interception in his last 150 passing attempts.
Needless to say, Mayfield has been locked in, wheeling, and dealing.
That was not the case when these two teams matched up on opening weekend.
Even though the strength of this Browns offense is mostly with the ground attack, Kevin Stefanski may have found something with last week's aerial raid.
In the win, Mayfield finished with 334 passing yards.
Coaches at any level know to keep the ball in the hands of the players who are "hot".
Right now, Baker is on fire, and Stefanski would be wise to let him keep slinging the ball around the yard.
If he's able to replicate what he did against Tennessee, 300 yards through the air should be no problem.

Sell
While he did throw for over 300 yards against Tennessee, it's the only time he has hit that mark this season.
As mentioned, the Browns are usually at their best when running the football.
The gameplan against the Titans featured a commitment to the pass, but that may not be the case each week.
The Ravens also boast a top-ten defense while the Titans are bottom-third in that department.
Per Cleveland.com, Baltimore blitzes on about 43% of their defensive snaps, while Tennessee brings heat less than 30% of the time.
You can also look back to that season opener to know that Baltimore gives Mayfield and the Browns fits.
They play a physical and dominating style that quickly takes opponents out of games mentally.
That's what happened in week one to Baker.
I don't think they get to him as bad this time around.
Baltimore may not have the stars they once did on that side of the ball, but they work well as a unit.
#Ravens All-Pro CB Marlon Humphrey picks off Baker Mayfieldpic.twitter.com/4I28D6f2Rt

— NFL Update (@MySportsUpdate) September 13, 2020
Browns have zero answer to a simple pressure in empty. No hot answer. Mayfield doesn't recognize the issue. Also love the Ravens dialing up pressure on 2nd and 29!! pic.twitter.com/Rwt314Vusm

— Geoff Schwartz (@geoffschwartz) September 14, 2020
Looking back at the first go-round between Cleveland and Baltimore, it was an ugly afternoon for Baker.
He threw for just 189 yards on 21 of 39 passing, threw one touchdown and one interception, and took two sacks.
Again, I do think Baker finds more success against Baltimore this time around.
The Browns are playing much better football now than back in September.
The Ravens were sliding for a second but looked back to form against Dallas this past week.
Monday night's game will be a battle.
It may be one where we see Mayfield return to struggling just a bit.