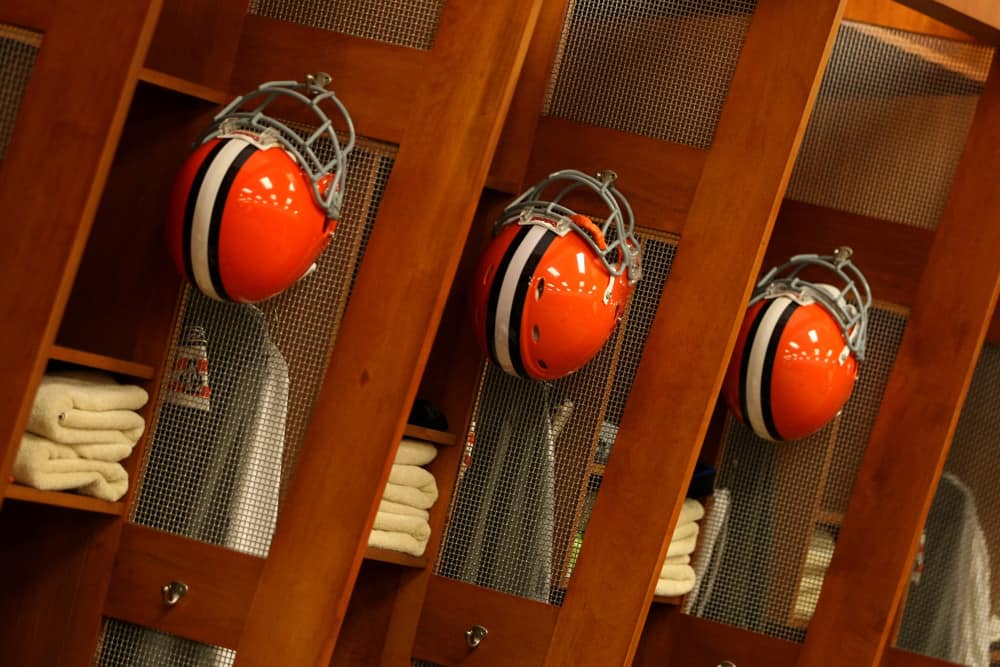 As the Cleveland Browns aim to maintain their success beyond this season, it is time to begin looking at who deserves a contract extension.
They have done an excellent job of building the team with a foundation of talent gathered through both the draft and free agency.
Now the franchise must work to hang onto their talent and keep them with the team.
This season, the Browns have had contributions from a variety of players.
There have been standouts on both sides of the ball, and some prime candidates to get signed to longer deals.
Here are three that the team should prioritize making an extension with.
1. Baker Mayfield
Mayfield seems like the very obvious choice for this.
While there had been some questions about him after his rookie season, this season proves that they should stick with him.
His maturation as a QB has been evident during their recent four-game winning streak.
He is under control in the pocket, making the smart play more often than not.
This is a major reason why he hasn't thrown an interception since Week 7.
Last week's game against the Tennessee Titans further proved his legitimacy as the team's QB.
Your FedEx Air Player of the Week: @bakermayfield 👏

RT to congratulate Baker!

📰 » https://t.co/vc5SOTQNnX pic.twitter.com/c9LdbwbLBJ

— Cleveland Browns (@Browns) December 9, 2020
He took control of the game, catching the Titans defense off guard and throwing for 334 yards and four TDs.
It is also no coincidence that the team has a good record; when Mayfield is smart with the ball the Browns have a better chance of winning.
On top of this, he is the proverbial heart and soul of this Browns team.
He embodies the attitude and swagger that the franchise needs to have it that want to get back to relevance.
With Mayfield's rookie contract ending after the 2021 season, it is time to consider inking him to an extension.
However, the Browns do have a fifth-year option they could exercise, keeping him with the team through 2022.
If the Browns continue their success this season, and Mayfield plays well, the team certainly should extend him.
2. Nick Chubb
The last two seasons, Chubb has proven himself as one of the NFL's premier runners.
Last year, he held onto the rushing title until the final week of the season, ultimately finishing in second.
This year, after missing four games due to an injury, he has bounced back strongly and leads all RBs in yards per carry.
The Browns were able to land themselves their running back of the future in 2018, and it would be foolish to let him walk.
While he has been the beneficiary of a stout offensive line, there is no doubting his skill as a runner.
Nick Chubb is averaging 12.6 yards per carry in the 4th quarter 👀

The next closest is 6.7 🤯 pic.twitter.com/QzhzQIcIx3

— PFF (@PFF) December 4, 2020
At just 24-years-old, he will likely continue being a top running back for the immediate future.
However, his rookie contract expires after the 2021 season.
If the Browns want to maintain their success over multiple years, it would be smart to lock Chubb up.
3. Wyatt Teller
This third spot could've gone to anybody on the outstanding Browns offensive line: they all deserve it.
However, Teller is set to enter free agency after next season.
The 26-year-old guard has been one of the best linemen in the NFL this season.
Pro Football Focus grades him at 93.9, the best among linemen in the league.
The top OL of 2020 💪🏆 pic.twitter.com/DdXiKs3znC

— PFF (@PFF) December 5, 2020
He is particularly adept in the run game, something that plays well in the Browns' current offensive system.
With his size, strength and speed, Teller has been able to thrive under offensive line coach Bill Callahan, becoming a staple in the team's line.
Teller's approaching free agency and breakout performance this year should push the team to look for an extension.
By keeping him with the team beyond 2021, the Browns will be able to keep their core linemen together for multiple seasons.
This would only boost their chances of maintaining success.
Beyond these three players, the Browns are in a good spot right now.
They have the core of their team under contract for at least one more season, giving them enough time to make these contract decisions.
However, look for them to try and extend these three major pieces sooner rather than later.