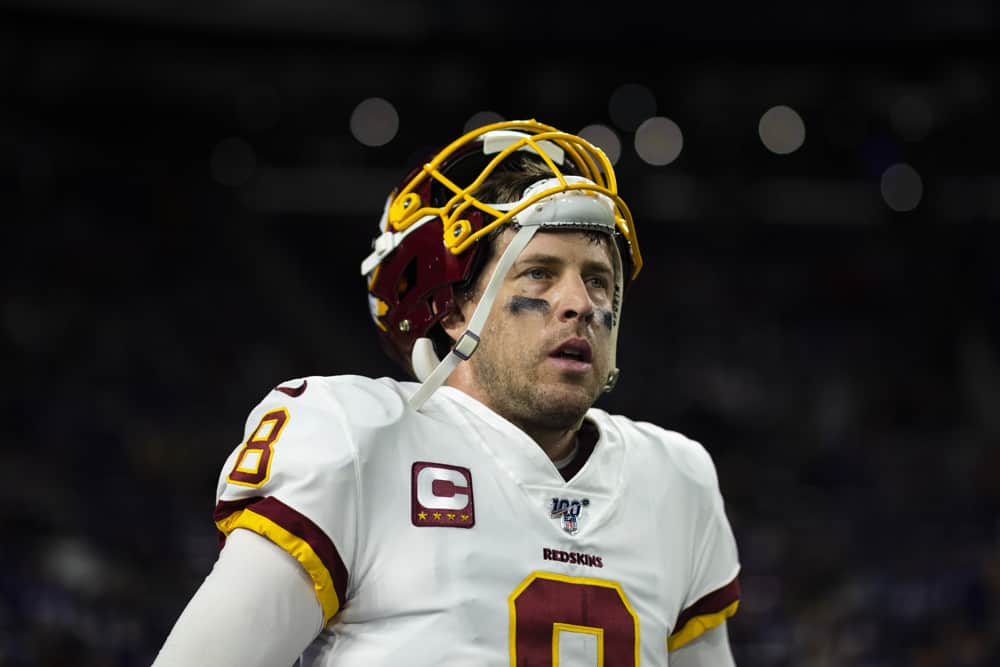 The Cleveland Browns have struggled to find a reliable quarterback over the last decade.
They might finally have a solution with 2018 No. 1 overall pick Baker Mayfield.
Mayfield had an incredible rookie campaign, but fell back down to Earth last season.
General manager Andrew Berry made major improvements to the organization over the offseason.
Hopefully Mayfield will be able to bounce back and succeed with the Browns long term.
However, if something happens to Mayfield, will Case Keenum be able to step up and help the Browns?
Why Sign Keenum?
Mayfield is going to be the starter, but it's never a bad idea to get depth.
Quarterbacks go down all the time in the NFL, so it's always smart to sign a quality backup quarterback.
The Browns were smart to go after Keenum since he's part of the reason that the backup quarterback spot is the fifth-best in the league, according to Pro Football Focus.
As mentioned before, Berry wasted no time bringing in talent around Mayfield this offseason.
He was able to sign the 32-year-old quarterback to a fairly affordable deal.
Browns agree to terms with QB Case Keenum on three-year, $18M deal. (via @RapSheet) pic.twitter.com/iEhEN2m9td

— NFL (@NFL) March 16, 2020
You never know what's going to happen, so the Browns were smart to lock down Keenum on a three-year deal.
He has been average throughout his career, but was most successful with the Minnesota Vikings in 2017.
The Vikings went 11-3 that year and made it to the NFL Championship game.
New Browns head coach Kevin Stefanski was the quarterback's coach with Minnesota and worked with Keenum that season.
The past relationship between the two was likely part of the reason why the Browns pursed Keenum heavily this offseason.
Can Keenum Help Cleveland?
Hopefully, Keenum won't be asked to take the field for the Browns next season.
Mayfield has been durable throughout his career, but injuries can happen out of nowhere.
The Browns desperately needed a reliable backup with Garrett Gilbert and Kevin Davidson as the other options before signing Keenum.
Cleveland needed a veteran presence to help Mayfield and they believe Keenum can be that guy.
They don't plan on handing over the reins to Keenum, but he can help Cleveland even if he's not playing on the field.
Keenum has already played with six different organizations over the course of his career.
Sadly, he didn't really stick anywhere but did have a standout campaign with the Vikings.
That season, he threw for 3,547 passing yards with 22 touchdowns and seven interceptions through 15 games.
He succeeded alongside Stefanski and can help Mayfield adjust to the scheme.
Could Cleveland Win With Keenum?
In most cases, the season is lost when the starting quarterback goes down for a significant period of time.
Keenum was one of the few backup quarterbacks to actually step up and succeed after that happened.
Ok so the correct updated stats for Case Keenum
11-3 record
67.6 completion percentage
3547 passing yards
22 touchdowns
7 interceptions
1 rushing td
1 fumble
And a passer rating of 98.5

— Tim Brown (@TimBrown757) December 31, 2017
Right now, the Browns are better off with Mayfield starting at quarterback.
They signed Keenum as a quality insurance policy in case something happens.
It was a brilliant move by Berry and the Browns might actually be able to survive if Mayfield misses significant time next season.
Keenum has worked well with Stefanski in the past and has shown to be able to shine when he's asked to step up and take charge.
He might not be the most talented quarterback in the league, but Keenum knows what he's doing and can help Cleveland next season.