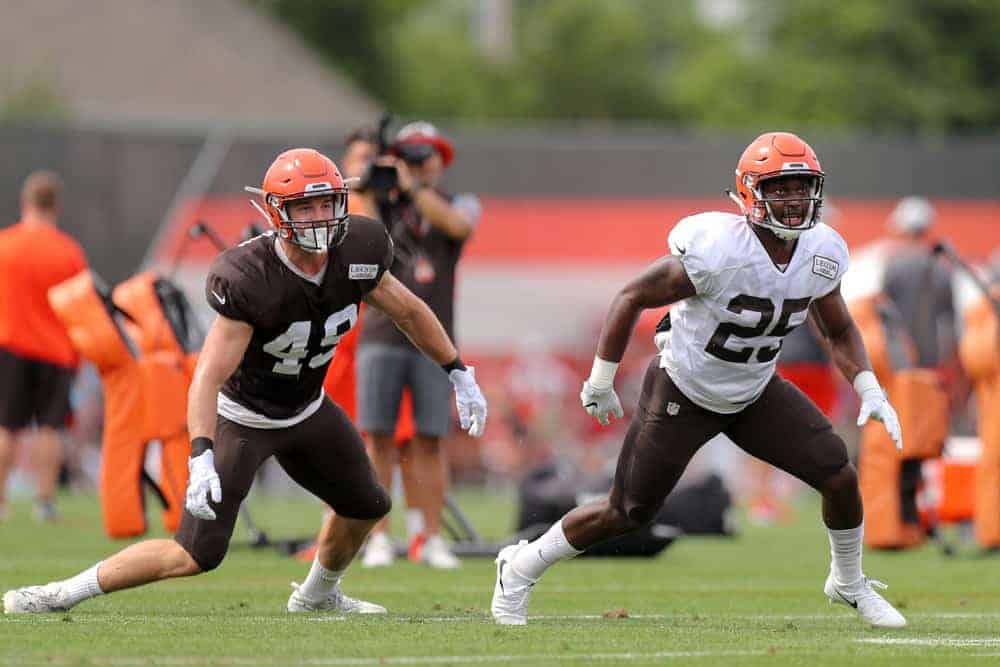 Special teams can win and lose games so the 2020 Cleveland Browns special teams unit must improve over last year's performance.
In Part 1 of the Training Camp Special Teams Preview, we reviewed the kickers and long snapper.
Now, we focus on the 6 special teams returners currently on the roster.
Even though Jarvis Landry returned punts in 2019, he is not included on this list.
Think of him as more of an emergency option and not a fixed member of the special teams unit.
It is worth mentioning that despite a coaching overhaul in the off season, Special Teams Coordinator Mike Priefer remains at the helm for 2020.
He was named the special teams coordinator for the 2019 season but spent part of his career in Minnesota while Stefanski was there.
His familiarity with the players and Stefanski is beneficial for everyone.
Returners
Note: Unless otherwise noted, the players are both punt and kick returners.
1. D'Ernest Johnson 
Johnson is another UDFA (2018 class) that ended up making the Browns roster in 2019.
His career started by being invited to Saints rookie mini camp in 2018, but the Saints did not sign him.
This Florida native literally went fishing for the rest of 2018, in Key West for mahi mahi.
He then played for the Orlando Apollos in the brief 8 week running of the Alliance of American Football in 2019.
After the AAF ceased in April 2019, the Browns signed Johnson in May 2019.
Listed as a RB, his special teams work last year garnered more attention.
He returned 6 kickoffs for 127 yards and 10 punts for 63 yards.
#NFL239ers 🏈🌴🔴🏹‼️@ImmokaleeFB alum D'Ernest Johnson getting loose! https://t.co/mn6DXOB7i8

— Andrew McDevitt (@AMcDevittTV) December 30, 2019
2. Dontrell Hilliard 
Like Johnson, Hilliard is an UDFA (2018 class) who ended up making the Browns active roster on October 2018.
He is also considered a RB but has done a little of everything in his short career.
Hilliard has caught passes, carried the ball, returned kicks and recorded tackles on special teams.
Despite going on IR on December 24, 2019 with a knee injury, Hilliard finished as the team leader with 421 kickoff return yards and 107 punt return yards.
3. JoJo Natson 
STC Mike Priefer on WR/Returner JoJo Natson before #Browns played #Rams in '19:

"He is terrifying,"

"He possesses a big-time threat because you can't be out of control at the point of attack or you are going to miss him."

Prief got his guy.

— BrownsAccess (@BrownsAccess) March 20, 2020
In March, Natson, also an UDFA (2017 class) signed a 1 year, $1 million contract with the Browns.
The former LA Ram has 35 career kick returns and 61 career punt returns.
He is small by NFL standards at 5'7″ and 150 pounds, but he is speedy.
Last season for the Rams, Natson recorded 13 kickoff returns for 222 yards and 19 punt returns for 149 yards.
4. Donovan Peoples-Jones 
DPJ is the 187th pick (Round 6) of the 2020 NFL Draft.
The 21 year old Detroit native committed to Michigan to play college football.
He enrolled early, becoming a college student in January 2017.
DJP started as a true freshman and finished the 2017 season by being named Michigan's Rookie of the Year and earning Freshman All-American honors.
5. Tavierre Thomas (Kickoff Returner)
Thomas was a UDFA (2018 class) that has spent the last 2 seasons with the Cleveland Browns.
In 2019, he became a kick returner and returned 10 kicks for 204 yards.
Like DPJ, Thomas is a Michigan native.
But his path to the NFL was not through a Division I NCAA school.
When he received no athletic scholarship offers, Thomas chose to attend Ferris State on an academic scholarship.
He walked on the Ferris State football team and played all four years.
6. Taywan Taylor (Kickoff Returner)
Taylor started his NFL career with the Tennessee Titans but came to Cleveland in 2019 via trade.
He finished last season with 3 returns for 53 yards in 3 games.
Taylor only played Weeks 2 through 4 in 2019.
He is a graduate of Western Kentucky University with an elementary education degree.
It's unclear how many of these players will be on the final roster and who will be named the starters.
Training camp is scheduled to begin on July 28 so we will soon to find out.