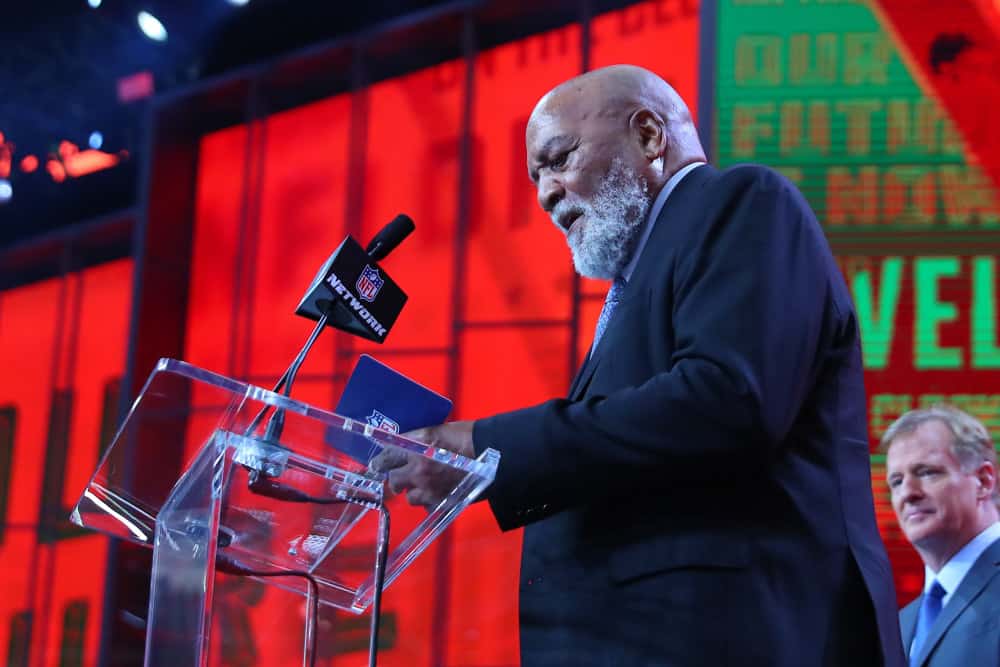 The draft is the most important way for an NFL team to bring in talent to their team.
Young players are cheap and are nothing but potential.
The well-run teams around the league are the ones drafting well and building their teams through the draft.
The most difficult job in the draft is not picking guys at the top of the draft.
Everyone knows who the best players are.
The hardest job is finding guys in the middle and late rounds that have staying power.
The average NFL career is 3.3 seasons, so if you can find a guy after the 2nd round who can outplay that number, you're doing pretty good.
The Cleveland Browns have had some issues with drafting since their return to the league in 1999, however, as this list shows it wasn't always that way.
To prove that, we've put together a list of the 30 greatest Browns draft day steals of all time.
What qualifies someone for this list?
The player needed to be a third-round pick or later, and to have played for the Browns for 4 seasons or more.
There are some exceptions to these criteria, which you may notice, but they were for exceptional circumstances.
It's important to note for this list that the structure of the draft has changed massively over its history.
The number of rounds has fluctuated massively since it's inception in 1936.
These days there are just 7 rounds, which is the lowest it's ever had.
The draft was at its height in 1950 when it had a whopping 30 rounds.
It's also important to keep in mind that the number of teams in the league has fluctuated too.
Sure, the 1967 draft had 17 rounds, but the league only had 16 teams.
It's important to keep these things in perspective when you come across some of the draft positions, which is why we've included the overall draft number as well as the round.
Take a look at this list and let us know what you think. Do you agree with the choices, or did we leave someone out?
Let us know in the comments section. Enjoy!
The Cleveland Browns 30 Greatest Draft Day Steals Of All-Time
30. Ahtyba Rubin
Ahtyba Rubin was drafted in the 6th Round, 190th overall, of the 2008 NFL Draft out of Iowa State University.
Rubin's football career is one of over-achievement from the very beginning.
Just a three-star recruit out of high school, Rubin chose to attend Iowa State.
While there he had a solid, but unspectacular college career.
Then came the NFL draft.
He was projected by some to go as high as the third round, but he fell to the Browns in the 6th round.
Rubin spent most of 2 seasons backing up nose tackle Shaun Rogers before his time in the spotlight came.
Rogers went down with a knee injury in Week 12, and Rubin never gave the job back.
The following season Rogers was moved to defensive end in order to get both men on the field at the same time.
Remember Ahtyba Rubin?#ClevelandBrowns #DawgPound #Browns pic.twitter.com/EuEFUgEF7m

— Cleveland Browns Guys (@CleveBrownsGuys) December 27, 2019
Rubin went on to play 5 seasons in Cleveland.
He played in 72 games, starting 50.
He totaled 9 sacks, 227 tackles, and 1 interception in his time with the Browns.
Rubin went on to play with 4 more teams from 2015-2018.
Rubin played in the NFL for 10 seasons, which is remarkable for how average he had been at every stage of his career.
How many 3-star high school football players make it to the NFL every year?
Not many.
How many 6th round draft picks stay in the league for 10 years?
Not many.
By those measures, Athyba Rubin should be very proud of the career he made for himself.
29. Billy Andrews
Billy Andrews was drafted in the 13th round, 333rd overall, of the 1967 NFL Draft out of Southeastern Louisiana.
The linebacker played 8 seasons in Cleveland.
He played in 100 games for the Browns, starting 42.
Initially, it wasn't clear whether he had a future with the team.
For the first three seasons of his career, Andrews was limited to special teams' duty.
The Browns were a veteran squad with established starters on defense.
Starting in 1970, Andrews took on a more prominent role with the defense.
From 1970-1972 Andrews started nearly every game for the Browns.
Eventually, he moved on to play for San Diego and Kansas City before retiring.
The linebacker also played an interesting role in NFL history.
Andrews was playing for the Browns in 1970 when they played the first-ever game of Monday Night Football.
Late in the fourth quarter, Andrews intercepted a Joe Namath pass and returned it 25 yards for a touchdown.
The score stretched the Browns lead and secured the victory.
It was Andrews' only touchdown of his career.
49 yrs ago 9/21/70 the 1st Monday Night Football Game was played in #CLE . Howard Cosell called the game for ABC (blacked out @WEWS by NFL rules). Billy Andrews intercepted Broadway Joe Namath late in the game & @Browns went on to beat @nyjets 31-21 Will history repeat tonight? pic.twitter.com/hxxslcQgQH

— Chris Ronayne (@chrisronayne) September 16, 2019
About that famous play, Andrews has said, "That moment was a career changer for me. When I intercepted that ball, I was no longer the too-slow, too-small, small-college player."
After his playing days, Andrews returned home to Louisiana to run his 800-acre farm, where he still lives today.
28. Gerry Sullivan
Gerry Sullivan was drafted in the 7th round, 171st overall, in the 1974 NFL Draft out of the University of Illinois.
The offensive lineman played 8 seasons with the Browns, the only team he would play for.
Gerry is not on this list because he had an excellent career filled with Pro Bowls and a Hall of Fame bust.
He's on this list because the Browns took a chance on a late-round guy and he managed to play 8 seasons in the league.
If the league average is 3.3 seasons, Gerry did pretty well.
In total, Gerry Sullivan played in 119 games for the Browns.
Sullivan played in between glory years for the Browns.
The only season the Browns finished higher than 3rd in the division was in 1981, Sullivan's final season, when they won the division and lost in the divisional round of the playoffs.
Happy birthday Mike!
Here he is having some fun with Gerry Sullivan.#Steelers #Browns pic.twitter.com/x6AGCka0aM

— Old Time Football 🏈 (@Ol_TimeFootball) March 19, 2019
Perhaps Sullivan is most noteworthy to the NFL for something that happened after his playing days were done.
In 2012, Sullivan joined former players Bruce Herron and Raymond Austin in suing the NFL over their handling of concussions.
He was awarded a claim as a result of the case.
Sullivan had been diagnosed with dementia at just 52, after having been determined to have "cognitive impairment and behavioral disinhibition" as diagnosed by a neuro-psychiatrist.
27. Michael Jackson
Michael Jackson, no not that one, was drafted in the 6th round, 141st overall, in the 1991 NFL Draft out of the University of Southern Mississippi.
The wide receiver had an instant impact under coach Bill Belichick.
During his first season in Cleveland, Jackson had just 7 receptions for 268 yards and two touchdowns.
Despite this lackluster first season, he would catch fire in his second and third.
During the 92 and 93 seasons, Jackson caught a combined 88 passes for 1,511 yards and 15 touchdowns.
After an injury-plagued 1994 season, Jackson returned for the 1995 season looking to get back to his usual level.
And he did just that.
In 1995 Jackson caught 44 passes for 714 yards and 9 touchdowns.
Jackson went for over 700 yards receiving in 3 of his 5 seasons in Cleveland.
In total, Jackson played in 69 games for the Browns.
He caught 170 passes for 2,797 yards.
Jackson stayed with the franchise in 1996 when the team was moved to Baltimore and he spent the next 3 years with the Ravens before retiring after the 1998 season.
Unfortunately for Browns fans, Jackson had a career year after leaving Cleveland, catching 76 passes for 1,201 yards.
Jackson's life ended in tragedy in 2017 when he was killed in a motorcycle accident in his hometown of Tangipahoa, Louisiana at the age of 48.
VIDEO: Former Baltimore Ravens, Cleveland Browns wide receiver Michael Jackson died in a motorcycle accident outside of Tangipahoa, La. pic.twitter.com/XL1fPB41jm

— azcentral (@azcentral) May 13, 2017
26. Andra Davis
Andra Davis was drafted in the 5th round, 141st overall, in the 2002 NFL Draft out of the University of Florida.
Davis played in all 16 games his rookie season but failed to start a single one.
That all changed during his second season in the league when he became a full-time starter at middle linebacker.
That second season was a breakout season for Davis.
Not only did he start all 16 games, but he led the team in tackles, with 171.
During the 2003 season, he also tied a franchise record with 4 sacks in a single game.
During the 2004 season, Davis missed the final 5 games of the year with a knee injury but still finished with 89 tackles and 3 interceptions.
Davis was back with a vengeance in 2005 when he recorded a career-high and team-high 199 tackles.
On November 20, Davis was named the AFC Defensive Player of the Week after recording 14 tackles and 2 tackles for loss in a 22-0 win over the Dolphins.
Davis was a notable Pro Bowl snub that year.
Throwback Thursday! And you do you know what that means??? We dig into the archives… Today we highlight LB Andra Davis (2002-2008) His best season was in 2005, accounting for 149 total tackles. Do you remember??? #browns #nfl #andradavis #tbt #dawgpound #history #themoreyouknow pic.twitter.com/MHeK8pr48i

— BrownsTown USA Podcast 🎧 (@BrownstownUSA) March 14, 2019
Following the 2005 season, the Browns signed Davis to a five-year extension.
Davis would go on to play 3 more seasons with the Browns, but he was never able to hit the heights of that 2005 season.
In 2009 Davis signed with the Denver Broncos, before finishing his career with the Buffalo Bills.
In total, Andra Davis finished his Cleveland Browns career having played 105 times for the brown and orange.
Davis had 642 tackles, 8 interceptions, and 8.5 sacks.
25. Ryan Pontbriand
Ryan Pontbriand was drafted in the 5th-round, 142nd overall, in the 2003 NFL Draft out of Rice University.
The Browns and Pontbriand made history when they picked him as Pontbriand is one of just 13 long snappers to be drafted since 1982.
Ryan Pontbriand played for the Browns for 9 seasons and missed just 5 games, all of which came in 2005 due to a back injury.
In total, Pontbriand played in 134 games for the Browns.
During his time in Cleveland, Pontbriand was responsible for snapping for one of the greatest Browns in the era of the return to Cleveland.
Pontbriand snapped for Phil Dawson, who holds team records for career field goals and field goal percentage, among a few other categories.
Best #Browns players of my adult life:
1. Phil Dawson
2. Joe Thomas
3. Myles Garrett
4. Chris Gardocki
5. Brian Pontbriand

— Doug Jenkins (@DougfromRadio) September 21, 2018
Pontbriand was selected to the Pro Bowl in both 2007 and 2008 as a "need" player, which the league uses to fill out the Pro Bowl rosters and positions.
In 2011, Pontbriand was released by the Browns during the season after he suffered an injury that the team feared would be career-ending.
That offseason he was signed by the 49ers to provide competition to their current long snapper but failed to make the regular-season roster.
Ryan Pontbriand had a terrific NFL career in a position you don't often hear much about, but an NFL career nonetheless.
24. John Demarie
John Demarie was taken in the 6th round, 152nd overall, in the 1967 NFL Draft out of Louisiana State University.
Demarie isn't the case of a mid-to-late round pick who surprised the league with dozens of Pro Bowls and All-Pro selections.
He's a guy who made a solid career out of playing football.
Outside of his first and last seasons in Cleveland, Demarie started in all but one game he played in.
That's a remarkable return on the investment the Browns put into what equates to a late 4th round pick.
A solid starter for 7 straight years?
That's great.
Just to prove the point, recent Browns 4th round picks have included Pierre Desir, Howard Wilson, and Antonio Callaway.
After it was clear Demarie was no longer the starter in Cleveland, he spent his final season in Seattle where he started in 8 of the 9 games he played.
In total, Demarie played in 132 games and was a starter in 110 of them.
With the Browns, he was able to play in 7 playoff games.
Unfortunately, he had a career playoff record of 2-5, so they weren't the deepest playoff runs, but playoff runs nonetheless.
In retirement, Demarie returned to Louisiana where he sold tires and real estate.
23. Paul Farren
Paul Farren shouldn't have made it in the NFL.
He wasn't from a hotbed of football talent.
He didn't play at a college football powerhouse.
Heck, he didn't even play at a football school.
He was drafted in a round that doesn't exist anymore and with a pick that's frankly laughable.
Yet, he made it and played nearly ten years for the Browns.
Farren was drafted in the 12th round, 316 overall, in the 1983 NFL Draft out of Boston University.
No, not Boston College, where Doug Flutie was winning the Heisman Trophy at nearly the same time.
Boston University, where winning the Bean Pot, a college hockey trophy, is their big goal.
During his first season in the league, the tackle played in 16 games, despite not starting one.
This changed his second season when he started 6 games.
From his third season on Farren was the default starter at left tackle.
The Great Paul Farren 🏈Go Browns pic.twitter.com/HwZ52f93EI

— Bernie Kosar (@BernieKosarQB) October 27, 2019
This remained the way for Farren for most of the remaining years of his career.
In his final season in the league, Ferran lost his starting job but still appeared in 13 games.
Despite these odds, no. 74 played 132 games, 91 of which as a starter, during one of the greatest runs in Cleveland Browns history.
These days, Farren owns a chain of McDonald's restaurants in New England.
22. Bobby Franklin
Bobby Franklin's Browns career almost didn't happen.
Franklin was drafted by two teams in multiple leagues in the same season.
In 1960, he was drafted by the AFL's Los Angeles Chargers and by the NFL's Cleveland Browns.
The former Ole Miss Rebel quarterback was taken in the 11th round, 127th overall, by the Browns and decided the Browns were a safer bet than Chargers in the newly formed AFL.
Despite having led Ole Miss to a national championship as a quarterback, the Browns played Franklin at safety and holder.
In his first season, Franklin led the Browns with 8 interceptions.
This was good enough for fourth in the league.
As a holder, Franklin was paired with future Hall of Famer Lou Groza.
During his rookie season, Franklin scored a touchdown on a fake field goal against the St. Louis Cardinals.
#24, Bobby Franklin of @OleMissFB with the hold for Lou "The Toe" Groza, 1960's @Browns https://t.co/SuyZsobvu8

— Bill Hetrick (@Dolphan_Bill) August 7, 2017
Franklin was a member of the Browns' 1964 NFL Championship team before being taken by Atlanta in the 1966 Expansion Draft.
He would later rejoin the Browns that year after the Falcons cut him.
Franklin totaled 13 interceptions and 3 touchdowns in his Browns career.
Three starters on 1964 NFL champion Cleveland Browns played at Ole Miss: TE Johnny Brewer, drafted in 1960; RG Gene Hickerson, drafted in 1957 same JIM BROWN draft class; and safety Bobby Franklin, drafted in 1960. Hickerson and Jim Brown developed good chemistry with the Browns. https://t.co/2wXzxpgmHs

— Thomas Edward Van Hyning (@VanHyning) July 29, 2018
After his retirement in 1966, Franklin would go on to coach under Tom Landry in Dallas where he would win a Super Bowl.
After leaving the Cowboys, Franklin went on to coach Northwest Mississippi Community College for 24 years.
With the Rangers, he won two national championships and developed 35 players who would go on to the NFL.
21. Ben Davis
The fact that Ben Davis had an NFL career is amazing.
Davis enrolled at Defiance College, in Defiance, OH, because he was looking for a small college with a prep school environment.
The former high school marching band member then decided to try out for the football team because Defiance didn't have a marching band.
If that seems like an improbable way to get into football, wait until you hear when he was drafted.
Davis was drafted in the 17th round with the 439th pick.
Yes, the draft used to have nearly 500 picks.
Can you imagine the amount of work Mel Kiper's hairdresser would have to do to keep him starched and ready for that many picks?
Despite nearly everything predicting Davis would never make it in the NFL, he was able to carve out a quality career.
In his rookie season, Davis led the league in yards per punt return and led the Browns in kick return yards.
Because the Browns wide receiver squad was full of talent, Davis was switched to cornerback.
In 1968, Davis led the Browns with 8 interceptions.
That ranks the 3rd highest total for any Brown in a single season.
#BHM Browns/Lions CB Ben Davis is the brother of Activist/BPP Revolutionist Angela Davis. Ben still holds the NFL record for seven-consecutive games with an Interception. pic.twitter.com/itpzwxbF9D

— Maliik 🏁🇳🇬 (@Obee1ne) February 4, 2019
In total, Davis played 6 seasons in Cleveland.
During his time he had 19 interceptions, had 860 kickoff return yards, and 240 punt return yards.
He finished his career in Detroit after the Browns traded him to the lions in 1974.
20. Eddie Johnson
Eddie Johnson was drafted in the 7th round, 187th overall, in the 1981 NFL Draft out of the University of Louisville.
The linebacker played 10 seasons in Cleveland and was a crucial member of the Browns defense during one of their best runs in modern history.
Johnson's Browns career got off to a slow start, starting in just 3 games his first 3 seasons.
However, in 1984 it all clicked for Johnson and he was dominant.
That season, Johnson registered 172 tackles.
The following season Johnson was voted defensive co-captain and earned Honorable Mention All-Pro honors.
From 1985-1987 Johnson was at the center of a defense that won 3 straight AFC Central titles.
Despite his slow progression to stardom, Johnson was consistent, playing in 101 consecutive games between 1981 and 1987.
Great @Browns linebacking corps:

1976-78: Charlie Hall, Dick Ambrose, Gerald Irons

1980: Dick Ambrose, Clay Matthews, Robert L. Jackson, Charlie Hall

1984-85: Clay Matthews, Chip Banks, Tom Cousineau, Eddie Johnson

1993: Pepper Johnson, Mike Johnson, Clay Matthews

— mark schweitzer (@schweitzerakron) February 5, 2019
Johnson was known as "The Assassin" for his fierce tackling style.
Johnson retired from the NFL in 1990, having played in 148 games for Cleveland.
I always look for Eddie Johnson pictures and I couldn't resist tweeting this one with the win over Denver.
Eddie Johnson "The Assassin"
Vintage #Browns pic.twitter.com/bvqVoHCWM3

— Vintage Browns (@VintageBrowns) October 1, 2019
In his post-NFL career, Johnson became an ordained minister and gave his life to helping others in the community.
In 2018, Johnson was inducted into the Browns Legends program as one of the greatest Browns ever.
Sadly, Johnson was unable to receive the honor as he lost his battle with colon cancer in 2003.
19. Jack Gregory
Jack Gregory was drafted in the 9th round, 139th overall, in the 1966 NFL Draft out of Delta State University.
Jack Gregory was also drafted by the Buffalo Bills in the 1966 AFL Draft but chose to play for the more famous Cleveland Browns.
Gregory played 13 seasons in the National Football League, 6 seasons in Cleveland and 7 seasons in New York with the Giants.
Interestingly, Gregory played in an era of the NFL when sacks and tackles were not official stats kept by the league.
Despite this, teams kept their own statistics for these actions.
Because of this, Gregory is unofficially credited with 103 sacks in his career.
Gregory recorded 38 sacks while playing for the Browns and 65 with the Giants.
Gregory still ranks second in team history for sacks in a single season when he took down the quarterback 14 times during the 1970 season.
Browns were my team and Namath was my guy!!! Big Jack Gregory fan back in the day #81 https://t.co/sWOVAE0W5Z

— anthony j restaino (@tonytalkssports) September 22, 2016
Jack Gregory made the Pro Bowl twice in his long NFL career, once as a Brown in 1969, and again in 1972 with the Giants.
In total, Gregory played in 86 games for the Browns.
Not bad for a guy picked in the 9th round.
Gregory was inducted into the Mississippi Sports Hall of Fame in 2000.
His father, Jack Sr., played for the Cleveland Rams in the early days of the American Football League.
"Big Jack" was a four time Pro Bowl defensive end with the @Giants and @Browns. Jack Gregory passed away Saturday after a brief illness. He was 74. #RIP pic.twitter.com/TCgtBP1EsV

— Bill Nelson (@Thelscwxman) March 4, 2019
18. Reggie Langhorne
Reggie Langhorne was selected in the 7th round, 175th overall, in the 1985 NFL Draft out of Elizabeth City State University.
When Langhorne arrived he found the wide receiver room a bit crowded with talent already.
He was forced to split time with fellow receivers, Webster Slaughter, Brian Brennan, and Eric Metcalf.
It wasn't easy for Langhorne initially.
He caught just one pass his rookie season.
However, in his second season, he started to make an impact.
That year he caught 16 passes for 678 yards.
Injuries took their toll during his second season and he was only able to play in 12 games.
His production was, understandably, limited.
However, healthy again in 1988 Langhorne had his most productive season as a Brown.
He caught 57 passes for 780 yards and 7 touchdowns.
Langhorne's Browns made the playoffs but went out in the Wild Card round to division rival Houston Oilers.
I wish it could be 1986 Forever
Webster Slaughter
Reggie Langhorne
Vintage #Browns pic.twitter.com/oVADbUmoZf

— Vintage Browns (@VintageBrowns) January 6, 2019
Langhorne would play 3 more seasons in Cleveland after that but not top his receiving numbers mark while wearing the Brown and Orange.
Langhorne spent his final two professional seasons in Indianapolis, where he set career highs in receptions and yards in each season.
Langhorne was a Clevelander at heart though, and in retirement moved back to the city on the lake.
These days Reggie can be found at Ganley Chevrolet in Brook Park working as a sales and leasing professional.
You can also sometimes find Reggie on the WOIO in Cleveland during the football season talking Browns football.
17. Dick Ambrose
Dick Ambrose was drafted in the 12th round, 290th overall, in the 1975 NFL Draft out of the University of Virginia.
For most of the next decade "Bam Bam" was in the middle of the Browns defense on some of the most important teams in Browns history.
Not bad for a guy who would have been undrafted in today's draft setup.
Ambrose played in 116 games for the Browns, had 5 interceptions and recovered 9 fumbles.
His best season with the Browns came in 1980 when he was a member of the "Kardiac Kids" team that won the Browns' first division title since 1971.
As you all remember, they lost the heartbreaking "Red Right 88" game to the Raiders in the Divisional round.
Injuries brought Ambrose's career to an early end, but despite this, The Plain Dealer ranked him 94 on its list of 100 greatest Browns of all-time.
#TBT: Dick Ambrose recalls when he accidentally threw a bottle full of Gatorade onto Jerry Sherk on the sidelines pic.twitter.com/HIXBHkr6FP

— Cleveland Browns (@Browns) November 16, 2017
These days the former linebacker is laying the hammer in a different way.
Ambrose began studying law while he was still playing football and finished his law degree shortly after he finished playing.
Since 2004 he has been presiding over courtrooms in Cuyahoga County as a judge.
Congratulations to Dick Ambrose and Thom Darden, our #Browns Legends Class of 2016!#DawgPound pic.twitter.com/pgBMmjJ5sn

— Cleveland Browns (@Browns) September 18, 2016
16.  Bernie Parrish
Bernie Parrish's NFL career almost never happened.
While at the University of Florida, Parrish was an exceptional football player who once rushed for 2 touchdowns, kicked two extra points, caught an interception, and had 7 tackles in one game.
He was also an All-American baseball player who accepted a contract with Major League Baseball.
Despite his prowess in baseball, Parrish opted for football.
He was drafted in the 9th round, 108th overall, of the 1958 draft.
Parrish spent the next 7 seasons in Cleveland and made himself known to opposing quarterbacks.
During his 7-year run with the Browns, he played in 94 games, starting 92.
Talk about value late in the draft.
Parrish was an integral part of the 1964 Browns NFL Championship team.
#OTD 1960 the Cleveland @Browns defeat the Chicago #Bears 42-0. Twenty of the @Browns points came as a result of 3 of the 7 passes they intercepted being returned for touchdowns, Two by Bobby Franklin and a Browns record 92 yard one by Bernie Parrish. Post cereal football card. pic.twitter.com/hE9gZHFQBl

— 1960s Sports (@1960sSports) December 12, 2018
While in Cleveland Parrish totaled 29 interceptions, and returned 3 for touchdowns.
He was named to 2 Pro Bowls and was named All-Pro once.
In 2017, Parrish was inducted into the Cleveland Browns Hall of Legends.
During his time with the Browns, Parrish was active in the NFL Players Association.
He first served as a team representative and later as the vice president of the players union.
He later went on to write a best-selling book, They Call It A Game, that attempted to expose the National Football league as a money-hungry league, that only cared about the bottom line.
He also claimed, without substantiated evidence, that the NFL had fixed the outcomes of some of its games.
Parrish had a full career, especially for a guy who could have had a different career altogether.
15. Paul Wiggin
Can you imagine an NFL team in the 21st century taking a player in the 6th round of the draft but the player not reporting to the team for an additional year because they wanted to finish their Master's degree?
Well, that's exactly what happened to Paul Wiggin and the Cleveland Browns.
Wiggin was a defensive end taken in the 6th-round, 73rd overall, in the 1956 NFL Draft out of Stanford.
Remember, in the early days these guys weren't out here making millions of dollars like they are now.
So to prioritize finishing a graduate degree from Stanford makes sense for the time.
It's unimaginable these days.
Once he finally made it to the team, a year later, Wiggin became a mainstay on the defensive line.
He spent the next 11 seasons playing for the Cleveland Browns.
During this time Wiggin was selected to 2 Pro Bowls and was a critical player on the Browns team that won the 1964 NFL title.
That's a pretty solid career for a guy taken that late in the draft.
DE Paul Wiggin After graduating from Stanford University in 1957,he spent his entire 11-year playing career as a defensive end with the Cleveland Browns. earning Pro Bowl honors when they won the 1964 National Football League title with a 27–0 shutout of the Baltimore Colts. pic.twitter.com/lguYPMCssQ

— ASD Sports Media (@ASD_Sports) August 22, 2019
Following his playing career, he spent time coaching and was the head coach of his alma mater during the infamous "The band is on the field" Stanford-Cal game.
14. Rob Burnett
Rob Burnett was drafted in the 5th round, 129th overall, of the 1990 NFL Draft out of Syracuse University.
Rob Burnett, DE. Draft 1990, rd 5 pick 129. 1x SB Champion, 1x Pro Bowl, 604 tackles, 73 sacks, 9 FF, 15 FR. #Syracuse #Browns #Ravens #Dolphins #Cleveland #NFL #NFLBrasil #NFLnaESPN @DawgPoundBR pic.twitter.com/0qmPH2XWgn

— Diego Rodrigo (@diegorodrigo10) July 20, 2018

A Lombardi Award finalist in college, the defensive end had an instant impact on the Browns playing in all 16 games his rookie season and starting 6.
With pick 129 in the 1990 NFL Draft, the #Browns selected Rob Burnett, DT, Syracuse.

He posted a great #RAS with okay size, good speed, good explosiveness, at the DT position.

He went to the pro bowl in 1994. pic.twitter.com/UXICmRi6WJ

— Kent Lee Platte (@MathBomb) May 23, 2019
Burnett would spend a total of 6 seasons in Cleveland before the team was moved to Baltimore, but he was never better than in his time with the Browns.
Burnett was consistent, only missing games due to injury in 2 of his seasons with the Browns.
Burnett had two seasons in Cleveland with 9 sacks, and another with 10.
In the 10-sack season, 1994, Burnett was chosen to play in the Pro Bowl.
After the team moved to Baltimore, Burnett continued to play for the franchise and was a member of their Super Bowl XXXV winning team.
After moving on from the Ravens, Burnett played two final seasons in Miami before retiring.
Burnett finished his career with 603 tackles, 73 sacks, and 1 interception.
These days Rob Burnett is a radio commentator covering Baltimore Ravens games.
Burnett was elected into the Suffolk (NY) Sports Hall of Fame in 2001 for his exploits as an athlete.
13. Doug Dieken
Doug Dieken was drafted in the 6th round, 142 overall, in the 1971 NFL Draft out of the University of Illinois.
One of the reasons Dieken slipped all the way to the sixth-round was that he played as a tight end on a team that rarely passed.
However, the lack of passing targets allowed him to show off his blocking skills.
The Browns saw his potential as an offensive lineman and took a chance.
That chance paid off, to say the least.
When Dieken replaced Dick Schafrath at left tackle he became just the franchise's third left tackle in their history.
It would be a while until the franchise had a fourth, as Dieken spent the next 13 seasons in Cleveland.
Yes, Dieken made the Pro Bowl in 1980 but his biggest contribution to the Browns was his consistency.
At one point in his career, Dieken had 194 consecutive starts and played in 203 consecutive games.
Those are both team records.
Doug holds the @Browns records for consecutive games started (194) and consecutive games played (203). Doug Dieken turns 70 today. pic.twitter.com/BraQCCgFYZ

— Bill Nelson (@Thelscwxman) February 12, 2019
These days Dieken is best known for his color commentary work on Browns radio broadcasts.
He started in that role with the Browns after his retirement in 1984.
For many Browns fans of a certain age, his voice has helped paint the picture on the field for our entire lives.
In that way, his contribution to the Browns has yet to end.
12. Chuck Noll
Yes, that Chuck Noll.
The legendary Pittsburgh Steelers head coach is one of the greatest draft day steals in Cleveland Browns history.
Noll, a Cleveland native, was drafted in the 20th round(239th overall) of the 1953 NFL Draft out of the University of Dayton.
Noll was drafted as a linebacker, but due to his slight size, by linebacker standards, coach Paul Brown used Noll as a guard.
Knoll quickly made the position his and acted as the "messenger guard" to shuttle the play call back and forth between the sideline and the quarterback.
Despite not enjoying the role, it was said of Noll, "he could have called the plays himself without any help from the bench.
That's how smart he was", according to Brown.
During his rookie season in 1953, the Browns lost in the NFL Championship game but won the '54 and '55 titles.
In 1959, Noll lost his starting job to John Wooten and decided it was time to retire and begin his coaching career.
Eventually, he was made the head coach of the Pittsburgh Steelers and the rest, as they say, is history.
The Cleveland #Browns starting offense for the 1953 NFL Championship
LG Abe Gibron
RG Chuck Noll (fut #Steelers coach)
LT Lou Groza #HOF
RT John Sandusky
LE Pete Brewster
RE Dante Lavelli #HOF
QB Otto Graham #HOF
HB Ray Renfro
HB Dub Jones
HB Chick Jagade pic.twitter.com/jhaAzMC8wW

— Old Time Football 🏈 (@Ol_TimeFootball) January 4, 2020
While Chuck Noll is in the Hall of Fame for his coaching exploits, not his playing days, it's a safe bet that he makes our all-time draft steals list.
The 239th pick overall translates to undrafted by today's draft standards.
Imagine picking up an undrafted rookie and him becoming your starting guard for the next half a dozen years.
What a steal.
11. Ray Renfro
When Ray Renfro was drafted, Paul Brown didn't really know what to do with him but he knew he was an incredible athlete.
If you were a tremendous athlete, a genius head coach such as Paul Brown would eventually figure out what to do with you.
Ray Renfro was taken in the 4th round, 48th overall, out of the University of North Texas in 1952.
Keep in mind that in 1952, the Browns were already a team loaded with champions.
What do you do with an athlete who hasn't mastered any positions?
Brown tried Renfro at tailback and punt returner, but he failed to fully impress.
Then Renfro lined up at wide receiver, and he quickly became known as "Rabbit" as he shot past defensive backs.
The joke around the huddle became that Renfro could line up, shout "Good luck" to his teammates and make it to the endzone in time to hear himself say it.
That pure speed led Renfro to put up monster numbers in the golden age of the ground game.
Over the course of a 12-year career, Renfro caught 281 passes for 5508 yards and a whopping 54 touchdowns.
Do the math, that's one touchdown catch every 5.6 passes he caught.
Now that's a home run hitter.
On This Date in Texas Sports History – Birthday of TSHOF member Ray Renfro (1929-1997) standout WR for @MeanGreenFB and @Browns pic.twitter.com/6Ybu8FSGlP

— Texas Sports HOF (@TXSportsHOF) November 7, 2018
Before he retired Renfro had been named to 3 Pro Bowls and was a 2-time NFL Champion.
He later went on to win a Super Bowl with the Dallas Cowboys as a wide receivers coach.
"Old Days"Cleveland Browns Ray Renfro catches TD pass from Otto Graham in the 1954 Championship game at Cleveland Municipal Stadium as Browns defeat Lions 56-10.#Cleveland #Browns #lions #Detroit #1950s #NFL pic.twitter.com/92OBXKkD56

— Tom's Old Days (@sigg20) June 12, 2018
10. John Wooten
John Wooten was drafted in the 5th round, 53rd overall, in the 1959 NFL Draft out of the University of Colorado.
The guard played nine seasons in Cleveland and had one of the best jobs, blocking for Hall of Fame running back Jim Brown.
Jim Brown led the league in rushing 6 of the 7 seasons Wooten blocked for him.
That's about the greatest honor a lineman can achieve.
Yet, Wooten had the distinction of being named to the Pro Bowl twice, in 1965 and 1966.
John Wooten@JimBrownNFL32
Lou Groza
1964 #Browns pic.twitter.com/rpllTDKbwn

— Old Time Football 🏈 (@Ol_TimeFootball) January 26, 2020
Wooten was on the line for the 1964 NFL Championship team that defeated the Colts 27-0 and on the team the year following when they lost their crown to the Green Bay Packers.
Wooten retired from the NFL in 1968 after playing his final season with the Redskins.
In retirement, Wooten has been given numerous honors by the Cleveland Browns organization.
In 1979, he was named to the Browns All-Time All-Star team.
In 2010, Wooten was inducted in the Browns Ring of Honor and the Browns Legends program.
Since Wooten retired from playing football, he has stayed professionally involved in the game.
He has spent time working as an agent, and as front office executive for the Cowboys, Eagles, and Ravens.
In 2003, Wooten became chairman of the Fritz Pollard Alliance, which advocates for minority hiring in NFL organizations.
The Ali Summit in Cleveland, 1967
Front row: Bill Russell; Ali; Jim Brown and Kareem Abdul-Jabbar.
Back row: Carl Stokes; Walter Beach; Bobby Mitchell; Sid Williams; Curtis McClinton; Willie Davis; Jim Shorter, and John Wooten. pic.twitter.com/RwpnpEJadc

— Rabih Alameddine (@rabihalameddine) January 31, 2019
9. Jerry Sherk
Next up on our list is one of the greatest defensive players to have ever worn the orange and brown.
Jerry Sherk was drafted by the Browns in the 2nd round, 47th overall, in the 1970 NFL Draft out of Oklahoma State.
While at Oklahoma State, Sherk was a member of both the football team and the wrestling team, for which he was named an All-American on the mat.
Undoubtedly those grappling skills came in handy on the defensive line, and it showed early in his career as he was a starter for the Browns almost from day one.
The #Colts Johnny Unitas tosses a pass while #Browns DT Jerry Sherk tries vainly to knock it down during their Divisional Playoff game 12/26/1971. The Colts won the game 20-3 pic.twitter.com/2h0EkZShRB

— 1970s NFL (@1970sNFL) December 26, 2017
His first game was the first-ever broadcast of Monday Night Football and his ability to get to the quarterback was quickly on display his rookie season.
Sherk started every game for the Browns in his first 7 seasons, which is an incredible record for a defensive lineman.
During this time he was named to the Pro Bowl 4 times and named All-Pro and AFC Defensive Player of the Year in 1976.
Jerry Sherk played DE-DT for the Cleveland @Browns from 1970 until 1981. He was elected to the Pro-Bowl four straight seasons (1973-1976) and was All-Pro in 1976. pic.twitter.com/3fm6usdies

— 1970s NFL (@1970sNFL) May 31, 2018
Inside the 1977 #ClevelandBrowns: 1976 NEA Defensive Player of The Year-Jerry Sherk. #browns @VintageBrowns pic.twitter.com/ehXq7y60D7

— Hammer Hains (@HammerHeadcases) March 10, 2019
During a game at Veterans Stadium in Philadelphia in 1979, Sherk had an infected boil scraped off on the field turf the game was played on.
Somehow, staph infection from the field entered the open wound and entered Sherk's body.
The infection made it all the way to Sherk's knee and eventually almost killed him.
Despite fighting off the infection, Sherk never fully recovered.
He played in just 1 game during the 1980 season and the 1981 season, his final as a professional, Sherk played only in obvious pass-rushing situations.
Sherk ended his career after the 1981 season, having played in 147 games for the Browns.
8. Walt Michaels
Step into the way-back machine with us for this one, as we look back at the career of linebacker Walt Michaels.
Michaels was drafted in the 7th round of the 1951 NFL Draft, pick number 86, out of Washington & Lee University.
Before playing a game for the Browns he was traded to the Green Bay Packers.
Apparently, the Browns noticed a Michaels-sized hole in their defense because he was subsequently traded back to the Browns after playing just one season in Wisconsin.
For the next 10 seasons, the Browns had their defensive leader and a dominant force at the linebacker position.
During this time, Michaels was named to 5 straight Pro Bowls and led the team to 5 straight NFL Championship games, winning back-to-back titles in 1954-1955.
Perhaps though, Michaels' greatest honor is that he was given the freedom by coach Paul Brown to call many of the plays for the defense.
Knowing that it should come as no surprise that Michaels went on to have a long and illustrious career as a coach in the NFL.
He is most well known for his tenure in charge of the New York Jets, who he took to the AFC Championship game in 1982.
Michaels was named NFL Coach of the Year in 1978.
Walt Michaels played linebacker for 11 seasons in the NFL and 1 in the AFL. He played one season with the #Packers, who had acquired him from the Browns. As a rookie in 1951, he had 5 kickoff returns and missed his only field-goal try for a Packers team that went 3-9. https://t.co/mf8OFFFEvS

— Jeff Ash (@JeffAshGB) July 11, 2019
7. Jim Ray Smith
Next on our list is not only one of the biggest draft day steals in Cleveland Browns history but also one of the biggest Pro Football Hall of Fame Snubs of all time.
Jim Ray Smith was taken in the 6th round, 64th overall, out of Baylor University in 1954.
While at Baylor he was a two-way tackle, meaning he played on both sides of the ball.
Once he made his way to Cleveland, after about 2 years of military service, he was first tried out at defensive end and then moved to guard on the offensive line.
Despite his prowess on the line, Smith was one of the Browns fastest players, which prompted coach Paul Brown to use him in the messenger guard positions shuttling plays into the huddle.
In 1958, Smith took over the starting job at guard and became one of the league's best guards, paving the way for Fall of Fame careers for Jim Brown and Bobby Mitchell.
During his time in Cleveland, Smith was named to 5 Pro Bowls and was named All-Pro first or second-team 5 times.
Despite his success and accolades, Smith retired in 1961 to focus on his real estate business.
What a different NFL it was then.
The team managed to convince him to come out of retirement for one final season in Cleveland before being traded to his home-state Dallas Cowboys.
Bumped into the legendary Baylor, Browns and Cowboys great Jim Ray Smith at lunch. Still an imposing guy at 86. pic.twitter.com/TEylwzbh7I

— Matt Mosley (@mattmosley) May 18, 2018
Jim Smith is a member of the Texas Sports Hall of Fame, Baylor University Hall of Fame, and the College Football Hall of Fame.
Just one Hall is missing.
Maybe someday he'll get the call for Canton.
6. Cody Risien
Cody Risien was taken in the 7th round, 183 overall, of the 1979 NFL draft out of Texas A&M.
Risien was a massive offensive tackle, even by today's NFL standards.
Risien stands a whopping 6 foot, 7 inches tall.
Don't get confused, he isn't on this list because of how tall he is.
He's on this list because he's one of the greatest Browns offensive linemen of all time.
Risien had the distinction of blocking for four 1,000 yard rushers, a mark of distinction for a lineman.
He was a part of 5 NFC Central Division title-winning teams, and in 2010 he was inducted into the Cleveland Browns Hall of Legends.
Not bad for a guy taken that late in the draft.
During his 11-year career, Risien was named All-Pro once and was named to two Pro Bowls.
Interestingly he was not named to the Pro Bowl during the season he was named All-Pro.
Member of the Detroit Lions' Silver Rush front four (Al "Bubba" Baker #60; Cleveland Elam #72; and Dave Purifoy #64 were the others) from 1978-82. English once said of Cleveland Browns' tackle Cody Risen: "He's as strong as a crop of onions." https://t.co/7HM525Zkhe

— Joseph Wright (@Wrightoverthere) October 3, 2019
Despite these awards, possibly the greatest honor of Risien's career is that Kathie Lee Gifford named her son after him.
The idea came to Gifford and her then-husband, sportscaster Frank Gifford, while watching a Browns football game.
Amazingly, both Cody's were born on March 22nd.
5. Bobby Mitchell
Bobby Mitchell was drafted in the 7th round, 84th overall, in the 1958 NFL Draft out of the University of Illinois.
Bobby Mitchell almost wasn't a professional football player though.
He was so good at baseball, the St. Louis Cardinals offered him a professional contract out of high school.
When Mitchell arrived in Cleveland, he was partnered with Jim Brown and together they formed the most prolific running back tandem in the league.
In 4 seasons in Cleveland, Mitchell was a yards machine.
Mitchell gained 2297 yards on the ground while splitting time with Jim Brown.
Mitchell was selected to play in the 1960 Pro Bowl.
"Old Days"Cleveland BrownsJim Brown and Bobby Mitchell take a break during a 1961 Game against the Giants in Cleveland.#NFL #Cleveland #Browns #1960s #NYGiants pic.twitter.com/UnV5Pdl2yn

— Tom's Old Days (@sigg20) September 5, 2018
He added 1463 receiving yards, 607 punt return yards, and 1550 kickoff yards.
Mitchell also scored 38 touchdowns in that time.
At one time, Mitchell held the Browns career record for most kickoff returns for a touchdown.
He still holds the Browns rookie rushing average record at 6.3 yards per carry.
On September 15, 1963, Bobby Mitchell caught a 99-yard touchdown pass from George Izo against the Browns at Cleveland Municipal Stadium. It's tied for the longest touchdown pass in Redskins and NFL history. Happy birthday Bobby!. #HTTR pic.twitter.com/hoxri0GAHq

— David Menassé (@Frekiwolf) June 6, 2018
In 1962, Mitchell was traded to the Washington Redskins in the deal that brought Ernie Davis to Cleveland.
Mitchell went on to have a terrific career in Washington as a receiver, earning multiple All-Pro honors.
After retiring in 1968, Mitchell went on to work in the Redskins front office, where he worked until 2002.
Mitchell was inducted into the NFL Hall of Fame in 1983.
Mitchell has the distinction of being honored as a Ring of Honor member for both the Cleveland Browns and the Washington Redskins.
4. Michael Dean Perry
The Perry family of Aiken, SC are known for one thing, and one thing only.
They make great defensive lineman.
Not only did the family produce William "Refrigerator" Perry, of Chicago Bears fame, but also Browns defensive tackle, Michael Dean Perry.
The Browns' Perry was drafted in the second round, number 50 overall, in 1988 out of Clemson University.
While at Clemson he set the school record for sacks and was named ACC Player of the Year in 1987.
🎂Happy Birthday🎂6x Pro Bowler & @Browns great Michael Dean Perry! As a rookie in 1988, Perry recovered a fumble & ran 10 yards for a TD in a week 16 win vs HOU that put the Browns in the playoffs! Perry is the franchise's 2nd all-time leader in sacks w/51.5! #Browns #MiniFridge pic.twitter.com/aZZzi7knzV

— 80s Football Cards (@80sFootballCard) August 27, 2018
It didn't take long for him to make his mark in Cleveland either, as he saw playing time in all 16 games his rookie season.
During that rookie campaign, he recorded 6 sacks, 2 forced fumbles and even returned one of those fumbles for a touchdown.
Big number 92 really got going in his second season when he made his first of 6 Pro Bowls, 5 of those as a Cleveland Brown.
Perry made 3 straight Pro Bowls from 1989-1991.
During those three seasons, he recorded 27 sacks, while playing in every game each season.
Clay Matthews and Michael Dean Perry. Be still my 90's loving #Browns heart. https://t.co/UaaIVvpn8x

— Caroline B. (@caroline3412) September 21, 2019
For his efforts, he was also named First-team All-Pro in '89 and '90, as well as AFC Defensive Player of the Year in 1989.
Arguably though his biggest honor came off the field when McDonald's named a sandwich after him.
The sandwich was named the "MDP" and larger than any other sandwich the restaurant chain offered at the time.
In total, Perry played 109 games and tallied 51.5 sacks while wearing the orange and brown before moving on in his career.
3. Earnest Byner
Earnest Byner was drafted in the 10th round(280th overall) in the 1984 NFL draft out of East Carolina University.
Byner was a star running back for the Browns from 1984-1988, and again from 1994-1995.
Byner and fellow running back Kevin Mack were paired together to make one of the most prolific backfield partnerships the league has ever seen.
From the meadow emerges #Browns Kevin Mack and Earnest Byner, the NFL's third-ever duo to each reach 1,000 rushing yards in the same season (1985). pic.twitter.com/agP5as01L1

— Kevin Gallagher (@KevG163) July 21, 2018
#DrydensDen #Browns Jan 1988 #AFCChampionship #DickEnberg #MerlinOlsen – 24 year old #BernieKosar with the beautiful pass to #EarnestByner . EB was so good pic.twitter.com/w2zGuvVxKE

— Dryden (@drydenmba) November 2, 2019
Both men rushed for over 1,000 yards in the 1985 season and Byner was instrumental in leading the Browns to the AFC Championship games in 1986 and 1987.
Unfortunately for Byner, he is most remembered for "The Fumble" during the 1987 AFC Championship game against the Broncos when he fumbled just before scoring the likely game-winning touchdown.
#ThrowbackThursday to a play called "The Fumble" made by the Cleveland @Browns running back, Earnest Byner. In this play, @EByner fumbled on the one-yard line which assisted in the @Bronco's win. #NFLAlumni #AFC #AFCChampionship #TheFumble #Browns #Broncos pic.twitter.com/WMVpQm4IO4

— NFL Alumni (@NFLAlumni) March 28, 2019
Despite that tragic moment, Byner had a fantastic NFL career.
At the end of a 14-year NFL career Byner retired with the 16th-most rushing yards in NFL history with 8,261 yards and 56 touchdowns.
Unfortunately for Browns fans some of his finest seasons were spent in Washington where he was a 2-time Pro Bowler and 2-time Super Bowl champion with the Redskins.
"The Fumble" aside, Byner's remarkable career makes him one of the Browns' greatest draft steals of all time.
2. Leroy Kelly
Leroy Kelly is one of the greatest Cleveland Browns you may have not heard of, and he was one heck of a draft steal.
Drafted in the 8th round(110th overall) of the 1964 NFL Draft out of Morgan State University, Leroy Kelly started his career as a return man and a backup running back to the great Jim Brown.
In his rookie season, Kelly helped the Browns to the 1964 NFL Title.
After Brown retired in 1965 Kelly took over as the feature back.
With the Hall of Famer Brown out of the way, Kelly was free to create his own legend, and boy did he.
Kelly dominated the league for the next decade, winning 2 rushing titles, and leading the league in rushing touchdowns 3 times.
Week 8, 1967#Steelers #Browns
Leroy Kelly (15-82 3-49-1)takes a pass 41 yards to the house
Ernie Green 12-83-1 pic.twitter.com/fmttCV17qJ

— Old Time Football 🏈 (@Ol_TimeFootball) August 18, 2019
Kelly was a 6-time Pro Bowler and was named to the All-Pro team 3 times.
By the time he left the Browns in 1973, Leroy Kelly had rushed for over 7,000 yards and 74 touchdowns.
At the time of his retirement, his yardage total was good enough for 4th all-time, and his touchdown total ranked 3rd all-time.
Leroy Kelly had huge shoes to fill:

He had to replace Jim Brown.

Good thing he was nearly impossible to tackle. @Browns pic.twitter.com/dP1cRgggzk

— NFL Throwback (@nflthrowback) July 24, 2019
With that resume, it will come as no shock that he was named to the NFL's 1960's All-Decade team, and in 1994 he was honored with induction into the Pro Football Hall of Fame.
Happy Birthday to HOF RB Leroy Kelly! Played 10 seasons for the @Browns. Selected to 6 Pro Bowls and @NFL 1960s All-Decade Team. pic.twitter.com/yhal0p7Un5

— Pro Football Hall of Fame (@ProFootballHOF) May 20, 2017

He remains one of the greatest Browns of all-time.
1. Brian Sipe
It took nearly as long for Brian Sipe to settle as the Browns starting quarterback as it did for them to draft him.
Sipe was drafted in the 13th round of the 1972 NFL Draft (330th overall) out of San Diego State and then wasn't heard from for a couple of years.
Even through his 3rd and 4th seasons, he yo-yo'd between the huddle and the bench every couple of games.
Finally, in 1976 Sipe made the job his and he went on to become one of the Browns' greatest quarterbacks of all-time.
Coach Sam about to takeoff with his new QB Brian Sipe ! #Browns pic.twitter.com/EWJGFvylzr

— BakersBrownies (@Brownsnuggets) January 26, 2019
It took until about the turn of the decade for Sipe to hit his peak, being named 2nd team All-Pro in 1979 before his 1st team All-Pro and NFL MVP season in 1980.
In that incredible 1980 season, Sipe threw for over 4,000 yards and 30 touchdowns.
Sipe led the Browns to their first playoff appearance since 1972.
Of course, that 1980 playoff run was ended by the infamous "Red Right 88" interception from Sipe that sealed a divisional-round victory for the Raiders in Cleveland.
Sipe's Browns career ended in 1984 when he moved to the USFL's New Jersey Generals.
Overall Sipe threw for over 23,000 yards and 154 touchdowns.
Not bad for a guy that would be undrafted in today's draft system.
Happy 70th, Brian Sipe!
QB #Browns 1974-83

• 1980 NFL MVP
• 2x All-Pro (1x First-Team), 1 Pro Bowl
• Most passing yards in Browns' history (23,713)
• Third QB to throw for 4,000 yards in a season (1980)
• '79: Led NFL w/ 28 TD passes
• '80: Led NFL w/ 91.4 passer rating pic.twitter.com/XIEzUlwe0J

— Kevin Gallagher (@KevG163) August 8, 2019