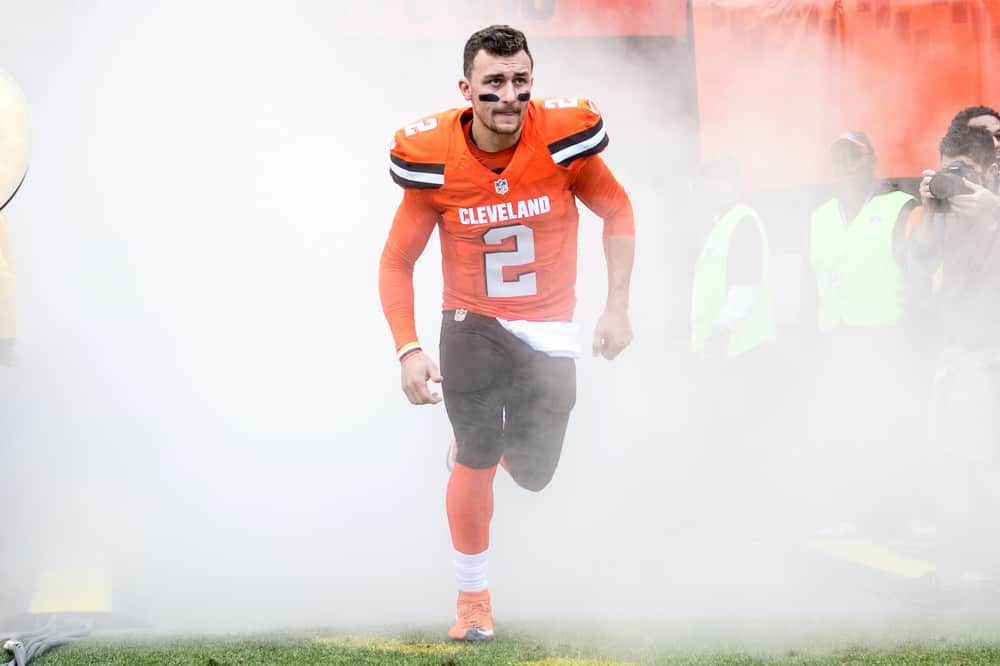 Johnny Manziel to the XFL?
Maybe.
On Saturday morning, Manziel shared a message for XFL Commissioner Oliver Luck for his interest in playing in the new league.
Then, in typical strange-Manziel fashion. his Twitter account was deleted.
It appears Johnny Manziel's twitter account is now deleted – he posted this 4 hours ago. pic.twitter.com/FJnmYlVgNm

— Dov Kleiman (@NFL_DovKleiman) February 22, 2020
Initial Thoughts
According to the report, a few hours after Manziel sent the tweet, he deleted his account.
When trying to determine why Manziel did this, we do not really have any answers.
However, there is no denying that Manziel would boost television ratings and interest in the XFL if he played.
Dating back to his days at Texas A&M and the Cleveland Browns, he continues to have a strong following.
Another Chance
Manziel is 27 years old and lasted just two seasons with the Browns after being selected 22nd overall in the first round of the 2014 NFL Draft.
After rumors of gambling addiction and a domestic violence dispute, Manziel was released by the Browns in 2016 and hasn't sniffed the NFL surface since then.
Manziel tried to revive his career with the Alliance of American Football but the league didn't last due to financial issues.
Since dropping out of the NFL, Manziel has made stops with the Hamilton-Tiger Cats, Montreal Alouettes, and Memphis Express.
Not The First Rumor
This isn't the first time Manziel's name has been linked to the XFL.
In December, Luck told the Tampa Bay Times, "Johnny has his own history, and we have coaches from the CFL who have seen him close up."
End Result Is Not LIkely
According to Sports Illustrated's Jason Hirschhorn, Manziel landing in the XFL is not going to happen.
Despite Johnny Manziel's since-deleted appeal to join the #XFL, the league is not interested in signing the former Heisman Trophy-winning quarterback, per a source. Manziel last played football in the AAF last spring before the league folded.

— Jason B. Hirschhorn (@by_JBH) February 22, 2020
In a well-documented report, there are other reasons why Manziel's future in the XFL is unlikely.
For starters, when the XFL held its participant draft, Manziel wasn't considered to be a participant.
When Luck talked to reporters about why Manziel and former Browns and Colts running back Trent Richardson were not involved, his answer was simple.
Luck said that "there wasn't a lot of interest" in Manziel when teams were drafting.
The Numbers Don't Lie
Quite frankly, why would anyone be interested in Manziel?
Manziel obviously lives in a fantasy world where he believes he is the 2012 Heisman version of himself.
The facts are that Manziel has not been a productive quarterback for seven years.
When Manziel was with the Browns, he finished his career with 1,675 passing yards, seven touchdowns, and seven interceptions.
That also included a passer rating of 74.4.
In 2018, Manziel played in the CFL, totaling 1,290 yards on a completion percentage of 64.2%, five touchdown passes, and seven interceptions in eight games.
Fast forward to two games with Memphis in the AAF, Manziel was five of eight for 61 yards and an interception.
Long story short, Manziel isn't even good enough for the XFL.