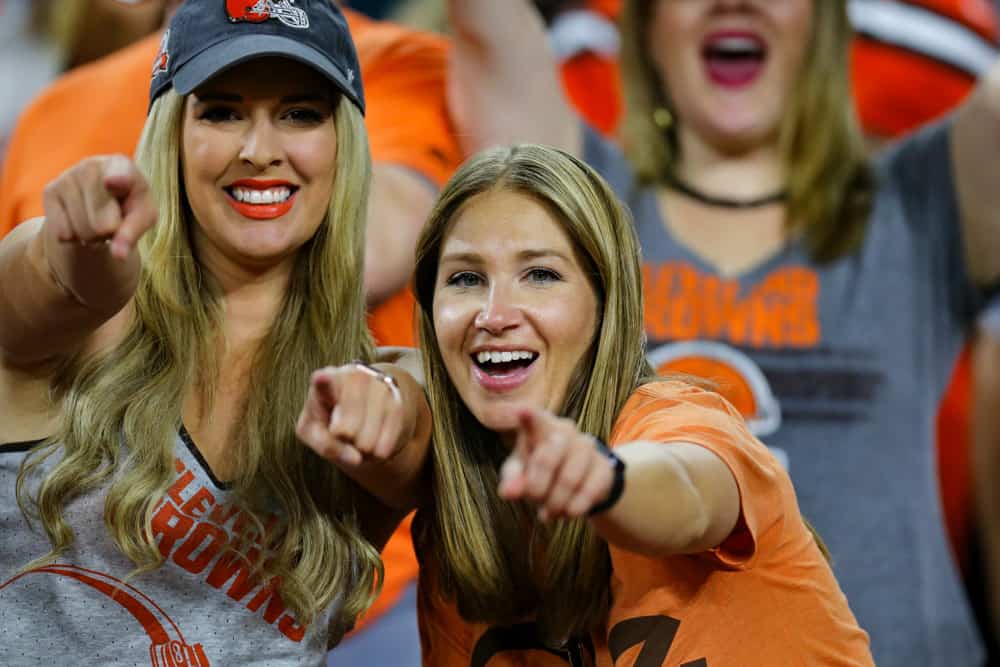 It was a magical feeling when the clock read nothing but zeroes at Heinz Field on Sunday night.
The Cleveland Browns had stunned the Pittsburgh Steelers on their own turf, and in dominating fashion.
The post-game feeling in Pittsburgh is one that these Browns will remember for a long time.
"THE BROWNS IS THE BROWNS!"

Baker Mayfield coming in hot

(via @Tall_inc)pic.twitter.com/vvrTpbYA8B

— SportsCenter (@SportsCenter) January 11, 2021
The party did not stop in Pennsylvania, however.
As the Browns returned to Cleveland, they were met by a sea of exhilarated fans, welcoming back their postseason heroes.
3 a.m. and our fans were there to welcome us home.

We have the best fans. 🧡#WeWantMore pic.twitter.com/cWLFklozlT

— Cleveland Browns (@Browns) January 11, 2021
It was a scene that the brown and orange faithful have been dreaming about for years.
Only now, no one was asleep, and this was (and still is) very much reality.

"For the City"
The NFL is a business, and more often than not, guys are more attached to the paycheck than the city they play for.
Let's make things clear, there is absolutely nothing wrong with that.
There's been countless incidents of player mistreatment from their respective teams.
Players have every right to cover their own tails before worrying about anyone else.
This Browns team, however, seems to have a real connection with the city of Cleveland.
FOR THE CITY ‼️‼️

— Flash Garrett ⚡️ (@MylesLGarrett) January 11, 2021
I Won't Troll You!!!! @Browns GOT MORE TO DO 🙏🏾🙏🏾 pic.twitter.com/J16l8H6siz

— Jarvis Juice Landry (@God_Son80) January 11, 2021
Cleveland we thank you for all the support🖤 Legendary moment!

— Jedrick Wills Jr.®️++💕 (@JWills73) January 11, 2021
Cleveland vs. everybody.@bakermayfield @MylesLGarrett pic.twitter.com/2iJBP2RZwf

— Cleveland Browns (@Browns) January 11, 2021
Frankly, why wouldn't there be a connection?
This team was counted out many times this season, especially this past week.
From national media members to opposing players taking their digs at Cleveland, Browns players certainly took note of the disrespect they had received.
Myles Garrett on the message the #Browns wanted to send tonight: "We're disrespected. With the media, with the comments from JuJu and other players. They thought they were going to come out here and it was going to be a cakewalk…." pic.twitter.com/FphohL47r3

— Kimberley A. Martin (@ByKimberleyA) January 11, 2021
#Browns Myles Garrett admitted that JuJu's 'Browns is the Browns' fired them up pic.twitter.com/qO40JQn0p0

— Mary Kay Cabot (@MaryKayCabot) January 11, 2021
They took that disrespect and threw it right back in the face of everyone.
That includes the Pittsburgh Steelers.
The city of Cleveland, both inside and outside of the sports world, has been made fun of countless times historically.
Natives of the area know what an amazing area northeast Ohio is, but that doesn't always fit the national narrative.
On Monday, and at the very least for the rest of this week, that narrative can't touch Clevelanders.

Don't Get Complacent
For Browns fans, it is (and should be) nothing but elation right now.
Dethroning the Steelers in the playoffs at Heinz Field is an incredible feat for this franchise. It shouldn't stop there though.
A lot of the chatter from Steelers fans is that the team has become complacent with early season success.
For the past four years, that's been reality for Pittsburgh: tons of promise, but ultimately, nothing to show for.
This year is not Super Bowl or bust for this Browns team.
A young, developing core will be a threat in the AFC for many years to come.
However, that Lombardi needs to come at some point or another for this to be deemed a success.
This past decade for the Steelers, despite regular season success, is a failure.
Ben Roethlisberger, LeVeon Bell, Antonio Brown, a loaded defense in the latter half of the decade, and no ring.
Instead of celebrating the end of Roethlisberger's career, Steelers fans are left wondering "what if?".
It's early for Baker Mayfield and this Browns core.
Their window for competing for titles is wide open and will be for a while.
This win over Pittsburgh, met with thunderous cheers from Browns faithful upon the team's return to Cleveland, is the first step toward that ultimate goal.
The day will come soon enough where a big crowd doesn't have to wait through the wee hours of the morning to celebrate with their team.
It can celebrate right in First Energy Stadium, whenever the Browns capture a home-playoff win that's been a long time coming.