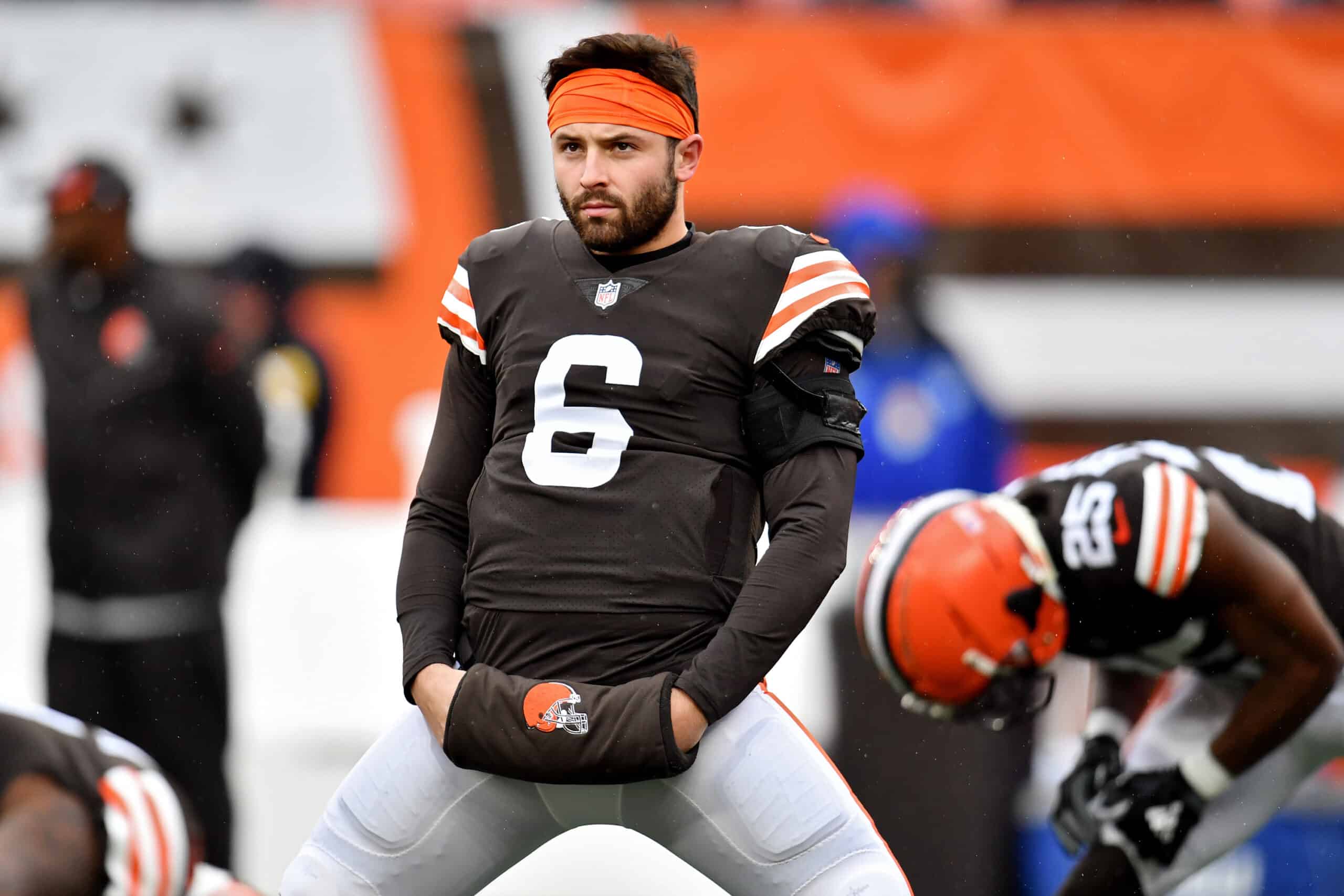 Cleveland Browns quarterback Baker Mayfield has had quite a 24 hours.
During that time, he has officially become a distraction for the Browns.
Here is how he did it.
1. Left The Field Without Talking With Lions Players
In the aftermath of the Browns' victory over the Lions, Mayfield exited the field without talking with the Lions players.
Win or lose, this is a customary sign of sportsmanship that we have grown accustomed to seeing players exchange in.
After all, these athletes are highly compensated people who are getting to live out their dream job by playing a game.
I am not trying to diminish the trials and tribulations they go through; however, in the end, it is a game.
Opting out of the postgame gatherings on the field looked bad.
2. Skipped The Postgame Press Conference
Baker Mayfield did not have a post game press conference with reporters after the win.

— Mark Schwab (@MarkSchwab) November 21, 2021
Mayfield did not show up for his press conference on Sunday after the game.
There was no explanation provided at the time, and it is very uncharacteristic of him to do this.
No matter how angry, injured, or frustrated he was, he could have and should have popped into the press conference.
Tom Brady, in defeat last week, had a short press conference, but he showed up.
And one more reminder, Mayfield's team won the game.
3. His Wife Emily Shared A Controversial Post On Instagram
Clearing something up – Emily Mayfield re-posted this to her Instagram story tonight. She didn't write it but clearly agreed with and shared it. It has since been deleted. pic.twitter.com/OTNot5d6UW

— Daryl Ruiter (@RuiterWrongFAN) November 22, 2021
In the midst of this, Emily Mayfield decided to share a post on her Instagram that was inflammatory.
"No one better say anything bad about @bakermayfield after this game. I don't think I have seen toughness like this in a while. Maybe the rest of the team should take the hint and get tougher."
No, she did not write it, but by virtue of sharing it, it is clear she agreed with its contents.
She later deleted it on Instagram and attempted to backtrack from it on Twitter.
Proud of our players' grit today. A win's a win's a win. No matter how it gets done! #Browns

— Emily (Wilkinson) Mayfield (@emilywmayfield6) November 22, 2021
4. His Monday Press Conference
Baker had an opportunity to make all of it right at his Monday press conference.
That did not happen.
He clearly came into it with a defiant attitude and took a shot at the fans while answering a question.
Insulting the fans is certainly not a good way to stay in their good graces.
.@bakermayfield on booing: "It's probably the same fans who won't be quiet when we are on offense so I don't really care." pic.twitter.com/NNWZKi45CU

— ESPN Cleveland (@ESPNCleveland) November 22, 2021
Conclusion
Baker Mayfield is stubborn.
He made bad choices by not engaging in the postgame on-the-field activities and by skipping the press conference.
Baker had a chance to apologize for all of that and thank his teammates for a great win while turning the script to preparing for Baltimore in Week 12.
He did not do that so we are left with this unnecessary drama hanging over the team for the all important Ravens week.
No one denies that he is physically, mentally, and emotionally beaten up by what has happened on and off the field this season, but it is disappointing that he did not handle the past 24 hours as well as he handled the press conference after the Odell Beckham Jr. mess hit the airwaves.