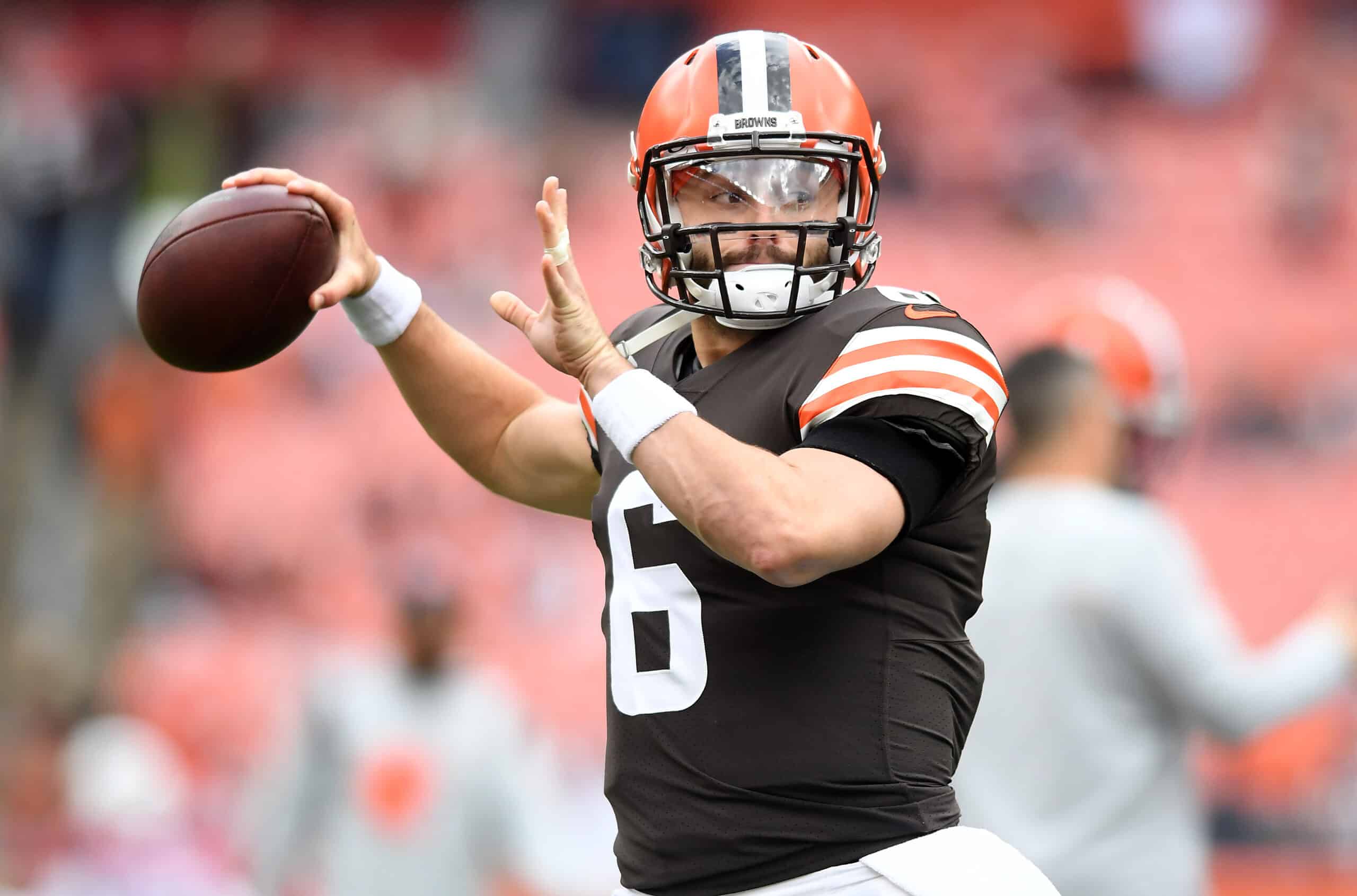 The 4-4 Cleveland Browns play their fellow Ohio rival the 5-3 Cincinnati Bengals in Week 9.
This game has significance given both teams' desire to remain competitive in a tight AFC North division.
It is the first time since 2014 these two teams met each other with .500 or better records.
And it is a huge game for Browns quarterback Baker Mayfield.
Is it the biggest game of his career so far?
The answer is a resounding yes, and here are the reasons why.
1. OBJ
Let's all make a pact to block out the OBJ noise at least until after the game today…cool?

LET'S GO #Browns

— Angie (@AngieSee21) November 7, 2021
The OBJ saga that filled the airwaves this week casted public doubt about Mayfield's ability to win.
The 11-minute video OBJ's dad released convinced some that Mayfield, or specifically his lack of talent, is the problem in Cleveland.
Even more troubling is the fact that some of the Browns players liked the video.
This OBJ story will fill the headlines even longer if Mayfield does not play the game of his life today and lead the Browns to victory.
He is definitely under a lot of pressure to unite the locker room and turn the page to a Browns team without OBJ.
2. Joe Burrow
Joe Burrow and Ja'Marr Chase are coming for the best QB-WR duo 👑 pic.twitter.com/gJvekTfsKl

— PFF (@PFF) November 3, 2021
Fellow Heisman Trophy winner and first overall draft pick, Joe Burrow, is the opposing quarterback.
Even though Burrow's NFL career has been short, he has already been crowned the franchise quarterback and the future of the Cincinnati Bengals.
This is something that has alluded Mayfield as there are many differing opinions on his talent and ability to be a franchise quarterback in the NFL.
Mayfield has been in the NFL two years longer than Burrow.
A statement win over a rising Bengals team would give Mayfield's reputation a boost, at least for a week or so.
3. Media
It's over guys.

When Baker goes off on Sunday everyone even the big media will know the truth.

— Browns Country (@TheFanDomeShow) November 3, 2021
Mayfield has always galvanized the media.
Colin Cowherd has never been a fan.
But there are others who have been willing to wait it out and see what Mayfield can do.
These are the same people who recognize the early years of Mayfield in Cleveland have been filled with disruptions and coaching changes.
It had been a disaster until 2020.
If Mayfield cannot lead his team to victory in Week 9, the media members in Mayfield's camp will start (or continue) to turn on him.
Without a win, Mayfield will hear more of the same as Steve Smith delivered to Mayfield on the Thursday Night Football pregame.
Steve Smith with a message to Baker 👀 pic.twitter.com/gdF86o62q4

— B/R Gridiron (@brgridiron) November 5, 2021
Conclusion
Today is the biggest game of Mayfield's career to date.
In his fourth season, he has to unite, lead, and win this Week 9 game.
If he does not, it will be a long week, month, and season ahead for Mayfield as fans and media members will become more ferocious in their attacks of him.
Let's hope for all parties involved that Cleveland enjoys a Victory Monday tomorrow as the Browns beat the Bengals.
By the way, if the victory comes by way of excellent defensive play or a good running game, Mayfield may still be susceptible to criticism.
That is par for the course for his NFL career.