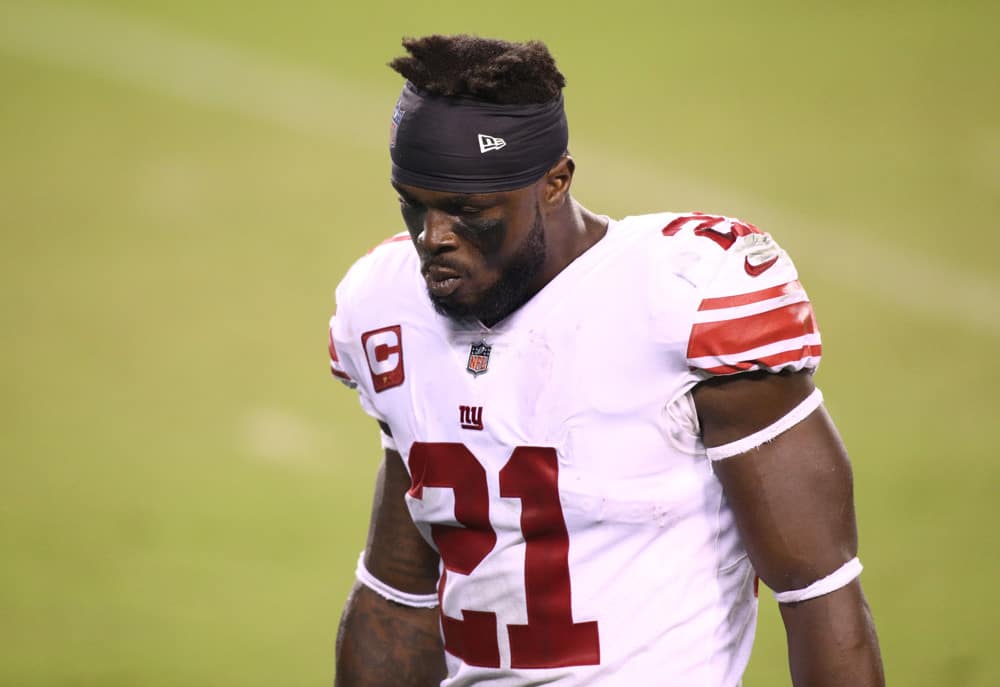 The 2019 trade that linked the histories of the Cleveland Browns and New York Giants is of course the topic of conversation this week.
Even though Odell Beckham Jr. is on injured reserve and not able to compete against his former team, the other participant in the trade deal will be on the field.
He is safety Jabril Peppers.
Jabril Peppers as a Cleveland Brown
Often overlooked as part of the blockbuster trade where the Browns gave up two 2019 draft picks (1st and 3rd rounds), Peppers was a star at Michigan.
He started in every game for the Browns during the 2018 season, his second with the Browns and in the NFL.
Peppers recovered three fumbles (of his career total of 5) during that 2018 season.
How Peppers Learned About The Trade
Peppers talked this week about how he learned about the trade, one that he did not realize initially involved him.
"I was actually excited about the trade, thinking, 'We just got Odell!' And I keep looking and then I'm like, 'Oh s–t. I'm not even here no more!..And then [former Browns general manager John] Dorsey called me like 15 minutes after that and I had already seen the news. I actually spoke to [Giants GM Dave] Gettleman before I spoke to Dorsey. It is what it is, that's the nature of this league. Can't take it personal. But I'm happy, I'm happy with the outcome, it's working out for me."
Jabril Peppers as a New York Giant
If anyone has noticed the OBJ trade has really helped Giants Jabril Peppers has been a stall worth for them on defense & Sp Teams and Kevin Reimer has been solid on OLine

— Perry L. Schneider (@perryfbcoach) November 16, 2020
Peppers has enjoyed playing in New York.
In 2019, he earned the first Pick 6 of his career.
Pick 6 for Jabril Peppers!!!! Oh boy Haskins!!! pic.twitter.com/Bz2U8F9aMI

— Bobby Skinner (@BobbySkinner_) September 29, 2019
Who Benefitted Most From The OBJ Trade?
This question will be debated until the end of time.
And it is too early to fully assess it.
OBJ is an outstanding player, but his injury issues in New York followed him to Cleveland.
Peppers is a young player so the totality of his career will need to be evaluated to make a final determination.
The Giants used the two draft picks for defensive lineman Dexter Lawrence and linebacker Oshame Ximines, also young players who have full careers ahead.
Lawrence has 3 sacks and 24 solo tackles so far in 2020.
Ximines tore his rotator cuff in Week 4 and was lost for the 2020 season.
OBJ Trade One Of Several Storylines That Bind These Two Teams
Of course, the intermingled storylines of these two teams come up in the pregame press conferences leading up to the Sunday night nationally televised game.
In addition to Peppers, the irony of Giants TE coach (and former Cleveland Brown head coach) Freddie Kitchens calling the plays is not lost on anyone.
He is filling in for Giants offensive coordinator Jason Garrett who is suffering from COVID-19.
Then, there are the two rookie head coaches who are admittedly both having successful first seasons.
Kevin Stefanski and Joe Judge briefly attended the same prep school in Philadelphia.
Both competed for the starting quarterback position on the 9th grade football team, a position that Stefanski ultimately won.
Neither team is focused on these off-the-field storylines.
Each is trying to stay alive in their conference's playoff picture.
It is a must-win for both teams.