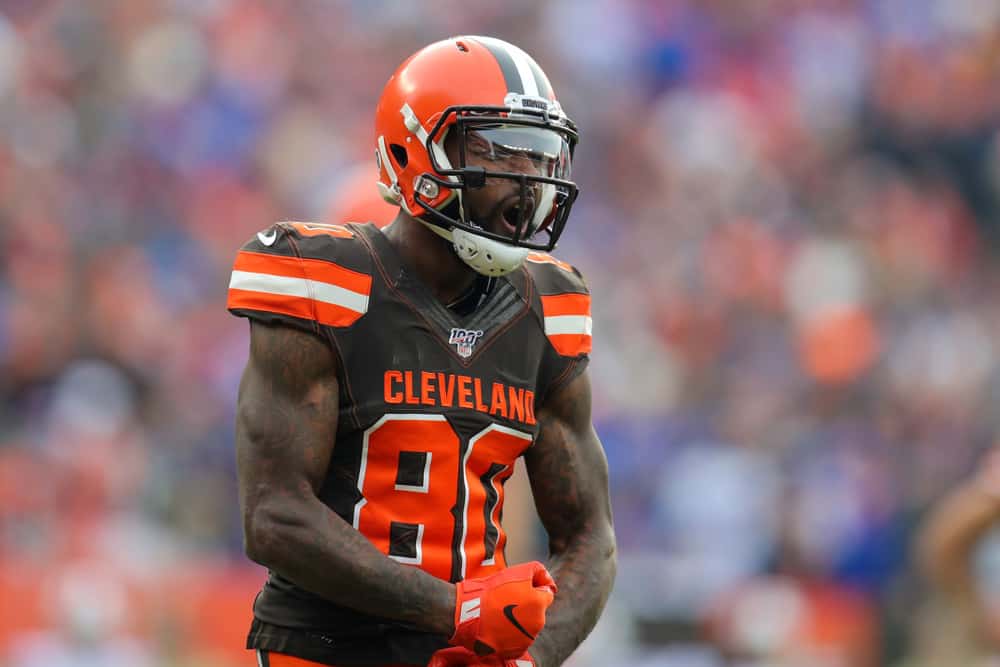 While all of us wish the Cleveland Browns were playing in the Super Bowl this weekend, it is fun to look back at some of the fantastic individual performances we witnessed during the 2020 season.
Next on our list is WR Jarvis Landry who dazzled us a lot of different ways.
He did everything that was asked of him this year.
Landry caught, threw, rushed, and blocked with great results.
He had 5 receiving touchdowns (3 regular season, 2 playoffs), 1 rushing touchdown, and had a 100% completion rate on four passes he threw this season (one for a touchdown).
Here is the countdown of Jarvis Landry's top 3 plays of 2020.
3. Pulling Down A Great TD Catch In The Back Of The End Zone. New York Giants, December 23, 2020.
This week's @NFLFilms' mic'd up video includes the interaction between Baker Mayfield and David Njoku after Baker's TD throw to Jarvis Landry pic.twitter.com/jXgOGTOhAW

— Ben Axelrod (@BenAxelrod) December 23, 2020
This catch comes in at third place because he made it look easy.
Landry was in the back of the end zone and well-covered so he had to catch the ball, maintain control of it, and ensure that his feet stayed in bounds.
2. Catching the Pass and Outrunning the Defenders, Pittsburgh Steelers (Wildcard Playoff), January 10, 2021.
THE BROWNS ARE COOKIN 🔥

Jarvis Landry takes it for the TD!
(via @NFL)pic.twitter.com/8FZo3uLJBB

— NFL on ESPN (@ESPNNFL) January 11, 2021
Jarvis Landry's speed and agility are underrated.
He shows them off on this play.
After making a great catch, he cuts and eludes defenders to take it in for the score.
1. Throwing A Dazzling Left-Handed TD Pass To OBJ, Dallas Cowboys, October 4, 2020
LANDRY ➡️ OBJ

Browns pull out the trick play early 🔥

(via @NFL) pic.twitter.com/w6FFgVO6et

— SportsCenter (@SportsCenter) October 4, 2020
Yes, Jarvis Landry is a premier wide receiver.
Anyone following the Browns closely in 2020 will remember this play where Landry took the reverse and played quarterback.
His left-handed throw to OBJ in the end zone will forever be etched on Landry's career highlight reel.
The pass was beautifully thrown and on target, and no one on the Cowboys anticipated this wonderfully executed trick play.
What's Next For Jarvis Landry
In 2021, Landry enters the fourth of a five year $75.5 million contract that expires at the end of the 2022 season.
It's hard to talk about Landry on the Browns roster without talking about his friend OBJ.
OBJ's contract is also a five year deal, worth $90 million, inherited from the New York Giants.
It runs through the end of the 2023 season though speculation about OBJ's future with the Browns has been rampant since he stepped foot in Cleveland in 2019.
OBJ and Landry have a long history together.
They met as high schoolers, grew up 50 miles apart in Louisiana, and were teammates at LSU.
After OBJ went down with the torn ACL in late October, Landry dedicated the rest of the season to him.
"We have to just continue to play for each other, and play for him.  He is a part of this…You can't put it into words. I don't really even know how to say anything because you hate to see somebody that works as hard as he works to go down the way that he went down…I think the best thing that any of us can do right now is just continue to support him, continue to give him positive messages and continue to be there for him throughout this process."