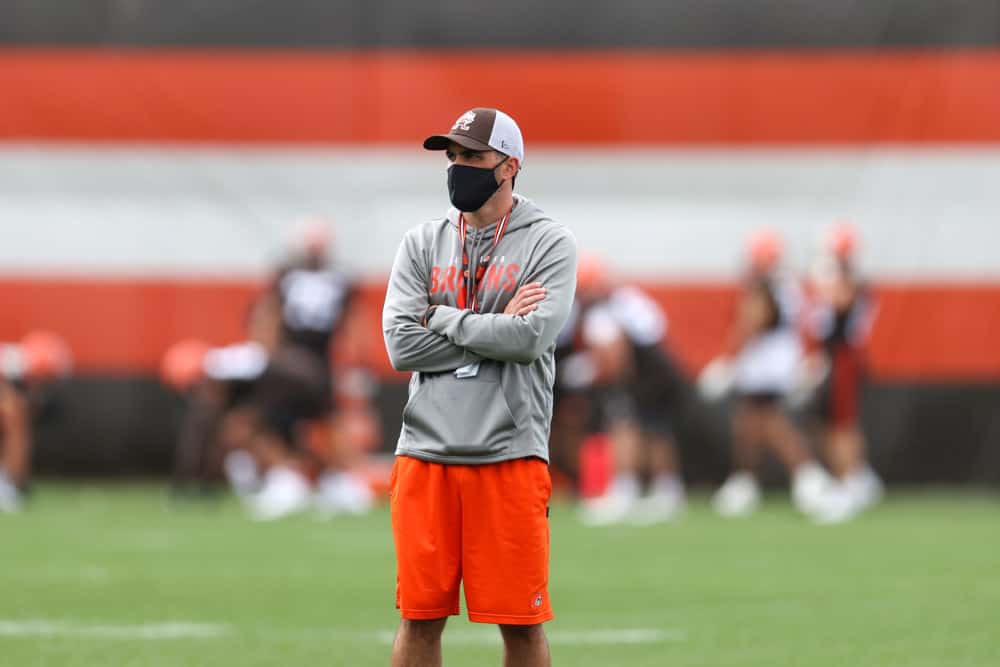 Kevin Stefanski was a finalist for the Cleveland Browns head coaching position two years ago.
John Dorsey famously won a front office tug-of-war when Jimmy Haslam named Freddie Kitchens instead.
Stefanski finally moved into the coach's office after Cleveland's lost season of 2019.
Fans and pundits generally agree the Kitchens hire was a mistake after Stefanski's 2020 Coach of the Year effort.
But count the Browns head coach among the few who are grateful for the extra year before he took the reigns.
Kevin Stefanski grateful for year spent with Gary Kubiak https://t.co/lisSIJfRAG

— ProFootballTalk (@ProFootballTalk) February 5, 2021
Stefanski credits the season he spent working with Gary Kubiak in Minny as a factor in his Cleveland success.
After he finished the 2018 season as the interim offensive coordinator, coach Mike Zimmer gave the title to Stefanski.
But then he hired Kubiak as an assistant head coach and "advisor" and let Kubiak bring 3 additional coaches with him.
If that upset Stefanski or made him uncomfortable, he won't admit to it today.
As he told Mary Kay Abbot of Cleveland.com,
"Not many people are lucky enough to have a setup like that. It was such a valuable year for me to grow. I'm thrilled that I was able to have that opportunity under coach Zim, with coach Kub. It really made me better."
What Happened During That Extra Season in Minnesota
Stefanski says he leaned on the long time NFL coach, speaking with him every week.
And he was not just talking about his time in Minnesota.
Stefanski said he spoke with Kubiak every week during the 2020 season, too.
Kevin Stefanski was named Coach of the Year by Sporting News and PFWA. #RETWEET IF YOU AGREE!!!!! pic.twitter.com/NnPWF6p84R

— Cleveland Sports Talk (@CLEsportsTalk) January 21, 2021
When speaking about Kubiak's zone-blocking and play-action offense, Stefanski told Cabot,
"For years, that scheme has been very hard on defenses, when you talk about defending the run game and the play-action game. I had never been in that scheme specifically. I had my own thoughts about the run game and play-action game, but to be able to be exposed to coach Kub and the different nuance that he had into those plays was incredible for me."
Kubiak verified Stefanski's comfort with the potentially awkward situation working with him in 2019.
Shortly after Stefanski was hired by Cleveland, Kubiak told Tony Grossi, writing for TheLandOnDemand.com and 850ESPN,
"Kevin's awesome. That tells you what kind of person Kevin is. He basically let all these new guys in his room and yet he was the boss and he put it together and did a great job with that room."
Kubiak, who retired from coaching last month, offered this advice to Stefanski last year.
"There's no manual [to being a head coach] in the NFL. It's a tremendous challenge. You put good people around you and go to work."
With insightful wisdom like that, it's no wonder Stefanski credits Kubiak for some of his success in Cleveland.