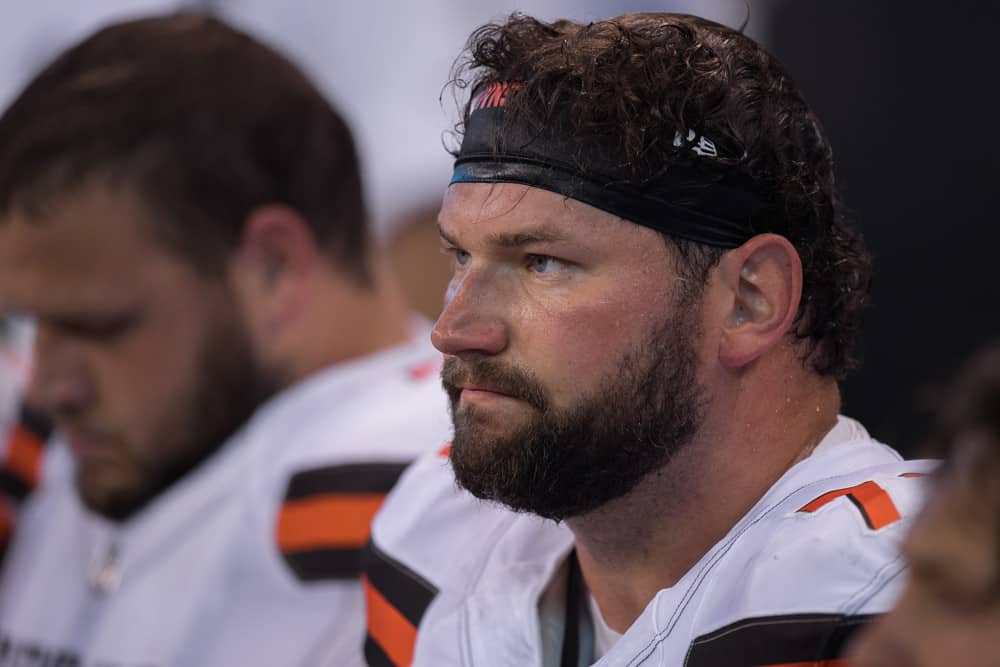 Cleveland Browns future Hall of Famer Joe Thomas is one of eight unanimous selections on the 2010s All-Decade Team.
He spoke with the NFL's Network's Colleen Wolfe about the impressive honor.
The other unanimous All-Decade Team members are listed here:
The official #NFL 2010's All-Decade Team has been announced:

The following 8 players were unanimously voted onto the squad:

-QB Tom Brady
-RB Adrian Peterson
-OT Joe Thomas
-OG Marshal Yanda
-DE J.J. Watt
-DT Aaron Donald
-OLB Von Miller
-K Justin Tucker pic.twitter.com/7J3TgC9vQO

— Off The Gridiron 🏈 (@OffTheGridiron_) April 6, 2020

Thomas, who is already a College Football Hall of Famer, went on to be one of the best players in the NFL during his time in the league.
He discussed his NFL success, his mentorship of Browns and All-Decade Team teammate Alex Mack, and Thomas' impressive draft class.
Thomas on Making the All-Decade Team
At the beginning of the interview, Joe and Colleen joked about the number of trophies that Thomas now has, and they agreed that he will need a new trophy case.
He then mentioned humbly that luck is part of being on this team:
"There's plenty of luck that goes into making the All-Decade Team."
Thomas then discussed his mindset heading into the NFL after being selected No. 3 overall in the 2007 NFL Draft.
"I got into the NFL and I told people when I was a rookie that my goal was to be in the Hall of Fame. I think everyone was taken aback right away. But really in my head, the first thing I was thinking is I'm just trying to make this team."
After making the team, he set his sights on bigger and better levels of NFL achievement:
"I can become a starter, and then once I'm a starter, then I'll worry about trying to make a Pro Bowl and trying to do everything I can to help this team win. Then hopefully when your career's over and you're able to retire, you can sit back, and you've done enough to win some of the incredible awards that players can win in retirement. And being a part of the All-Decade Team is incredible because you can look at some of the other names that are on that list, and it's some pretty heavy company."
Thomas on Alex Mack
Then, Thomas discussed his tremendous experience with his friend, his former teammate, and the current Atlanta Falcons center Alex Mack.
Joe Thomas & Alex Mack have been selected to the NFL's 2010s All-Decade Team. pic.twitter.com/n9bb2Gl5yA

— Everything Cleveland (@EverythingCLE_) April 6, 2020
"Alex Mack is my best friend from my NFL days. Him and I are still extremely close even though he still plays. He's still a little bit more busy than I am these days, but I cherish our friendship. I cherish our times together in Cleveland. I still remember sitting next to him on the plane when he was a rookie in Cleveland and just kind of breaking down how I approached a week during the season – how I watched film and how I took notes, and I felt like I had a lot I could give him, and he was one of those guys, he was like a sponge. He just wanted to learn everything – he asked so many questions. And so, it was fun seeing his growth."
Thomas enjoyed his time as Mack's teammate very much:
"It makes me very proud that I was there and kind of a part of things when he first got in the NFL – really cool to share something so special with a great friend."
Thomas on the 2007 NFL Draft Class
Thomas is one of nine 2007 draft class players on the 2010s All-Decade Team.
He joins Peterson, Joe Staley, and Patrick Willis on the All-Decade Team, as Thomas reminisced about the 2007 NFL Combine:
"It's a pretty crazy draft class to think about and look back at the combine and bumping into those guys. And at that point, I didn't know who those guys were. I remember being at the combine with Joe Staley, and we had this quiet rivalry because we were two Midwestern Joe's that both thought we were fast. It was who's going to run the fastest 40."
Thomas has such a positive demeanor, and he is such an engaging speaker.
He thoroughly enjoyed being interviewed, and it is worth a watch for all Browns fans who want to hear from Thomas.