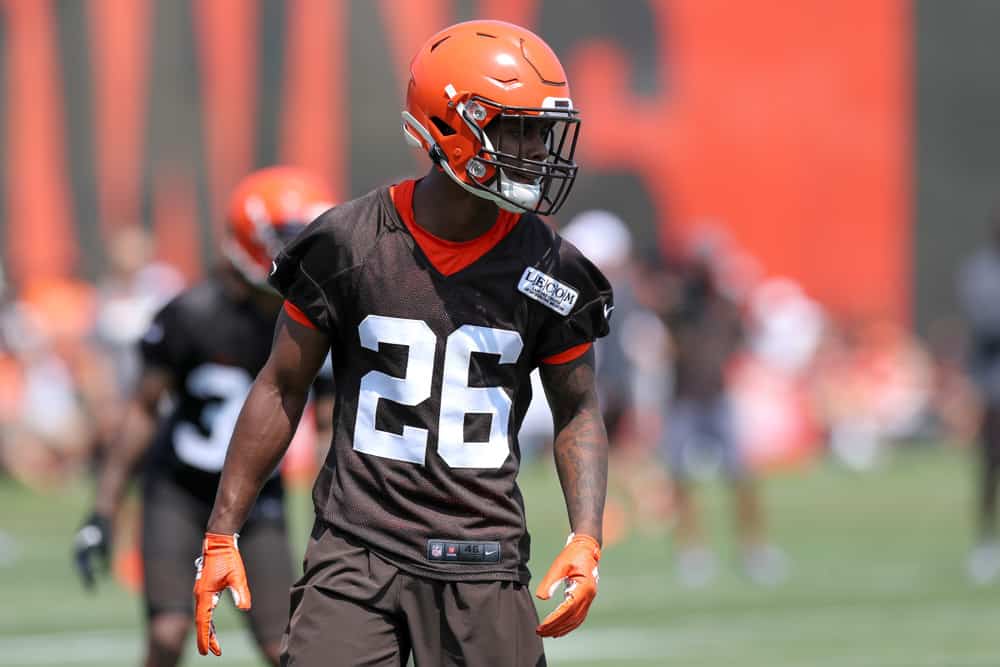 On Monday, the Cleveland Browns lost multiple players to injury.
One of those players was second-year defensive back Greedy Williams.
He suffered a shoulder injury and it appeared at first that he could miss significant time.
Grant Delpit isn't the only Browns DB to get hurt at practice. CB Greedy Williams injured his shoulder. Asked if Williams will miss a significant amount of time with the shoulder injury, Browns' HC Kevin Stefanski said: "I would say we will see. Still evaluating."

— Adam Schefter (@AdamSchefter) August 25, 2020
Since then, it sounds like there is better news regarding Williams condition.
The Browns moved practice inside on Friday and gave an update on when Williams might return.
The Status of Williams
The injury bug has already taken out multiple Browns players this offseason.
Luckily, it sounds like Williams will be able to return sooner than expected.
Head coach Kevin Stefanski mentioned that Williams was out during Friday's practice, but is doing better.
The team is currently calling Williams day-to-day, which is a lot better than missing significant time.
However, it's unclear if Williams will be ready in time for the season opener.
He missed the first four games of last season due to a hamstring injury.
The Browns believe they have enough depth at defensive back to compete in case Williams does miss time.
Williams was a second-round selection by Cleveland last season and was projected by some to go in the first round.
He's a young talented defensive back that the Browns would certainly love to have on the field for Week 1.
It remains to be seen if Williams will be ready in time for the regular season, but at least they've changed his status to day-to-day.
How To Replace Williams?
Stefanski believes the Browns have a lot of talent at defensive back.
"I like our DB room in total,'' Stefanski said. "We have some really good veteran corners and some young guys that are doing a nice job."
Terrance Mitchell appears to be the obvious candidate to start if Williams misses time.
Last season, Mitchell started four games for the Browns, but played in 15 total contests.
He finished with 21 tackles, three passes defended, and one interception.
The 28-year-old is not a starting caliber defensive back, but could fill in for a couple of days if needed.
The next best option would be Kevin Johnson, but he's battling an injury and is questionable for Week 1 as well.
The Browns also like Johnson in the slot, so it seems unlikely that he'd take over for Williams.
After that, the Browns have a bunch of unproven talent, so Mitchell remains the favorite here.
There is still some time for Williams to get healthy before the regular season kicks off.
He might be sidelined for the first game, but at least his status has been upgraded.