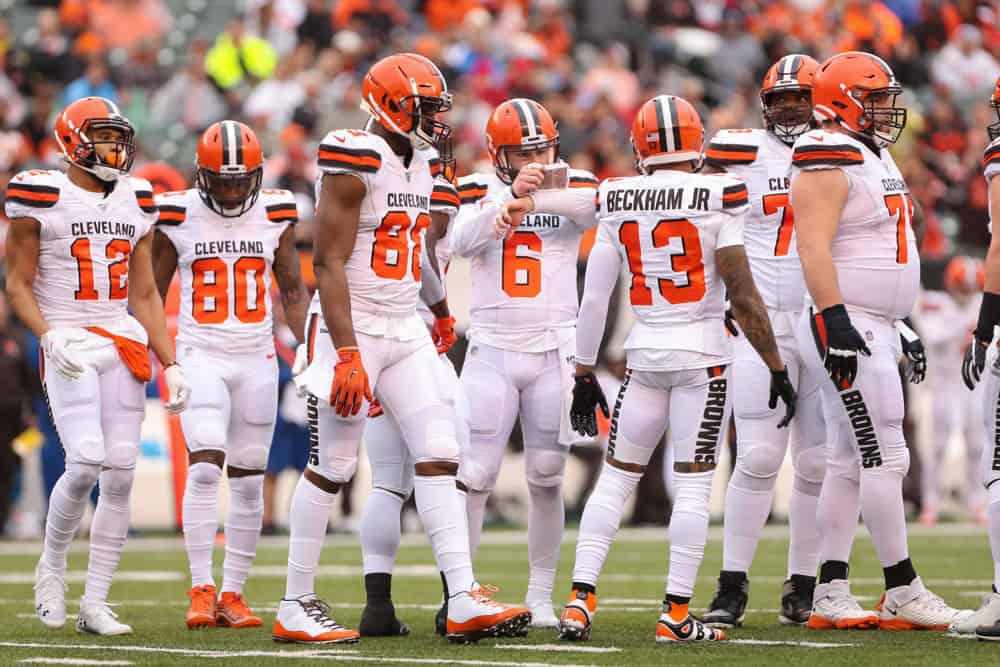 The Cleveland Browns certainly made some major improvements over the offseason.
They revamped their offensive line and added some big name free agents.
After this last offseason, it's quite surprising to see ESPN rank the Browns 20th in the NFL.
To be fair, the Browns fell way below expectations last season, so maybe the experts don't want to get ahead of themselves again.
However, this year Cleveland is in much better position with new head coach Kevin Stefanski joining the organization.
Why Is Cleveland Ranked So Low?
ESPN has the Browns sandwiched between the Arizona Cardinals and Las Vegas Raiders.
Cleveland is ranked 20th, which is the third-lowest in the AFC North.
The Baltimore Ravens are ranked second and the Pittsburgh Steelers come in at No. 13, while the Cincinnati Bengals are ranked 30th.
It's only a preseason ranking, but it's hard to believe the Browns will be that bad in 2020.
The team has made great moves over the offseason to address multiple areas of concern.
The biggest reason why Cleveland is ranked so low is probably because of what happened last season.
Many of the experts believed Cleveland would be a playoff team and they ended up finishing 6-10.
Nobody wants to get burned again, so they've lowered their expectations this time around.
Hopefully this season Cleveland can actually play up to their level and show everyone they deserve a higher rank.
Will Cleveland Improve In 2020?
Browns fans are certainly hopeful for better results after last season.
However, the injury bug has already started to bite the Browns roster.
They lost rookie safety Grant Delpit to injury earlier this week.
#Browns rookie safety Grant Delpit is believed to have torn his Achilles, per @AdamSchefter. A non-contact injury. If confirmed, his season is over before it began.

— NFL Update (@MySportsUpdate) August 25, 2020
Both linebacker Mack Wilson and defensive back Greedy Williams are injured as well.
It's tough to have a successful season when your starting players are sidelined.
Hopefully, most of the players will be back by the beginning of the regular season.
The Browns appear to be in better position to win than they were a year ago.
Fans are desperate to see Cleveland back in the playoffs after a 17-year drought.
The 2020 season is looking like the Browns best chance in quite some time.
It remains to be seen how the team will perform on the field, but they look good on paper.
Hopefully, Cleveland will be able to go out there and prove they deserve to be ranked higher than 20th in the league.