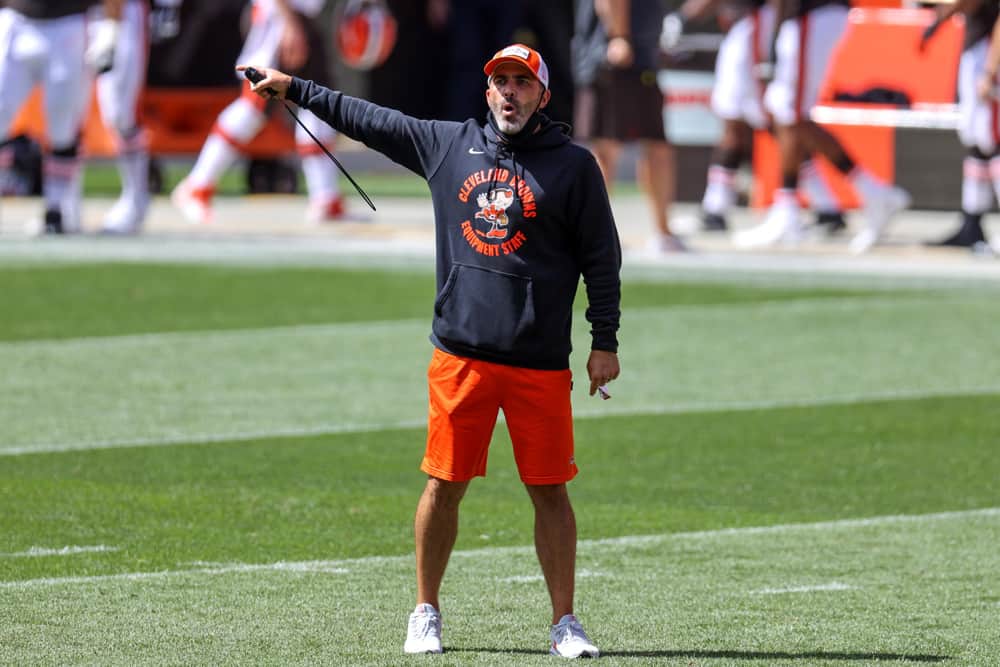 We just wrapped up the 2020 regular season on Sunday, with the expanded playoff kicking off this coming weekend.
The awards season will be in full swing coming, with MVP, Rookie of the Year, among others looking to be awarded.
That "among others" includes the AP Coach of the Year Award.
While there have been some good coaching performances throughout the league during the season, it's going to come down to two people during the actual voting.
Brian Flores, in his second season with the Miami Dolphins, took over a dumpster fire and won 10 games this season, finishing second in the AFC East.
The Dolphins missed the playoffs, narrowly missing out on a playoff spot after getting thumped by new AFC East champ Buffalo on Sunday.
Overall, not too shabby of a season.
But we all know who should win the Award: Kevin Stefanski.
Stefanski won 11 games in his rookie season, and did it in one of the roughest divisions in football, the AFC North.
With his 11th and playoff clinching win Kevin Stefanski passes Paul Brown for most wins of a first year coach in Browns franchise history. pic.twitter.com/UOCRcoSGKF

— Nick Karns (@karnsies817) January 3, 2021
Did I mention the Browns locked down a playoff spot?
Stefanski took over a problematic roster, and he and GM Andrew Berry assembled a roster that was going to compete this season.
Stefanski tailored a very vertical, explosive offense that he coached in Minnesota to what he had with the Browns.
He knew he had two amazing running backs, and that was the basis for the offense, beating opponents over the head with the double-sided hammer of Nick Chubb and Kareem Hunt.
Even with star wide receiver Odell Beckham Jr. going down with an ACL injury, that didn't limit the offense to being one dimensional.
Rashaad Higgins, Donovan Peoples-Jones, and Jarvis Landry, along with TEs Austin Hooper and Harrison Bryant stepped up and made plays to keep defenses off balance.
And leading all of this was former No. 1 overall pick, Baker Mayfield.
Stefanski got the best out of Baker this season.
Kevin Stefanski has a type.

Cousins (2019): 3,603 yards, 26 TDs, 11 turnovers & 119.7 deep passer rating.

Mayfield (2020): 3,563 yards, 26 TDs, 12 turnovers & 109.7 deep passer ratings.

PA passing yards were nearly identical, too.

Mayfield had a much higher QBR, though. pic.twitter.com/apB71sCJBZ

— Brent Sobleski (@brentsobleski) January 4, 2021
I know a comparison with Cousins isn't what any Browns fan wants, but Cousins had some of his best years with Stefanski calling plays.
Stefanski put Mayfield in the best possible positions to ensure that he would be successful, with plenty of play action passes and bootlegs.
Stefanski is utilizing the tools he has to get the best results.
Even with some defensive shortcomings, the Browns capped off 11 wins this year.
11!
Kevin Stefanski's 11 wins in his first season are more than seven Browns head coaches had in their entire Browns tenure. Since the team resumed play in 1999, only Butch Davis and Romeo Crennel won more games in their entire tenure than Stefanski won this season. Legend.

— Kevin Clark (@bykevinclark) January 3, 2021
No more Chris Palmer. Or Eric Mangini. Or Butch Davis. Or any of the other coaches who prowled the sidelines for the Browns, unprepared to run a team.
Stefanski is prepared, and winning already.
And taking the Browns to the playoffs after a drought of 18 years, which was the longest in the NFL.
In just a season, Stefanski has changed the culture of the franchise, won double-digit games, and got the Browns to the playoffs.
While Flores should get some credit for all he did with the Dolphins, Browns fans know the truth.
Kevin Stefanski coach of the year award.

— Hawk (@Hawk) January 3, 2021